Ada Connection – Oct 03, 2018
A Note From Principal Brower
Quite A Sighting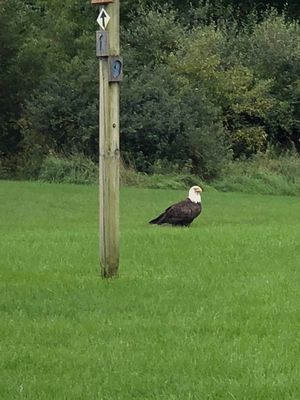 This majestic bird visited our ACS campus this week...you can check out our FaceBook page to see a brief video of him taking flight. Our third grade birders must have been thrilled to record this sighting!
Serving Others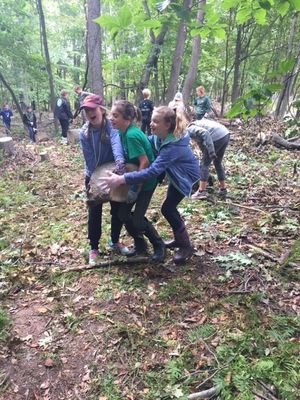 "Equipping students for
service
in God's world" are words hung over the main corridor of our hallway. Last week, students in grades 6-8 put action to these words as they traveled to a wide variety of places to offer their services to others. Several area non-profit organizations provided meaningful work for our students and, in turn, our boys and girls learned more about local agencies, the services they provide, and ways they can continue to help. Seventh graders made us so proud with the serious work they accomplished at Camp Tall Turf up north - cleaning cabins, hauling sand, spreading gravel, hauling and stacking wood and so much more. Camp Scotty and Camp Henry were the starting points for our outstanding eighth graders where our young men and women eagerly and enthusiastically readied grounds and facilities for the next visitors. A huge and special thank you to our parents who were able to drive and chaperone students - we could not do it without you! Many hands helped to make light(er) work at Camp Tall Turf.
Surviving The Wilderness
Our fifth graders all survived the wild north! Their fall Survival Camp adventure was packed full of building squirrel huts to sleep in, stories, games, and a little rain! This tradition continues to build community, confidence, and memories! Thank you, thank you, thank you to our brave 5th grade teachers and parents who "rough it" for the love of our kids!
Action Needed
Hot Lunch
The Oct menu is here!
We desperately need more lunch volunteers and have reduced the time commitment to better fit parent schedules. What a wonderful way to connect with others and see what your children are eating! Hot lunch volunteers are needed from 11:15am-12:45pm.
Available? Contact Shelly VanGoor (gro.scrg@roognavs, 616.325.3461)
Picture Retakes Are Ready
Picture retakes are ready for your review. Use password ACS2018 and then find your students name and enter your family password. The orders are due this Friday, Oct 05. If the forms are late you will have a late fee. Questions? Email Karen (ten.labolgcbs@agnettuhk)
This Week
"Faith. Strong." Friday – Oct 05

It's that time again. All students, staff and parents are encouraged to wear their ACS gear to school this week
Friday, Oct 05
.
Lost & Found
The lost will be in the front lobby on Friday, Oct 05. What is left at the end of the day will be boxed away. You can always check the lost and found which is located by the kitchen/music rooms.
Moms In Prayer
This week we will be praying for 1st graders and their teachers. God is our Joy! Source or cause of keen pleasure or delight; something or someone greatly valued or appreciated; having a peace and contentment no matter our circumstances.
"Satisfy us in the morning with Your faithful love so that we may shout with joy and be glad all our days." - Psalm 90:14
Come join us for the journey when you can. We meet every Thursday morning 8:00-9:00am, in the ACS office back conference room.
Need more information? Contact Kelly Stafford (616.304.2963, ten.tsacmoc@droffats-kj).
Now You Know
Box Top Collection
For the next several weeks through Oct 19 please have your kids empty your drawers and search your cupboards for any and all Box Tops at home. We will not be sending home collection sheets this year. Please place your Box Tops in a Ziploc bag; you may include your Bonus Box Tops with single Box Tops. Here are a few reminders:
Please cut out labels on the dotted line.
Please do not submit Box Tops with an expiration date before Nov 01, 2018.
If the expiration date is cut off of the Box Top it cannot be submitted.
Box Tops are to be turned in at the office.
Students turning in 25 or more Box Tops will receive a candy reward.
Spirit Shop
New items for sale. For every $5 you spend at the Spirit Shop in October you will receive a ticket to be entered in a drawing.
Book Fair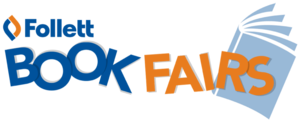 In two weeks the ACS library will be hosting a Follett Book Fair. The first day of the Fair is Sat,
Oct 13
. We will be open during Pure Play so come on in.
We need many volunteers to make it run smoothly. Volunteers get 20% off of any purchases. Interested? Sign up to volunteer.
Don't Let This Opportunity Disappear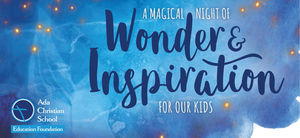 Dear Parents,
Join us for A Magical Night of Wonder and Inspiration For Our Kids featuring John Michael Hinton as our guest speaker. With a goal of spreading God's incredible gospel, he uses the power of illusion, storytelling, and humor to motivate and inspire. Another highlight of this year's dinner is the presentation of the Distinguished Service Award to Ray and Jeannine Lanning, long-time ACS and ACS Education Foundation supporters.
Parents, grandparents and friends of ACS are encouraged to join us at the Amway Grand Plaza Hotel on Nov 08. We offer table sponsorships (tables of eight) and individual tickets.
This year our students will be able to experience the illusion, storytelling, and humor through a special assembly with John Michael Hinton. This will occur during the day on Nov 08 at school. We are thrilled to be able to share this with them.
Don't wait to let us know you can join us! Sponsorship and tickets are available now! (Hurry - before they disappear!)
Share this event with others! (link to FB Event).
Outdoor Family Photo Contest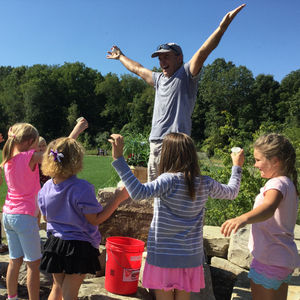 Our first "Outdoor Fun Photo Contest" is here!
We want to know what you're doin' out there with your family.
How to enter: Post a picture of your family or your kid(s) doing something outdoors to Facebook and tag @Ada Christian School. A hike, running the dunes, looking under a log, in a tree...whatever!

Mr. Hoo and Miss Leah will select the winning entry. The selected winner will receive a free $20 punch card and another free $20 punch card for a random drawing entry.
Winners will be announced on Facebook and in this month's issue of WHATCHA DOIN' OUT THERE?
PTO Happenings
Fall Fundraiser
Just over one week left to shop! The fundraiser closes on Oct 12, order forms must be in by next Friday.

Check out the cool coupons at the bottom of your prize poster. For every 5 or so items sold your child may come in and choose their very own Zoo Crew Collectible with lanyard. The best part - they can earn the very first one with just 3 items sold!

Bring those coupons in to a special box near Sharon before or after school and she will show you the Pet Store where they are waiting just for you! Come on in to adopt yours!

Get an early jump on holiday shopping and share this link with friends and family. Our school code is: z-15425.
Our PTO Fall Fundraiser provides the resources to power our programs and events all year long, in addition, it provides teacher and classroom support. We will close up shop on Oct 12 and tally the totals for some cool prizes like pizza and ice cream parties, and even a drawing to be the ACS Principal for half a day!

We could use some volunteer help with a few things - if this sounds like something you'd enjoy, sign up to volunteer!
PTO Information
Looking for our calendar, information about upcoming events or opportunities to serve? Check out our updated website.
ACS Athletics
PurePlay
Fall soccer – Oct 06 – Boys @ 9:00am, Girls @ 10:15am
Running club starts today from 3:00- 4:15pm – Oct 03, 10. Email Coach DK to sign up (gro.naitsirhcada@enielkeds).
Want more details? Visit the PurePlay website.
Baseball practice: Jeff Stafford will be hosting AC "BP". This is an opportunity for boys to develop their baseball skills.Batting, pitching, fielding and throwing will all be covered. There is no charge.
Calendar Reminders
Oct 18 & 23 – Parent/Teacher Conferences
Oct 24-26 – No School (Teacher's Convention)
Nov 08 - Foundation Dinner
Nov 20 - All School Chapel
Nov 21-23 - Thanksgiving Break
Nov 30 - Report cards go home
Requested Announcements
If you're looking for something fun to do over fall break, come watch two of our very own ACS students in Broadway Junior's "Beauty and the Beast." Shows are at 10:00am and 7:00pm Thursday, Oct 25 at Pioneer Auditorium, Wealthy Elementary in East Grand Rapids. Tickets can be purchased at the door or in advance for ten dollars. For more info, email kgmcninch@gmail.com or visit childrenscreations.org!