A Note From The Principal
Happy Thanksgiving
Dear ACS Families,
"I give thanks for all You have done
And I will sing of Your mercy and Your love
Your love is unfailing, Lord I am grateful"
May the words to the chorus of Elevation's song, Grateful, be the song of hearts during this beautiful season of Thanksgiving. To God be the Glory!
Happy Thanksgiving to you and yours.
Singing his praises,
Principal Brower
Now You Know
Dec Hot Lunch Menu
The Dec Hot Lunch Menu is now available. Please review this with your child.
Chess Club
Chess is the greatest board game on earth.This club will help members learn some basic openings and other strategies. Whether you are a beginner or intermediate player, you will have a good time and be sipping hot chocolate as the cold winter winds howl outside. Two sections will be offered - one on Tuesdays and one on Wednesdays. Sign up today!
Coach: Mr. Hoo
Who: Students in grades 2-8. (Maximum of 25 students per section, 50 total)
What: You will need an active mind ready for game fun.
Where: Mr. Hoo's Outdoor Education Room (room 407)
When: Tuesdays or Wednesdays (two sections). 3:00-4:15pm
Christmas Market In The Woodshed
Come out to the WoodshED on Dec 05 or 10 for some OE Christmas fun.
Ornament making for kids
Hot chocolate
Bonfire
Christmas music
Items for sale, support OE at ACS
Christmas wreaths made by 8th graders
Holiday arrangement made by kids
Trees and greens
Thursday Dec 05 & Tuesday Dec 10
6:00-7:30pm
(Preschool-K is encouraged to come from 6:00-6:30pm)
Parents, please enjoy this event as a family and accompany your children at all times.
Interested in volunteering to help out? Contact Leah Sienkowski (gro.naitsirhcada@ikswokneisl)
Reverse Engineering/Take Apart
1st, 2nd and 3rd graders will be participating in Reverse Engineering activities the weeks of Dec 09 and 16. If you have items to contribute, please bring them to the library by Thursday, Dec 05, 2019.
We are looking for small items that the students will be taking apart and recreating into a new piece. This may include:
Small non-working appliance that can fit in the lap of a 1st grader
Old radio
CD player
DVD player
Old phone (not a cell phone)
Game controller
Old toy (wind-up toys are great)
Keyboard
Please do not bring:
Items with glass
Computers
Cell Phones
Anything too large (best if it can fit in the child's lap)
Please be sure that you can see a starting point, like a screw or open space where you could easily begin to disassemble the piece. We are not looking to "break apart" but take apart.
If you have tools that you would feel comfortable lending or donating for use by small children, please clearly label them in a container. See below: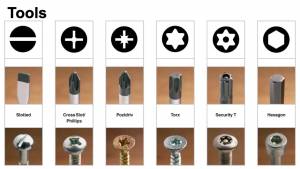 Action Needed
Christmas Program Ironing Help
Please join us for some coffee and Christmas cookies as we prepare the costumes for the elementary Christmas program. Bring your iron and ironing board, we will meet in Mrs. Vruwink's room and listen to Christmas music while we iron. Younger siblings are welcome to join us.
PTO Happenings
Christmas Shop – Dec 05 & 06
Christmas Shop is coming to ACS next week. This event is not possible without the help of MANY volunteers. Please sign up to help at this super fun event.
Daddy Daughter Dance – Save the Date
Be our guest! Daddy Daughter Dance Feb 07, 2020 7:00-9:00pm. More info to come!
Athletics
PurePlay
Basketball sign ups for 1st-4th are closed. If you have questions, contact Stacey Boender (gro.scrg@redneobs)

Y5/K contact Coach DK
Thanks to all who participated in our 1st unicycle club. Stay tuned for round 2 sign ups!
Calendar Reminders
Nov 27-29 - Thanksgiving Break
Dec 06 - No Forest Hills PM transportation
Dec 19 - No Forest Hills PM transportation
Dec 20 - No Forest Hills PM transportation
Dec 23 - Jan 05 - Christmas Break
Jan 06 - School Resumes