Ada Connection – Nov 11, 2015
Principal's Note
Outdoor Education Plans Begin to Mature
Momentum has been growing and great ideas are flowing for an amazing outdoor education program at Ada Christian School!
Construction on our rustic outdoor learning space is well on the way. Take a short walk down our sidewalk and look to the right as you approach the area between our 3/5 and middle school wings to see the progress.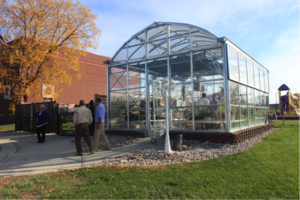 Part of our ACS team investigates greenhouse uses, materials and types of construction for schools.Our plans, to mention a few, include repurposing spaces for Native American and Homestead villages, a beautiful prairie with a prayer walk, a pond and a hoop house – all for great hands-on, outdoor learning experiences for our students. In addition, a team of administrators and teachers have been meeting with architects to develop plans for a potential outdoor education classroom and greenhouse!
Please keep ACS in your prayers as we seek God's wisdom and discernment throughout this dreaming and planning process.
This Week
Veterans Day
As we reflect on celebrating Veterans Day, let us truly express gratitude for those who have served and for the willingness of others to represent our country so that we may enjoy the freedoms we have. May God bless America!
Action Needed
ACS Board Nominations
Our dedicated School Board is 3 meetings into the current school year and it is time to think about next year! Each year there are 4 members that come to the end of their 3 year term of service and we need to elect their replacements at our March Society Meeting. If you would like to nominate an ACS parent, please send their name to our School Board Secretary Briar Plantinga (ten.tta@agnitnalprairb). We will be accepting nominations until Nov 16.
Ski Club Sign Up
Our ski club will be held on TUESDAYS in Jan and Feb after school until 8:00pm. We will make arrangements to carpool to Cannonsburg if needed, but you will need to pick up your child at the end of the evening. If you have younger children who are not old enough to be by themselves you will need to be there throughout the evening either skiing or in the lodge.
6 years old and under get their lift tickets free.
Deadline is Friday, Nov 20. After that time you will need to go through Cannonsburg.
All the prices are on the registration form. Checks should be payable to "Cannonsburg Ski Area" and sent to the ACS office with the form.
Sign up now

(244 KB PDF)

for your ski passes and save money – 50% off the regular price.
Card holders may use their passes anytime, any day during the 2015-2016 ski season, including weekends.
If you have any questions please feel free to contact Sally Schrock (550-6299, ten.tsacmoc@kcormst.)
Thanksgiving Chapel
Please join us on Tuesday, Nov 24 at 8:15am. Our 5th and 6th graders will be leading us in worship.
PTO Happenings
Directory Correction
On page 11 of this year's directory there is an incorrect listing under PTO Secretary. This year's secretary is Sarah Plantinga. Thank you Sarah for your willingness to serve.
Moms in Prayer
Please join us Thursday 8:00-9:00am in the office conference room as we pray for our children, their teachers and the ACS community. This week we will be praying specifically for 5th grade as we remember that God reveals.
However, as it is written: "No eye has seen, no ear has heard, no mind has conceived what God has prepared for those who love him"-- but God has revealed it to us by his Spirit. The Spirit searches all things, even the deep things of God. – 1 Corinthians 2:9-10
Questions? Contact Laura Cawley (425.9728, moc.oohay@57_csarual)
School Party
Woodland Skating Center- 2100 28th St, Wednesday Nov 25 from 2:00-4:00pm.
$5.00 per person includes roller skates. $2 more for roller blades.
This is a combined school party with Rockford Christian.
Bring your friends and meet new ones!
Questions? Contact Amberly Hoyer (moc.loa@reyohylrebma)
Calendar Reminders
Nov 19 – 5th Grade Concert at 2:30pm: Band in Commons, Orch in Room 502
Nov 23 – Foundation Dinner – Plan to attend
Nov 25 – Roller Skating Party with Rockford Christian
Nov 25-27 – No school –Thanksgiving Break
Dec 04 – No Forest Hills Bus Transportation (AM)
Dec 10 – Christmas Program (Grades 1-4) 7:00pm at ACS
Dec 10-11 – PTO Christmas Gift Shop
Dec 15 – Middle School Christmas Program (Grades 6–8) 7:00pm at ACS
Recent Events
Want to stay up to date? Be our Friend!
Become friends with Ada Christian School on our Facebook Page – https://www.facebook.com/adachristianschool – to see more of what happened this week!
"Faith. Strong." Fridays
2 Phillips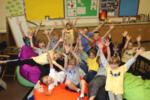 4 Slauer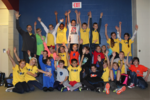 6 KiserTalk about school spirit! These classes have it. Congratulations to Mrs. Phillips, Mrs. Slauer and Mr. Kiser for the great level of participation in our "Faith. Strong." Friday – each of their homerooms had 100% participation!
Intramural Ultimate Frisbee Champs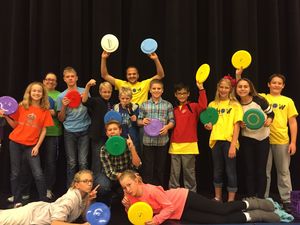 Congratulations to the Nuggets on being the Intramural Ultimate Frisbee champions! Led by Mr. Musch and Mrs. DeWeerd, the Nuggets strong effort and teamwork led to their success! Thank you, Miss Prins for organizing our intramurals for us.
ACS Athletics
Go Wildcats!
Check out the new images on our center courts.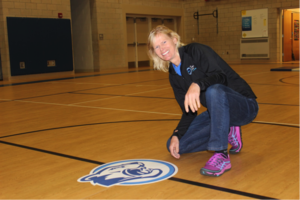 Thanks Coach DK!
PurePlay (PK-4th Grade)
Basketball sign ups for boys 1-4 are closed.
Girls' and Y5/K are due Dec 11. For all the details, go to Basketball sign ups
Wildcats Athletics (Grades 5-8)
For all up to date announcements, schedules, and sport sign-ups please visit our ACS 5-8 Athletic Website at: www.adachristian.org/wildcats
Please turn in your child's fall athletic uniform. Uniforms may be turned in to the front office or Carly Prins during PE class.
Winter Basketball start dates are listed below. As the season comes closer you will receive an email from your child's coach with specific team information.
5th & 6th Grade – Week of Monday, Nov 09
7th & 8th Grade – Week of Monday, Nov 30
Sports Physicals: If your child is playing winter basketball sports physicals forms must be turned in before the 1st day of practice.