Ada Connection – May 30, 2018
A Note From Principal Brower
A Reason To Celebrate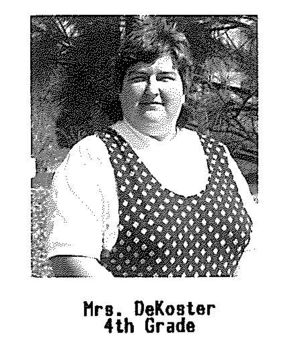 In 1989 Mrs. DeKoster accepted her first full time teaching position at Ada Christian School. Now 29 years later she will be transitioning into semi-retirement beginning this fall. The Assistant Principal role will be shared by Mrs. DeKoster and Mr. Kiser. Mr. Kiser will continue to teach part-time in the middle school and Mrs. DeKoster is looking forward to spending some extra time with her grandchildren.
A Warm Welcome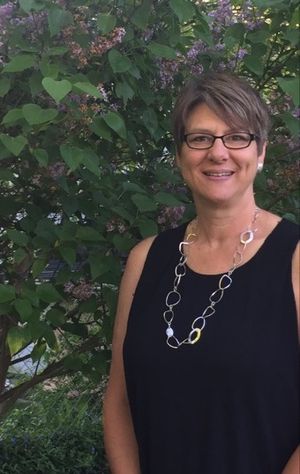 Lisa Ritsema will be joining our second grade team. Mrs. Ritsema graduated from Calvin College where she earned her degree in Elementary Education. She then attended Western Michigan University where she earned her Masters degree in Education. She is currently working at Grand Rapids Christian School in the Education Support system. She is a Michigan native but has also lived in Colorado, Indiana, Virginia and Ohio. She has three children ranging in ages from college to middle school. Mrs. Ritsema and her family attend Brookside Christian Reformed Church. She loves "diy-ing", being outdoors, exploring new places and spending time with her family. She cannot wait to start her new adventure at Ada Christian!
Now You Know
End Of The Year Chapel – June 08
Please join us on Friday, June 08 at 8:15am. Our 5th and 6th graders will be leading us in worship.
Middle School Matters
Due to class trips and other Middle School events, there will not be a MSM this week. The final MSM of this year will be sent Wednesday, June 06.
Tutoring With Mr. Hapner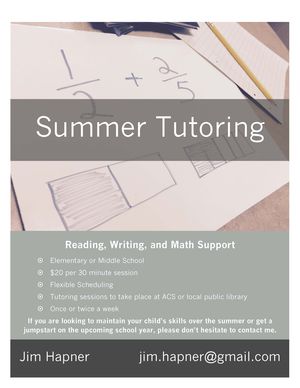 Are you looking to strengthen your child's foundational skills or get a step ahead for the upcoming year? Jim Hapner is offering tutoring this summer for reading, writing, and math. Please see the flyer for more information.
Summer Camps
Discover the exciting camps we are offering at ACS this summer. Whether your child loves art, technology, music or outdoor ed there is something for them!
Hot Lunch – Sack Lunch Orders
Regular hot lunch has ended for the year. We will be serving a sack lunch which will include an Uncrustable (grape jelly and peanut butter), scoops with salsa, string cheese and sliced apples along with milk. This will continue until Thursday June 07.
Sack lunches must be ordered by 12:00pm on the previous school day. You must complete the form once for each day and child.
Questions? Email Sue Prins (gro.naitsirhcada@snirps)
Education Foundation Dinner – Nov 08, 2018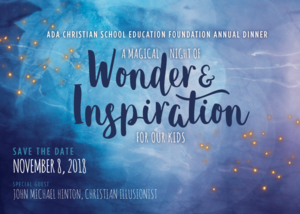 Save the date to join us on Nov 08 as we welcome Christian Illusionist, John Michael Hinton.
Action Needed
2018-2019 Supply List
Check out the list and plan for Aug 23.
Got Shoes? Give Shoes!
Students will soon be cleaning out their lockers. If your child has outgrown their gym shoes this year, please instruct them to place them in a collection box in their hallway when they clean out their locker. Boxes will be placed in each hallway and the front lobby to collect the gym shoes which will then be donated to Baxter Community Center. Thank you!
Employment Opportunities
We are pleased to share that there are several employment opportunies at Ada Christian for the coming school year.
The following positions are available:
Covenant Care Aide
Full-time Covenant Care Lead
Part-time Covenant Care Lead
Bus Driver
Host Families
We have a host of new families to welcome to ACS. Would you consider being a host family for the upcoming school year? As a host family you introduce yourself to an assigned family that has a child entering the same grade as yours. We encourage you to welcome them, serve as a resource for them and attend the Ice Cream Social in late August. The date for the Ice cream social will be Wednesday, Aug 22 from 6:00-7:00pm. This event is hosted by the ACS Promotions Committee to welcome all kindergarten families and new families at ACS.
Excited about welcoming new families? Sign up as a host family.
This Week
"Faith. Strong." Friday – June 01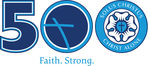 It's that time again. All students, staff and parents are encouraged to wear their ACS gear to school this week Friday, June 01.
Lost & Found
The lost & found will be in the front lobby on Friday, June 01. What is left at the end of the day will be boxed away. You can always check the lost and found which is located by the kitchen/music rooms.
PTO Happenings
Serving As Unto The Lord
"Each one should use whatever gift he has received to serve others, faithfully administering God's grace in its various forms." 1 Peter 4:10
Thank you to everyone who gave their time and resources for the many PTO events and fundraisers throughout the year! Also, a gigantic thank you to the talented and dedicated individuals who chaired these events. If you see any of these parents, please give them a big thank you!
Back to School Carnival – Jenny Brower & Dawn Raymond
Fall Fundraiser – Kristen Goodyke, Katie Kileen, & Kim Jerke
ACS Bazaar - Sari Jones, Renee Overbeck, & Alissa Hollander
Room Parents Coordinator – Kim Laufer
School Parties – Holly Karasinski
Moms In Prayer – Kelly Stafford
Christmas Gift Shop – Brecken Grieve & Brittany Cole
Daddy-Daughter Dance – Sharon Dykhouse, Liz Keilen, & Laura Kaminski
Mother-Son Event – Sarah Uekert, Denise Burgess, Jennifer Kreuzer, & Jill VerSteeg
Bus Driver Appreciation – Dawn Carbines
Staff Appreciation – Kim Laufer & Sarah Barron
Grand Friends Day – Michelle Nitengale & Shelly Harmon
Fine Arts Night – Sarah Cooper
Walk-A-Thon – Sarah Setlock & Sarah Plantinga
Box Tops - Shelly Harmon
Curriculum Enhancement - Jamie Christenson
Again, many thanks for a great year!

The 2017/18 PTO Executive Team:

President – Dawn Raymond

Vice President – Holly Karasinski
Treasurer – Jamie Mulder
Assistant Treasurer - Heidi Jaeckie
Secretary - Sarah Plantinga

Board Liaison – Allison Ferwerda
School Liaison - Julie DeKoster
We're Hiring
The PTO has the following open positions* for the 2018-2019 school year. We would love to have you join us. Please reply to pto@adachristian.org by year-end to secure your spot for next year.
Room Parent Chair
Fall Fundraiser Chair and Committee Member
Daddy Daughter Dance Committee Member
Grand Friends Day Chair and Committee Member
School Parties Chair
Questions? Please call Holly Karasinski (616.901.8882)
*The pay is strikingly similar to parenting pay: it technically costs you time and energy but the intrinsic reward of joy and service and blessing others is unmatched.
Direct Your Dollars Update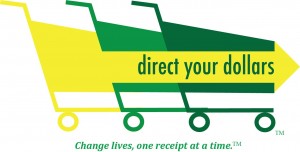 We are steadily working our way to our next $1,000 from Direct Your Dollars. We've collected receipts totaling $137,000 out of the needed $150,000. If you have envelopes of receipts that you've been collecting, please consider delivering them to the office before the end of the year. Invite your friends, neighbors and family members to save their Forest Hills Foods, D&W and Family Fare receipts. Every dollar counts! Please contact Kristen Yeh with any questions.
ACS Athletics
PurePlay
Fall soccer sign ups are now open!
Parents are invited to come and enjoy our "Circle of Laughs" field day on June 04. The 8th graders will be leading the activities.
3-4 8:30-10:00am
K-2 10:15-11:45am
Calendar Reminders
June 04 – Elementary Field Day
June 07 – 8th grade graduation
June 07 – No Forest Hills PM transportation
June 08 – Last day of school - dismissal at 11:30am
June 08 – No Forest Hills transportation at 11:30am
Aug 23 – First day of school - dismissal at 11:30am
2018-2019 Calendar
Aug 23 – First Day (Half Day)
Aug 31-Sept 03 – No School (Labor Day)
Sept 24 – No School (In-Service Day)
Oct 24-26 – No School (Teacher's Convention)
Nov 08 – ACS Education Foundation Dinner
Nov 21-23 – No School (Thanksgiving Break)
Dec 24-Jan 04 – No School (Christmas Break)
Jan 28 – No School (In-Service Day)
Feb 22-25 – No School (Winter Break)
Mar 28-Apr 05 – No School (Spring Break)
May 03 – GrandFriends (Half Day)
May 06 – No School (In-Service Day)
Jun 06 – 8th Grade Graduation
Jun 07 – Last Day (Half Day)
Requested Announcements
Attention 8th Grade Runners
Grand Rapids Christian High School Cross Country coaches invite all runners interested in running XC to join them at the Annual XC Kickoff Meeting at Coach Jager's house on Friday, June 08 from 5:30-7:00pm.
Meet the coaches and team members, obtain information, pick up summer running schedules and camp applications, eat some food, and of course play some lightening in the court. Bring your family and join in on the fun. Coach Jager lives at 1910 Pokogon SE, Grand Rapids (near GRCHS).
Girls Cheer 5th-8th Grades
There will be a new summer program offered for girls interested in gymnastics and stunting training. Excel Stunting and Tumbling staff will teach technique and form in both skill areas on Wednesdays from 9:30-11:30am in the Quest Center at GRCHS.
The two-hour session costs only $12 and will be offered the following eight dates: June 13, 20, 27 / July 11, 18, 25 / Aug 08, 15. If you are interested, please preregister by contacting Jacquie DeJonge by texting, emailing, or calling/ leaving your name, phone number, and email address at 616.949.7516. Excel would like a roster of interested girls. You will be sent a waiver that must be signed by a parent and turned in the first session.
Operation Christmas Child
Spring or summer cleaning out? Please hold on to your gently used or new t-shirts, golf shirts and cute but unneeded pillowcases! There will be a box in the front lobby to collect these items.
This summer, a group of ladies will be meeting weekly to assemble and make gifts for Operation Christmas Child (both sewing and non-sewing tasks). Any eager crafter/sewer parent, child or Grandparent can come and help create adorable shorts for boys (out of used shirts) and pillowcase dresses for girls to receive this Christmas through our school-wide service project (Operation Christmas Child).
Katie McNinch is our school representative. If you would like more information about sharing in the joyful work of this group you can email her at moc.liamg@hcnincmgk