Ada Connection – May 29, 2019
A Note From Principal Brower
One More Week!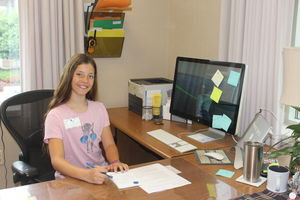 We have had a lot of fun learning together this year -- mind, body, and soul in Christian community.
We had a special Principal for the Morning today -- Miss Tessa Honholt! Her morning was filled with lots of work, and she did a GREAT job. Tessa's name was drawn from a hat after she participated in a PTO fundraiser.
As one of her responsibilities today, Miss Honholt interviewed Mrs. DeKoster and wrote a board report:
Q. About how long does it take for our students to get out of the building for a fire drill?
A. 2-3 minutes

Q. Does everyone have an updated map and evacuation route?
A. For this year, yes. But, for next year we will have to update them (for 2019-2020)

Q. When will we have an indoor safety drill.
A. We are all finished.

Q. About how long does it take students to get in their spots for an indoor safety drill?
A. About 1 minute.

Q. Are the walkie-talkies charged and ready to go?
A. They are all ready. They just had new batteries put in all of them.

Q. Will we have another tornado drill this year?
A. No. We are all finished.

Q. About how long does it take for students to be in their spots for a tornado drill?
A. About 2 minutes.

Q. Have you (Mrs. DeKoster) ever been in a school when there was a fire or tornado?
A. Never in a fire or tornado, but in a tornado warning and no tornado hit the school and all of the kids were in their spots for about an hour.
Summary:
Well, I think we do a great job with getting the entire school ready and prepare students well.
Desks Available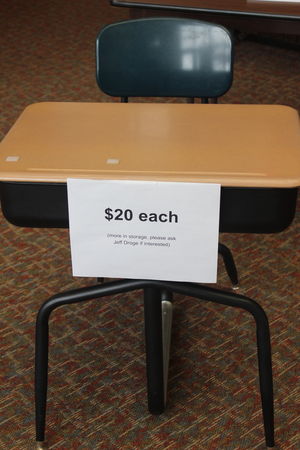 We have two sizes of desks for sale for $20 each. Check them out in the lobby and let us know if you want any. First come, first serve.
This Week
Moms In Prayer – End of Year Celebration
All are welcome to join us as we give praise for His faithfulness this school year – and always! Curious as to what Moms In Prayer is all about – this is a great time to come enjoy refreshments and ask questions! Thursday, May 30, 8:00-9:00am, in the ACS office back conference room. Younger siblings welcome!
Need more information? Contact Kelly Stafford (616.304.2963, ten.tsacmoc@droffats-kj).
MENistry
MENistry is a coffee group for dads who want to get to know more about themselves and the Bible. Join us on Fridays from 8:00-9:00am.
Now You Know
ACS Trip
This summer we will be taking a break on orders for "plastic" cards. Reloads and ScripNow will be available to purchase all summer. The last day to order "plastic" cards will be June 12 (pick up June 19). So stock up on any items you may need before Aug 28, 2019, when our regular weekly schedule will resume.

Have a Wonderful Summer!
Hot Lunch – Ends May 31
Please be responsible for your student's lunch account balances. We need to have no accounts in the negative per our USDA, Child Nutrition Program guidelines. Thank you for your cooperation! Questions email Jill at jzondag@grcs.org. She will be working limited hours, but she will get back to you.
When we return in August, the first day of hot lunch will be Tues, Aug 27. So don't worry if you are not ready to pack lunches, let us do it for you! Have a joyful summer break and thank you for participating in hot lunch and letting us serve your kiddos.
End Of Year Chapel
Please join us on Fri June 07 at 8:15am. Our 7th graders and our "Special Teachers" will be leading us in worship.
ACS Summer Camps
Discover the exciting camps we are offering at ACS this summer. Whether your child loves art, technology, music or outdoor ed there is something for them!
Summer Tutoring
The following ACS teachers and staff will be available for tutoring this summer. Please email them individually if interested. Flyers will be available next week in the front lobby.
Elementary
Middle School
Mr. Hapner: Tuesday & Thursday 9:00am-12:00pm, all subjects 1st-8th
Miss Slauer: Tuesday & Thursday all day, Math and Language Arts
Music
Mrs. Vruwink: Tuesdays & Thursdays 9:00am-12:00pm, Ukulele and Voice Lessons incoming 3rd-8th
Mr. Taylor: Thursdays 12:00-5:00pm, all band instruments (except oboe and bassoon), guitar and voice as well. 4th-8th
Action Needed
Seeking Host Families for 2019-2020 School Year
We have a host of new families to welcome to ACS. Would you consider being a host family for the upcoming school year? As a host family you will introduce yourself to an assigned family that has a child entering the same grade as yours. We encourage you to welcome them, serve as a resource for them and attend the Ice Cream Social on Wednesday, August 28th (the first Wednesday after school starts). This event is hosted by the ACS Promotions Committee to welcome all kindergarten families and new families at ACS.
Volunteer to be a host family.
Questions? Please contact Sheila Hemker moc.liamg@rekmeh.aliehs, Shannon VandenBosch moc.oohay@hcsobvs, or Carla Fettig moc.liamg@gittefsalrac
Got Shoes? Give Shoes!
Students will soon be cleaning out their lockers. If your child has outgrown their gym shoes this year, please instruct them to place them in a collection box in their hallway when they clean out their locker. Boxes will be placed in each hallway and the front lobby to collect the gym shoes which will then be donated to Baxter Community Center. Thank you.
From the Library
Reminder all books were due by Friday, May 24. If you have any questions about your child's books, please email Sue Prins or Lois Boerman and we will get back to you as soon as possible.

It's very important to spend time reading all summer long. Here are links to a few Summer Reading Clubs. Check it out!
Baker Book House
Barnes & Noble
Scholastic
Schuler Books & Music
We will also be hosting Summer Story nights once again at ACS out by the Wood ShED.
Summer Story Nights
Monday nights from 7:00-7:30pm
July 08 to Aug 12
ACS Athletics
PurePlay
Field day June 03: parents are invited to come and watch/cheer.
3rd & 4th: 8:30-10:00am
1st & 2nd: 10:15-11:45am
Wildcats
Congratulations Ada Wildcats on your GRACEAC 2019 Conference Champions!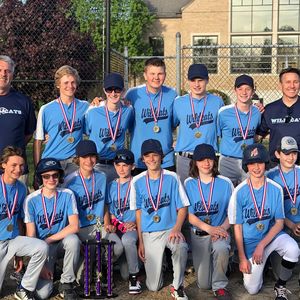 Calendar Reminders
June 06 - 8th Grade Graduation at Ada Christian School
June 06 - No Forest Hills PM transportation
June 07 - Last day of school - dismissed at 11:30am
June 07 - No Forest Hills transportation at 11:30am
Aug 26 - First day of school - dismissed at 11:30am
2019-2020
Aug 26 – First Day (Half Day)
Aug 30-Sept 02 – No School (Labor Day)
Sept 30 – No School (In-Service Day)
Oct 23-25 – No School (Teacher's Convention)
Nov 27-29 – No School (Thanksgiving Break)
Dec 23-Jan 03 – No School (Christmas Break)
Jan 27 – No School (In-Service Day)
Feb 28-Mar 02 – No School (Winter Break)
Apr 02-10 – No School (Spring Break)
May 01 – GrandFriends (Half Day)
May 04 – No School (In-Service Day)
Jun 04 – 8th Grade Graduation
Jun 05 – Last Day (Half Day)