Ada Connection – May 18, 2016
Principal's Note
Walk-a-thon
A huge thank you to all the volunteers and kids who made this year's ACS Walk-a-Thon a huge success! Thanks to the generosity of our school community, we raised over $20,000! This amount puts our PTO in great shape to meet all our financial goals. Thank you again!!!
Action Needed
Become an ACS Host Family!
We have host families to welcome new families to ACS. Would you consider being a host family for the upcoming school year? As a host family you introduce yourself to an assigned family that has a child entering the same grade as yours. We encourage you to welcome them, serve as a resource and attend the Ice Cream Social in late August. This event is hosted by the ACS Service Committee to welcome all kindergarten families and new families at ACS. Please sign up to be an ACS Host Family today!
Questions? Contact Karen Clark (moc.oohay@cdkralcrk) Mayra Huyser (moc.liamg@silaidararyam) or Sarah Setlock (moc.oohay@kcoltesharas)
Wanted: Books for GRPS
ACS has an opportunity to bless students in the Grand Rapids Public Schools with books to encourage and inspire them over the summer. As you are spring cleaning and you find any children's books that you would like to donate please send them to school with your child. We will be collecting books for GRPS until June 03. Jan Wilkins, a former teacher at ACS, is excited to help those books find a new home. A box is in the library to collect the books.
Hot Lunch
There is no scheduled hot lunch for May 31 - June 02. If you are not packing a lunch but bringing food for your children at lunch time please tell your child to come to the office to pick it up. The office will not be calling your child as a reminder. Any food left in the office will be thrown away at 3:00pm each day.
Chapel
Please join us for our end of the year all school chapel on June 03 at 8:15am.
ACS Library Books
Parents, keep your eyes peeled for any ACS library books. Please return them as soon as possible. We will be sending e-mail notices home in the next few days.
Now You Know
KIDS-TRIP
ONLY paid orders through Presto Pay will be accepted during the summer months.
The summer schedule is as follows: June 01, 15, 29, July 13, 27, August 10, 24 (normal schedule resumes)
Dear ACS Families,
Brian and Teresa Rauch have four children at ACS: Lucy (K), Asher (1st), Clara (6th), Desi (7th). They also have three older children. Teresa was recently diagnosed with ALS and the disease has progressed quite quickly. Some of you learned of her diagnosis and asked if there are ways to help now and for the summer.
Suggestions:
Gift cards: Meijer, McDonald's, Subway, Wendy's or gas cards
Summer "gift" bag lunches: Mac and cheese, bologna, bread, pb&j (strawberry) spaghettios, string cheese, chips, fruit (bananas, watermelon, strawberries, blueberries, black and red raspberries, seedless grapes (red & green), "cuties", mandarin oranges, applesauce, kool-aid, juice
Meals: If you want to provide a meal for the nine family members, there is no need to ask the family. Simply contact Teresa to let her know when you would like to drop it off or have it picked up.
Go Fund Me - Teresa Rauch ALS Fund
Contact information: Teresa Rauch (616.550.6786, moc.evil@hcuartb) 10520 Heether Rd. Belding, MI 48809
"Faith. Strong." Summer Camps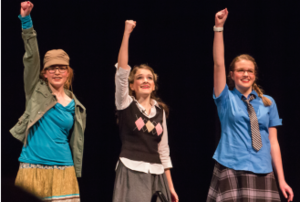 Drama Camp ($120) July 11 - 15:
Drama Camp offers:
Acting!
Stage basics
Proper vocalization
Characterization
Movement
Script work
Theatre games
Friday Performance Showcase
6-8 Students per session
Session I - Middle School students entering grades 6-8 9:00 - 11:30am
Session II - Elementary students entering grades 3-5 12:45 - 3:00pm
Whether a beginner or veteran on stage, you will learn and improve your acting skills and gain confidence and poise through theatre games, exercises and working a scene with your fellow actors. Family and friends are invited to a half-hour Performance Showcase on Friday, giving our thespians a chance to perform for an audience!
More info/sign up for drama camp
Art Camp ($120) August 08-12:
In the elementary session:
Weaving
Tie-dye
Paper maché
Art with clay
Other awesome ideas from Mr. Wanner
In the middle school session:
Finger puppets
Circle inspired sculptures
Poured paintings
Maybe plein air if conditions allow
Other awesome ideas from Mr. Wanner
For both sessions we provide the materials (and the snacks); you provide your energy, creativity and great mind. You will gain experience in art and enjoy it!
More info/sign up for art camp!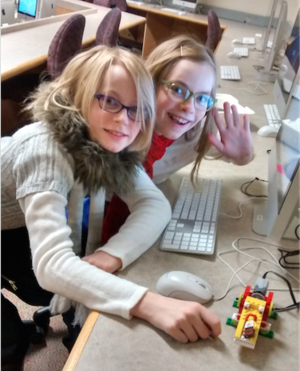 Technology Camp, Grades 3-8 ($120) August 08-12:
Amazing Tech Opportunities including:
Stopmotion videos
Game Design
Coding
Raspberry Pi
Ozobots and Mindstorms
Other awesome tech activities
No matter your skill level, you will have a great time hanging out with the tech team, learning new things and meeting new friends. Snack and games every day!
More info/sign up for tech camp!
PTO Opportunities
Serving as unto the Lord
Please prayerfully consider volunteering for one of the following open PTO needs. Thank you to those who have already volunteered. And please welcome Katie McNinch as your new PTO Vice President.
Here are the openings for the 2016/17 School Year:
PTO Officer - Assistant Treasurer
School Carnival - Need 2 volunteers to shadow our 2 committee leaders in 2016/17 with the expectation that they roll into the committee leader spots in 2017/18.
School Parties - Calling all party planners! Need 1 volunteer to be in charge of planning school parties when the kids have a day off. There are plenty of ideas and connections in place, or maybe you have a great new idea!
Charleston Fall Fundraiser - 1 or more volunteers to lead this committee.
Rummage Sale - 3 or more committee members. This is a fundraiser that has raised between $6000 - $12,000 in past years for our PTO but was put on hold due to lack of volunteers. It would be nice to bring this back.
Room Parent Coordinator - Need 1 volunteer to coordinate all aspects of the room moms.
Grand Friend's Day - Need 2 volunteers to join Dee Lenters to fill this this committee.
Questions? Contact Dawn Raymond (616-238-6606, moc.nsm@19dnomyard)
Moms in Prayer
This week (Thursday, May 19) Moms in Prayer is canceled. But, please join us next Thursday, May 26 at 8:00-9:00am in the office conference room as we have our closing fellowship celebration. All are welcome to join us as we give praise for His faithfulness this school year, and always. Curious as to what Moms In Prayer is all about? This is a great time to come enjoy refreshments and ask questions.
Questions? Contact Laura Cawley (616.425.9728, moc.oohay@57_csarual)
ACS MENistry
Come join other dads on Friday mornings at 8:00am in the rear conference room of the office as we explore our call to be faithful men of Christ. We are dwelling with the Word in the Book of James, with noted author Francis Chan leading our discussion with his short video series. All ACS dads welcome!
Questions? Contact Andy Anderson (616.325.6116)
Calendar Reminders
May 23 – 5th/6th Grade Band/Orchestra and 5th Celebration Night
May 30 – No School (Memorial Day)
June 02 – 8th Grade Graduation
June 03 - Last Day (dismissed at 11:30am)
June 03 - No Forest Hills 11:30am transportation
2016-2017 Dates
Aug 24 – First day of school (dismissed at 11:30am)
Sep 02-05 – Labor Day Weekend
Sep 26 – No School (Professional Development)
Oct 19-21 – No School (CEA Convention)
Nov 23-25 – No School (Thanksgiving Break)
Dec 21-Jan 02 – No School (Christmas Break)
Jan 03 – School Resumes
Jan 23 – No School (Professional Development)
Feb 17-20 – No School (Winter Break)
Mar 30-Apr 07 – No School (Spring Break)
May 05 – Grand Friends Day (dismissed at 11:30am)
May 08 – No School (Professional Development)
May 29 – No School (Memorial Day)
Jun 07 – Last Day of School (dismissed at 11:30am)
ACS Athletics
PurePlay (PK-4th grade)
Track meet today, Wednesday, May 18 after school.
Soccer: Girls at 9:00am; boys at 10:00am
Requested Announcements
Summer Sailing Opportunities: Did you know that Grand Rapids Christian offers club sailing for girls and boys grades 7-12? Summer is the perfect time for your young sailor or potential sailor to take lessons. Lessons are offered through GRJSA at GRYC for Children of all levels ages 5 and up. No previous experience necessary. Find more information or sign up your child today. Go online and click on Summer 2016 Program Guide and find sailing on pages 20-21. Have an experienced sailor who would like racing experience prior to fall sailing? The GRYC offers junior memberships and race team opportunities as well.