Ada Connection – May 16, 2018
A Note From Principal Brower
Our Letters On Parade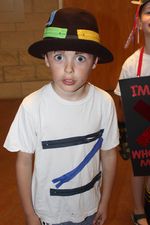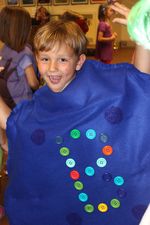 What fun to see our letters on parade! They are Cute as a Button and Zurprized as Zipping Zippers.
Spring Is In The Air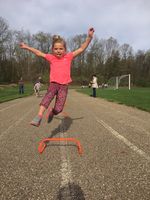 The sky is the limit! ACS preschoolers give it their all during Olympic Days!
A Warm Welcome
As we enjoy a strong finish to the current school year, we are also making plans for a strong start in the fall! We are thankful for the Christian families God is bringing to join our ACS family. With new students, comes the joy of hiring new teachers to cover new sections. Many strong candidates shared their hearts for Christian education, experiences in preparing them as effective teachers, and reasons for wanting to teach our kids. It's our privilege to introduce our newly hired teachers for Fall '18 with you.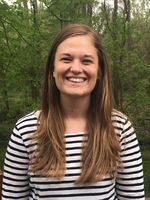 Jennifer (Jenny) Bonnema will join our first grade team. MIss Bonnema is a recent grad from Calvin College, currently working as a para-professional at Dutton Christian School. She has a Bachelor's degree in Elementary and Special Education (Cognitive Impairments). Before attending Calvin College, Miss Bonnema attended Legacy and South Christian schools. She has five years of experience in serving at Kid's Rock Summer Day Camp where she leads camp activities, devotions, classes and events for young campers. Miss Bonnema attends Encounter Christian Reformed Church. Her commitment to Christian education, heart for students, and bubbly personality are sure to bring smiles to students and sunshine to our hallways!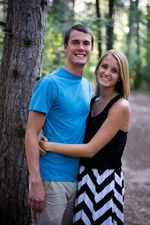 Jessica Reidsma is moving from Florida with her husband as she begins her journey at ACS as a Bible teacher on our 56'er team. Mrs. Reidsma was born in Grand Rapids and attended Westside and Calvin Christian schools before moving on to Trinity Christian College where she earned her degree in Elementary and Special Education. She has endorsements in language arts and social sciences. Her student teaching took her to Rehoboth Christian School, and she is now teaching at a missional school in Fort Myer, FL where she teaches Bible, Social Studies, and Language Arts. Mrs. Reidsma attends New Hope Presbyterian Church, and shared that she loves, "going on adventures, kayaking, hiking, walking her dog, learning about new things, and exploring God's creation." Just wait until you meet her!
Congratulations Mrs. Wittenbach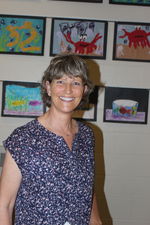 ACS Kindergarten teacher, Mrs. Wittenbach, was recently selected as the winner of Koetsier's Greenhouse "Favorite Teacher" contest. Thank you to our parents who nominated ACS teachers and congratulations to you, Mrs. Wittenbach.
Now You Know
Summer Camps
Discover the exciting camps we are offering at ACS this summer. Whether your child loves art, technology, music or outdoor ed there is something for them!
Hot Lunch
The end of the school year is quickly approaching. We will be finishing up with regular hot lunch on Friday, May 25.
Beginning May 29 we will be serving a sack lunch which will include an Uncrustable (grape jelly and peanut butter), scoops with salsa, string cheese and sliced apples along with milk. This will continue until Thursday June 07.
Sack lunches must be ordered by 3:00 on the previous school day.
Questions? Email Sue Prins (gro.naitsirhcada@snirps)
From The Library
Because the end of the year means taking inventory of over 15,000 books in our library, we are asking students and parent to be aware of the following schedule. We appreciate your help in locating any missing books.
May 18 is the last day that students will be allowed to check out books. May 23 is the day all books are due.
Day On The Green
Ada Christian School and Grand Rapids Christian Schools invite you to A Day on the Green, our annual golf outing to raise much-needed funds for financial aid to ensure that our schools remain accessible to all families who desire a Christian education for their children.
Join us for 18 holes of golf (four person scramble) on the beautiful courses of Egypt Valley Country Club on Monday, May 21.
Register to play or volunteer.
Action Needed
Employment Opportunities
We are pleased to share that there are several employment opportunies at Ada Christian for the coming school year.
The following positions are available:
Covenant Care Aide
Full-time Covenant Care Lead
Part-time Covenant Care Lead
Bus Driver
Hot Lunch Supervisor
Host Families
We have a host of new families to welcome to ACS. Would you consider being a host family for the upcoming school year? As a host family you introduce yourself to an assigned family that has a child entering the same grade as yours. We encourage you to welcome them, serve as a resource for them and attend the Ice Cream Social in late August. The date for the Ice cream social will be Wednesday, Aug 22 from 6:00-7:00pm. This event is hosted by the ACS Promotions Committee to welcome all kindergarten families and new families at ACS.
Excited about welcoming new families? Sign up as a host family.
Education Foundation Dinner – Nov 08, 2018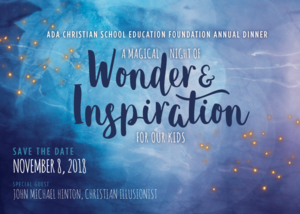 Join us on Nov 08 as we welcome Christian Illusionist, John Michael Hinton.
This Week
Moms In Prayer
There we will be praying for the ACS community. God is my helper. One who assists, aids, eases or relieves.
"For I, Yahweh your God, hold your right hand and say to you: Do not fear, I will help you." – Isaiah 41:13
If you can join us for prayer, we meet every Thursday morning 8:00-9:00am, in the ACS office back conference room. Younger siblings are always welcome! Need more information? Contact Kelly Stafford (616.304.2963, ten.tsacmoc@droffats-kj).
MENistry
Come join other dads in room 504 on Fridays at 8:00am as we explore our call to be faithful men of Christ. We will be dwelling with the Word in the Book of Luke this semester. Coffee and donuts provided. All ACS dads welcome!
PTO Happenings
Walk-A-Thon Success
What a wonderfully successful event - thank you Sarah Setlock and Sarah Plantinga our excellent co-chairs! Thank you to all of our ACS families for being a part of supporting our ACS PTO. They do amazing things for the staff and students of our school. This was a record setting year with $24,718.50 raised - what a blessing!
1G & 4Q each had 100% participation and have earn an ice-cream party!
1G raise the greatest amount of money and they will be treated to a pizza party!
Each grade level created a cheer and we enjoyed them all as we gathered in the gym to kick off the Walk-a-Thon. 4th Grade was selected to receive the "Spirit Award" for their cheer and they will be treated to an ice cream party!
The top collectors at each grade level were awarded a Dave & Busters gift card:

Preschool - Emma Martin
Kindergarten - Liam Trook
1st grade - Cole Semple
2nd grade - Landon Foster
3rd grade - Jake Semple
4th grade - Anna Van Wyk
5th grade - Dylan Wolters & Kaylee Yang (tied)
6th grade - George Boville
7th grade - Bre Lane
8th grade - Jasper Casamento

3 students had their names drawn to enjoy a tethered balloon ride which is scheduled to take place this week Friday morning at 8:30 - weather permitting.

Liam Trook
Emma Van Wylen
Kaylee Yang
ACS Athletics
PurePlay
Last Soccer Saturday: Boys at 9:00am, Girls at 10:15am.
Track meet today!
Tuesday Tennis next week at FH Central tennis courts!
Calendar Reminders
May 28 – Memorial Day - No School
June 04 – Elementary Field Day
June 07 – 8th grade graduation
June 07 – No Forest Hills PM transportation
June 08 – Last day of school - dismissal at 11:30am
June 08 – No Forest Hills transportation at 11:30am
2018-2019 Calendar
Aug 23 – First Day (Half Day)
Aug 31-Sept 03 – No School (Labor Day)
Sept 24 – No School (In-Service Day)
Oct 24-26 – No School (Teacher's Convention)
Nov 08 – ACS Education Foundation Dinner
Nov 21-23 – No School (Thanksgiving Break)
Dec 24-Jan 04 – No School (Christmas Break)
Jan 28 – No School (In-Service Day)
Feb 22-25 – No School (Winter Break)
Mar 28-Apr 05 – No School (Spring Break)
May 03 – GrandFriends (Half Day)
May 06 – No School (In-Service Day)
Jun 06 – 8th Grade Graduation
Jun 07 – Last Day (Half Day)
Requested Announcements
Operation Christmas Child
Spring or summer cleaning out? Please hold on to your gently used or new t-shirts, golf shirts and cute but unneeded pillowcases! There will be a box in the front lobby to collect these items.
This summer, a group of ladies will be meeting weekly to assemble and make gifts for Operation Christmas Child (both sewing and non-sewing tasks). Any eager crafter/sewer parent, child or Grandparent can come and help create adorable shorts for boys (out of used shirts) and pillowcase dresses for girls to receive this Christmas through our school-wide service project (Operation Christmas Child).
Katie McNinch is our school representative. If you would like more information about sharing in the joyful work of this group you can email her at moc.liamg@hcnincmgk