Ada Connection – May 08, 2019
A Note From Principal Brower
Grand Friends Day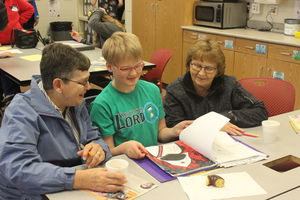 It was a delight to have our school filled with such wonderful Grand Friends!
This Week
Hanging Baskets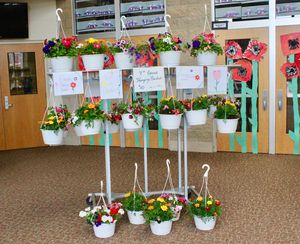 Our 4th graders have planted beautiful flowers into hanging baskets that are now available for purchase. Come by the front lobby any day this week and see the beauty. Baskets are $10.
"Faith. Strong." Friday

It's that time again. All students, staff and parents are encouraged to wear their ACS gear to school this week Friday May 10.
Lost & Found
The lost will be in the front lobby on Fri, May 10. What is left at the end of the day will be boxed away. You can always check the lost and found which is located by the kitchen/music rooms.
Moms In Prayer – Praying for 6th Grade
Praying for our sixth graders and their teachers. God revives! To bring back to life; to become active or flourishing again; give new strength.
"Turn me away from wanting any other plan than yours. Revive my heart toward you. Reassure me that your promises are for me, for I trust and revere you." - Psalm 119:37-38
Come join us for the journey when you can. We meet every Thursday morning 8:00-9:00am, in the ACS office back conference room.
Need more information? Contact Kelly Stafford (616.304.2963, ten.tsacmoc@droffats-kj).
MENistry
MENistry is a coffee group for dads who want to get to know more about themselves and the Bible. Join us on Fridays from 8:00-9:00am.
Now You Know
Hot Lunch – Ends May 31
The last day that Ada Christian School will be serving hot lunch is Fri, May 31. You will need to bring a sack lunch for June 03-06.
Until then check out the May menu and plan for lunch.
Author Visit
Author Nancy Cavanaugh will be visiting Ada Christian School! Her presentation, A Trip to the Okefenokee Swamp: An Author's Journey into Historical Fiction will occur on Monday, May 13 for 1st-6th grade students. Information about Mrs. Cavanaugh and her presentation will be sent home with students on Friday. Please watch for it along with an order form for her autographed books.
ACS Summer Camps
Discover the exciting camps we are offering at ACS this summer. Whether your child loves art, technology, music or outdoor ed there is something for them!
Summer Tutoring
The following ACS teachers and staff will be available for tutoring this summer. Please email them individually if interested. Flyers will be available next week in the front lobby.
Elementary
Mr. Hapner: Tuesday & Thursday 9:00am-12:00pm, all subjects 1st-8th
Mrs. Ritsema: Monday-Thursday mornings, K-4th Reading and Math
Mrs. Van Stee: Wednesdays 9:00am-3:00pm, K-4th Language Arts and Math
Middle School
Mr. Hapner: Tuesday & Thursday 9:00am-12:00pm, all subjects 1st-8th
Miss Slauer: Tuesday & Thursday all day, Math and Language Arts
Music
Mrs. Vruwink: Tuesdays & Thursdays 9:00am-12:00pm, Ukulele and Voice Lessons incoming 3rd-8th
Mr. Taylor: Flexible schedule, all band instruments (except oboe and bassoon), guitar and voice as well. 4th-8th
Action Needed
From the Library
At the end of the school year, we take inventory of every book on the shelves in the library. In order to complete that task by the end of the school year, the last day to check out books will be Friday, May 17. All books must be returned by Friday, May 24. After that date, lists will be sent home with students who have overdue books.
Covenant Care Registration
Dear Parents,
We are excited to share that Covenant Care is getting full! Below you will find a chart that explains how many spots are left based on the day and time of day. The blue numbers represent the number of spots left. Time slots that are full are marked as such. If you wish to enroll your child, please do so as soon as possible. Our numbers continue to grow everyday. Thank you for continuing to support our program!
Haley Herbruck
Covenant Care Director
PTO Happenings
ACS Walk-a-thon
Get ready to walk! Our children will be participating in the annual ACS Walk-A-Thon on the morning of Friday, May 10. Collection envelopes must be submitted by Thursday, May 09. This is one of only two fundraisers for our school, and proceeds go to such items/events as:
Teacher and room parent funds
Offsetting school field trip costs
The ACS Yearbook
Fifth grade camps
Music scholarships for band and orchestra students
Books for our library
Bibles for our 3rd graders to use through 8th grade
Teacher wish lists
Grandfriends' Day and Staff Appreciation
Back to School Picnic/Carnival
Any questions? Contact Sarah Plantinga (moc.liamg@tnalps)
Grand Friends Day
Another fun Grand Friends Day on the books! It was so fun to see the proud and excited kids dragging their special Grand Friends around the school by the hand, showing off artwork, explaining what they do in class, and trying to sneak an extra doughnut when the Mamas were busy giving directions.
A truly, truly extra special thank you to my crew planning this event - Becky Workman and Sandy Lineberry, along with Shelly Harmon. This event was one wild ride planning and executing to our high standards, I honestly don't think I've had this many laughs all year long.
A Grand thank you to all of the volunteers rushing around with extra trays of doughnuts, pitchers of orange juice and piping hot coffee, nimbly dodging crowds along the way. Another Grand thank you to those anchored at the tables serving our dear Grand Friends, keeping the nibbling little doughnut bandits at bay, and skillfully pointing this way and that to get everyone to the right place at the right time.
A final Grand thank you to the greeters and ushers, the cheerful first faces of the morning, presenting our absolute best foot forward at the start of the day.
This was a great event, a riot to plan and a joy to watch unfold. Reach out if it's something you'd be interested in being a part of next year!
Warmly,
Holly Karasinski and the PTO
ACS Athletics
Elementary Field Day
Elementary Field Day will be held on June 03.
PurePlay
Soccer: First event: Saturday, Apr 27: Girls @ 9:00am, Boys @ 10:15am.

Track and Field Club: Track meet today after school. Pick up at 4:15pm.

Tuesday Tennis continues next week to Ada Courts.
Calendar Reminders
May 10 - ACS Walk-a-thon
May 10 - No Forest Hills PM transportation
May 27 - No School – Memorial Day
June 06 - 8th Grade Graduation
June 06 - No Forest Hills PM transportation
June 07 - Last day of school - dismissed at 11:30am
June 07 - No Forest Hills transportation at 11:30am
Aug 26 - First day of school - dismissed at 11:30am
2019-2020
Aug 26 – First Day (Half Day)
Aug 30-Sept 02 – No School (Labor Day)
Sept 30 – No School (In-Service Day)
Oct 23-25 – No School (Teacher's Convention)
Nov 27-29 – No School (Thanksgiving Break)
Dec 23-Jan 03 – No School (Christmas Break)
Jan 27 – No School (In-Service Day)
Feb 28-Mar 02 – No School (Winter Break)
Apr 02-10 – No School (Spring Break)
May 01 – GrandFriends (Half Day)
May 04 – No School (In-Service Day)
Jun 04 – 8th Grade Graduation
Jun 05 – Last Day (Half Day)
Requested Announcements
Art Sale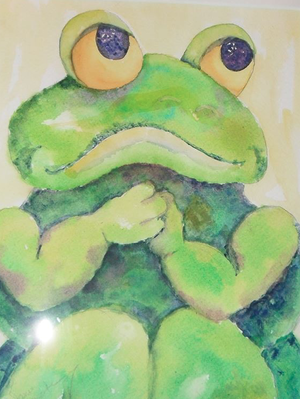 Art by Jan Carpenter. 100% of the sales support Schools for Sierra Leone. Front Lobby next week May 07-10 . Great Mothers Day gifts and cards available too.