Ada Connection – Mar 23, 2016
Principal's Note
Praise God from whom all blessings flow!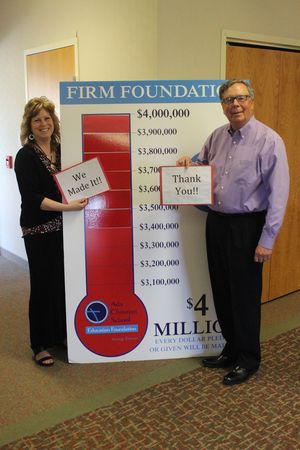 Our journey began in November, 2013 with a meeting of Firm Foundations Campaign cabinet members and a $4M campaign goal. Many volunteered to walk with us on this journey.
We are very pleased to announce that, as of Monday morning, we've reached the "finish line!" We have received $4M in gifts and pledges. This campaign will enable generations to come to receive needed support for high-quality Christian education at Ada Christian School. It also enables us to enhance our present programming by offering Outdoor Education, more accessible technology, professional staff development and many other materials which will benefit our students.
We are grateful to God for his faithfulness and to the more than 350 donors who helped us reach our ambitious goal. Thank you for all you've done for this campaign, our students and entire ACS community.
A Fantastic 8th Grade Musical!

Action Needed
Spring Break
Leaving early? Coming back late? If you are planning to leave early for and/or coming back late from spring break with your family please notify the office and their teachers several days in advance. The parent must call or email, not the student. The teachers are not required to prepare assignments or school work in advance for students to take on vacation. Your child's elementary teacher will hold assignments and give them to your student when you return. For middle school, it is the student's responsibility to ask the teachers what work needs to be made up following the absence.
Chapel
Our All School Good Friday Chapel is Mar 25 at 8:15am, led by our 7th and 8th grade students.
ACS Annual Society Meeting
An important envelope arrived in your mailbox last week. It contains important information about the meeting scheduled for Tuesday, Mar 29 at 7:00pm . You will note that we will be honoring 13 staff members for their years of service - did you know that Mr. Bill has been serving ACS for 40 years! We have 3 teachers that have been blessing our children for 35 years. Be sure to check out the whole list. We are sure that you will want to be here to thank them with us. If you are unable to attend please be sure to use the Absentee Ballot at the end of the packet.
Hot Lunch
A reminder that ordering May's hot lunch needs to be completed over Spring Break between Apr 01-10. No late orders accepted.
Service Team
If you are a student in grades 3-5 we welcome you to participate in the ACS Service Team! Join us to serve those in the Grand Rapids community.
Dates: Tuesday April 12, 19, 26 and May 03
Time: 3:00-5:00pm
Fee: $25
Space is limited so please sign up by providing your name and fee to Sharon at the front desk as soon as possible. Please make checks out to ACS.
Questions? Contact Amy Leonard (moc.oohay@rekoocyma)
Families from the ACS service team will soon be sponsoring a refugee family. We will be working with Bethany Christian Services who partners with local organizations to welcome these families and support them as they acclimate to a new country and new life. As you can imagine, the needs of a refugee family are great. To meet some of the needs, the Service Team will be collecting new or gently used household items to help get the family started in their new home. Items needed include but are not limited to: dishes, glassware, small appliances, linens, furniture, etc. Please bring your items to school during the week of April 11-15. We will have tables set up at the ends of each hallway as well as the main lobby.
Questions? Want to be involved in this ministry? Contact Lauri Hanenburg (moc.liamg@grubnenahl)
Lost and Found
The Lost and Found tables will be cleared off on Wed, Mar 30. Please claim any lost items soon.
This Week
Moms in Prayer
Please join us Thursday 8:00-9:00am in the office conference room as we pray for our children, their teachers and the ACS community. This week we will be praying specifically for 6th grade and we remember that God is our shepherd.
May the God of peace, who through the blood of the eternal covenant brought back from the dead our Lord Jesus, that great Shepherd of the sheep, equip you with everything good for doing his will, and may he work in us what is pleasing to him, through Jesus Christ, to whom be glory for ever and ever. Amen. –Hebrews 13:20-21a
Questions? Contact Laura Cawley (616.425.9728, moc.oohay@57_csarual)
ACS MENistry
Come join other dads on Friday mornings at 8:00am in the rear conference room of the office as we explore our call to be faithful men of Christ. We are dwelling with the Word in the Book of James, with noted author Francis Chan leading our discussion with his short video series. All ACS dads welcome!
Questions? Contact Andy Anderson (616.325.6116)
Calendar Reminders
Mar 25 – Good Friday Chapel at 8:15am in North Gym
Mar 29 – Annual ACS Society Meeting (7:00pm)
Mar 30 – Lost and Found Emptied
Mar 31-Apr 08 – No School (Spring Break)
Apr 11 – School resumes at 8:00am
Apr 28 – Fine Arts Night
2016-2017 Dates
Aug 24 – First day of school (dismissed at 11:30am)
Sep 02-05 – Labor Day Weekend
Sep 26 – No School (Professional Development)
Oct 19-21 – No School (CEA Convention)
Nov 23-25 – No School (Thanksgiving Break)
Dec 21-Jan 02 – No School (Christmas Break)
Jan 03 – School Resumes
Jan 23 – No School (Professional Development)
Feb 17-20 – No School (Winter Break)
Mar 30-Apr 07 – No School (Spring Break)
May 05 – Grandfriends Day (dismissed at 11:30am)
May 08 – No School (Professional Development)
May 29 – No School (Memorial Day)
Jun 07 – Last Day of School (dismissed at 11:30am)
ACS Athletics
PurePlay (PK-4th grade)
Soccer signups are closed. More coaches are still needed. Information about teams will be sent out by April 01.
Requested Announcements
Esther School: The Wolters Family will be traveling to the Esther School in Nyangwena, Zambia this spring break. The staff there has recently asked if they would be able to bring some medical supplies with them. As we live our vision to educate the whole child; mind, body and soul in Christian community what better opportunity could there be than to support the Wolters as they in turn offer support to the staff of The Esther School. Some specific requests: CPR masks, Epi pens, scabies cream, baby aspirin, ace bandages and other first aid supplies - band aids, Neosporin, splints, etc. They have also asked for flea and tick medicine for the school dog! If you would like more information about the Esther School visit www.estherschool.org
Green Wagon Farm founded by ACS grad, Chad Anderson, is offering the opportunity to have fresh vegetables and herbs from June – Oct. For more information visit www.greenwagonfarm.com or stop by school and pick up an information flyer.