Ada Connection – Mar 22, 2017
A Note From Principal Brower
ACS Job Postings For 2017-2018
Saying good-bye is never easy. Two of our teachers will not be returning to ACS next year, leaving important positions to be filled.
After instructing and inspiring hundreds of students to use their amazing voices to tell the wonders of creation's King, Mrs. VandenBosch has made the decision to retire. Senora Weaver has also decided to move on to new adventures, leaving a vacancy for a Spanish teacher in grades 3-8. In addition to filling the vacancies of elementary music teacher and Spanish teacher, ACS is also seeking a director for our new "Covenant Care - before and after" childcare program.
If you are interested in any of the following positions:
Elementary Music
Spanish
Covenant Care Director
Please see details and obtain an application. Postings will be made available tomorrow.
Chess Success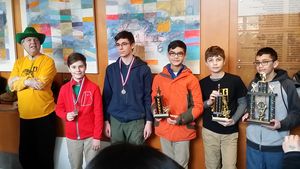 Congratulations to Mr. Hoo and his Faith Strong Chess Club participants who recently entered chess tournaments! There were about 65 contestants in a chess tournament in Ludington and two of our ACS students placed:
Nathan Yeh - 1st place, 6-8
Evan Yeh - 1st place, K-3
There were more than 200 players in a tournament hosted by Thornapple-Kellogg, and two more of our ACS students placed:
Lilly O'Grady - runner-up, K-3
Landon Dempsey - runner-up, 4-5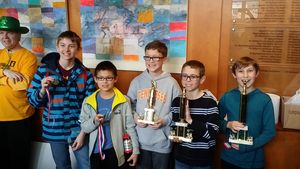 And ACS made its mark in Holland where approximately 70 players participated from area schools in the tournament:

Maxwell O'Grady - 1st place 3-5

Ford Erickson - 2nd place 3-5

Landon Dempsey - 3rd place 3-5

Andrew Yeh - 4th place 3-5

Ben Sytsma - 5th place 3-5

Nathan Yeh - 3rd place 6-8

Drew Leonard - 5th place 6-8

Congratulations to all! Your time "under the canoe" made a difference!
This Week
The Little Mermaid – Dessert Theatre
ACS 8th grade presents: The Little Mermaid. Dessert Theatre has been an important part of our school for many years. It is a wonderful community event and we hope that you can join us. Come for one or both nights, Mar 23 and Mar 24 at 7:00pm.
Online reservations have closed. Doors open at 6:30 each night.
Moms In Prayer - God Is My Teacher
This week we will be praying specifically for 5th Grade. God is my teacher.
"To you, O LORD, I lift up my soul; in you I trust, O my God. Do not let me be put to shame, nor let my enemies triumph over me. No one whose hope is in you will ever be put to shame, but they will be put to shame who are treacherous without excuse. Show me your ways, O LORD, teach me your paths; guide me in your truth and teach me, for you are God my Savior, and my hope is in you all day long. Remember, O LORD, your great mercy and love, for they are from of old." Psalm 25:1-5
Please join us Thursdays at 8:00-9:00am in the office conference room as we pray for our children, their teachers and the ACS community.
Questions? Contact Laura Cawley (616.425.9728, moc.oohay@57_csarual).
MENistry
A group of ACS dads who meet and dwell with the Word of God every Friday 8:00-9:00am in the back office conference room. We will be discovering how to be a Christ-like spiritual leader within our families, places of work, and the world. Coffee and donuts provided.
Now You Know
A Day On The Green
Our annual golf outing to raise much-needed funds for financial aid,
will be held on
May 15
, 2017 at Egypt Valley Country Club.
Join us for an afternoon of golf
, followed by a 19th hole reception and silent auction. This year's event feature fun new ways to increase your opportunity to win! Sponsorships are available.
Not a golfer? Volunteers are needed too!
March Is Reading Month
March is reading month and we are busy with it.
Mar 29 – Books and Blankets
On the last day of school before Spring Break, everyone is encouraged to bring a blanket (or towel). We will find time during the day to spread out and read.
Month of March – Mystery Readers
Many of the teachers and staff have narrated book videos. However, their voices have been altered. During the month, students will watch the read aloud movies and try to guess who the mystery reader could be.
Celebrating Mr. Bill – Save The Date
On Friday, May 05 we will be celebrating Mr. Bill at Fifth Third Ballpark. Please watch your mailbox for more information coming soon!
Looking Ahead
2017-2018 calendar. Feel free to start your plans for the coming year…we certainly are!
Aug 24 – First Day
Sept 01-04 – Labor Day Weekend
Sept 25 – No School - Staff Professional Development Day
Oct 18-20 – No School - Fall Teacher's Convention
Nov 22-24 – Thanksgiving Break
Dec 22 – Christmas Break Begins
Jan 08 – School Resumes
Jan 29 – No School - Staff Professional Development Day
Feb 23-26 – Winter Break
Mar 29 – Spring Break Begins
Apr 09 – School Resumes
May 04 – GrandFriends Day
May 07 – No School - Staff Professional Development Day
May 28 – Memorial Day
June 08 – Last Day
Action Needed
Online Re-enrollment
Re-enrolling your child(ren) at ACS is about to get easier! As we move away from paper to an online re-enrollment process, we need your help. To prepare for and ensure a smooth transition, we need each returning family to:
Create a PowerSchool Parent account*
Link your child(ren) to your account
An email with important, individualized instructions was sent to you on Friday, Mar 17. The process should take about 5-10 minutes and we are asking each family to complete the process in the next 10 days – by Monday, Mar 27.

Families who already have an ACS PowerSchool Parent account (for a middle school child) do not need to make a new account, but do need to link your other child(ren) in K-4th grade to your current account.

Need Help? If you have questions or difficulty creating your account or linking your children to your account, please email Nate Kiser (gro.naitsirhcada@resikn).
Thanks in advance for your help and understanding as we work to improve the re-enrollment process for you.
KIDS-TRIP Program
Thank you so much for participating in the KIDS-TRIP program. If you would like to know the balance for the credit you have earned for 2016-2017 please contact Elizabeth Westhouse (gro.naitsirhcada@sdik).
Spring Break Plans
Leaving early? Coming back late? If you are planning to leave early for and/or coming back late from spring break with your family please notify the office and their teachers several days in advance. The parent must call or email, not the student.
Teachers are not required to prepare assignments or school work in advance for students to take on vacation. Your child's elementary teacher will hold assignments for him/her and give them to the student when you return. For middle school, it is the student's responsibility to ask the teachers what work needs to be made up following the absence.
PTO Happenings
Help Needed: Grand Friends Day Co-Chair
The PTO is in search of a Grand Friends Day Co-Chair. This person would co-chair, this school year, with our presiding Grand Friends Chair. It will be a great opportunity to learn from our presiding chairperson who will be rotating off this committee. For the following year, we already have a parent who has committed to co-chair as well, thus, making this a two person chair committee.
This event will require the week of Grand Friends Day (Thursday and Friday) as well as a little bit of time pre-planning (making a of couple phone calls and shopping). It's really a fun event to be apart of!
Interested? Contact Dawn Raymond (gro.naitsirhcda@otp, 616-238-6606). Review and response to inquiries will take place on Mar 25.
Spring Break School Party
Come and join your Ada Christian Friends at this fun school party to kick off spring break. Friday, Mar 31 at Airtime Trampoline, 3681 28th St SE. Students and parents may jump for any 2 hours during the hours of 3:00 - 9:00pm for $10 per person. No sign up is needed. However, save time in line by signing a waiver online before you go.
When you show up you must let Airtime know that you are from Ada Christian School to get this great rate! As a bonus Airtime will donate $1 for every jumper back to the ACS PTO. At the last Airtime school party, we had 85 jumpers from ACS!
ACS Athletics
PurePlay Spring Sports
Five different PurePlay opportunities are available for the spring. Please see the ACS website for details.
The deadline to sign up for spring Soccer is Friday, Mar 24. We still need more coaches.
Available to coach? Contact Coach DK (gro.naitsirhcada@enielkeds).
Calendar Reminders
Mar 23-24 - Dessert Theatre
Mar 28 - Annual ACS society meeting
Mar 30 - Apr 07 - Spring break
Apr 10 - School Resumes
Apr 27 - Fine Arts Night
Requested Announcements
Calvin Spring Classic 5K
Calling all runners, walkers and movers! Ada Christian School will be participating in the Calvin Spring Classic 5K School Challenge on Apr 29. This is a great way to be active, promote our school, and be entered to win some awesome prizes. The school with the most participants wins $250. One student from each of the five schools with the most registrants will win a $350 gift card to Village Bike Shop.
Register now and make sure you select Ada Christian School under the school challenge. Encourage friends and family to sign up as well. Younger kids who sign up for the fun run are still counted toward our team total and are entered to win prizes as well.
Need more information? See the attached flyer or check out the posters around school. If you have any questions, please contact Anna Ter Beek (gro.htlaehmurtceps@keebret.anna).