Ada Connection – Mar 18, 2020
A Note From The Principal
A Moment of Reflection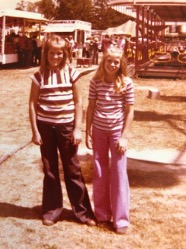 I remember being at the annual Gerber Baby Food Festival in Fremont, MI when I was in Middle School (or Junior High as it was called back then). I loved being in the midst of the hustle and bustle of people, listening to the banter on the midway, smelling the cotton candy, and trying to decide on which rides to spend my paper tickets. (After all - rides could cost anywhere from .25 to .50 each!)
After weighing the pros and cons of each ride, my best friend, Julie (on the left), and I climbed aboard the tallest, spinning-est, wildest ride we could find. The entire beast had arms that rotated around and around and each car attached to the spinning arms also rotated around and around. I had never been on a ride with so many moving pieces before and could barely contain my excitement as I buckled up for the adventure of my life!
It was an adventure all right! After the first couple spins, I knew I never wanted to strap myself into anything like it ever again. Even after exiting the contraption, my head continued to spin and my brain felt wonky! The ground looked rather tilted and, even though I had my eyes on a target, I was a little wobbly getting to my mark. My friend and I looped our arms around one another and took one step at a time together. It took a little time for my equilibrium to return and for all to seem normal again - but it did!
Last Thursday night around 11:00pm when Governor Whitmer mandated the closing of all K-12 schools, that old but never forgotten feeling of strapping myself into a spinning contraption returned. Everything tilted a bit. I am so thankful we can virtually loop our arms around our colleagues, parents, students, and friends as we experience this COVID-19 ride together. There are many moving pieces! And, I know it may feel like things are a bit wobbly, but I also know that we WILL see normal again.
Aren't you thankful we serve the Creator of all things -- the One who holds the whole world in his hands? His Holy Word encourages us when it says, "Now may the Lord of peace Himself continually grant you peace in every circumstance. The Lord be with you all." (2 Thessalonians 3:16)
Missing you all!
Principal Brower
A Special and Big Thank You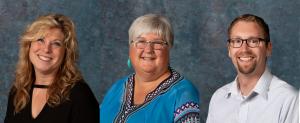 Transitioning from a traditional school to an "Off Campus Learning" school with about 8 hours of notice was a challenge for all of us. I want to share a sincere thank you on behalf of all of our administrators and faculty members for the way you, our ACS parents, have supported us with love, patience, kindness, and goodness as we have navigated this unexpected and new territory. We truly value your partnership with us and are thankful for each of you.
Action Needed
Got Yolk?
For those who have purchased a weekly egg share eggs are ready for pick-up in the barn. Please note that next week is the last week of eggs for this 10 week cycle.
Now You Know
OE News
It's a beautiful day in Michigan. Spring is on it's way! We all have a happy, healthy opportunity to get outdoors with our kids and soak up the goodness of our Creator's wonder!
Yes, you are welcome to come as a family and wander the beautiful property at ACS. It's YOUR property.
Here are a few ideas:
Owl Hunt - There are 15 owls hiding along the 2.5 miles of trails. This won't be easy:) but they are all within eyesight from the trail. If you find one....take it with you. Mr. Hoo will reward you with a prize - Native arrowhead, flute or flint/steel firestarter.
Maple Syrup - The Sugar Shack in the woods will be boiling sap every other day (until the sap stops flowing) until Spring Break. There are buckets in the Sugar Shack if your family wants to collect sap and put in the storage tank behind the Sugar Shack. Go for it!
Treasure in the woods 2 - On this week of St. Paddies day the mysterious "Limerick Phantom" has left clues to a treasure.
The native village has the first clue

In the Iroquois dwelling it waits for you

A star will lead

That's all you'll need

And off you'll go to clue number two
Goats - Frannie, Beau, Raindance, Joy......all due to have kids in the next 3 weeks. The goatcam is up in running again. Check it out once in a while to see if there are any new, adorable residents at ACS.......or pay them a visit. They love the love!
Trails - By the end of next week I'll be putting piles of wood chips at different parts of our trails.....with a wheelbarrow and pitchfork by each pile. We would love to have you come on out and spread some chips to help maintain our/YOUR beautiful trails. No need to let anyone know when you might come.....spur of the moment is just fine:)
Backyard adventures - Hope you're having these with your kids!
COVID-19 Social Story
Looking for something to help talk with your kids about Coronavirus? This Social Story may help.
ACS SCRIP
At this time we are continuing to keep this program open. However, due to the limited school hours and building access, we are requesting that all Scrip orders be placed as ScripNow verses the Plastic cards until a regular school schedule resumes.
Thank you for your understanding of this.
Internet Options
Internet companies are offering ways to help. Here are a few details.
Spring Break
Ada Christian School, along with the Kent ISD, has decided NOT to change the dates of our originally planned Spring Break. Spring Break 2020 will remain Apr 03-10.
PTO Happenings
PTO and COVID-19
From now until year-end is typically the time when the PTO and our powerful network of parent volunteers rolls up our collective sleeves and busies ourselves with many events honoring and appreciating staff and engaging students.
We now call on that same powerful network of parents to join us in prayer over our national leaders, over those who are ill and those who are caretakers, over children at home, and over stretched-thin parents. This year, the spring looks a little different for us. It's hands raised in prayer rather than boots on the ground. And we'll take it.
We will creatively restructure our plans and events as much as possible. We remain hopeful, stay tuned as we all move forward together.
Prayerfully,
Your PTO
Staff Appreciation Week
This week has not brought the traditional Teacher's Lounge full of treats and snacks and decorations celebrating our teachers, however it has absolutely brought something just as valuable - your messages of gratitude and care for our teachers.
We are overwhelmed with the outpouring of support that you have already begun with, and we are warmed to see that continue even without a formal Staff Appreciation Week.
As a school family we continue to wrap our arms around our teachers and staff who are not only managing their own families and children home, but working hard to improvise lesson plans and overcome obstacles never dreamed of to work on this new format. And all in blazing-fast time.
We appreciate you, teachers and staff, even though we can't show it materially, please know that you are tucked in our prayers and in our hearts now more than ever.
Most sincerely,
Your PTO
Mother Son Event
We plan to host this special event for our mothers and sons at a rescheduled date this spring If, over the next few weeks, it appears that this won't be possible, we will distribute the super cool t-shirts along with a refund for the rest of the ticket price.


At this point, we prefer to remain optimistic that this event can still be hosted, simply on a different date.
Fingers crossed,
Your PTO
Year-End Teacher's Gifts
We have a fantastic idea for year-end teachers' gifts. Because teachers read the Connection, I'm not sharing even a hint as to what that could be! Stay tuned for an email from your Room Parent with details. If you haven't seen an email yet, give a few day's grace while we all gather our bearings then send a quick email to your Room Parent to request details.
Envelopes for each classroom are on the front counter. If you'd like to participate, please make yourself a little note to pop in the office with cash or check on Monday when you are doing the big homework drop off/pick up shuffle. We'd like to have everything pulled together by April 1st, so there are two more Mondays to contribute. There is also an envelope for our beloved Specials Teachers.
Covertly,
Your PTO
Walk-a-thon
Our ACS Walk-a-thon is an important fundraising event for our PTO as it is our only one for the year. As of now we are still planning to hold the Walk-a-thon in early May. Keep an eye out for details in upcoming editions of the Ada Connection as we closely monitor the situation.