Ada Connection – Mar 02, 2016
Principal's Note
Kindergarten, Kids, Quotes, & Crawling
While visiting Mrs. Wittenbach's kindergarten class this week, I entered to hear joyful singing: "I can do all things through Christ who gives me strength!" After singing energetically and dancing a cute little jig, I heard:
Boy 1: "Well, I don't think he can help me make a rocketship out of dust."
Boy 2: "Well, I don't think he will help me make a time portal."
Mrs. W: "Let's meet on the rug and talk about what Philippians 4:13 means."
Mrs. W started explaining and about 30 seconds into her explanation I saw a hand shoot up and heard:
Girl 1: "It's talking about things like Daniel and Goliath. That's the story the verse reminds me of, because without God Daniel couldn't have beat that giant."
Mrs. W: "I think you mean David. And, yes! I like your thinking and the way you connected that verse to the story about David and Goliath…."
All kids nodded emphatically.
As I walked out, students were crawling to their desks like iguanas, because that what you do when you study the letter, "I" as long as, according to...
Boy 3: "You make sure your tail doesn't hit any friends on the way!"
Boy 4: "Because your tail could break off."
Boy 5: "But if it did you would probably grow a new one, because that's what yellow lizards do."
The words of Philippians 4:13 were still echoing in my mind. Yes! We can do all things through Christ who gives us strength!
Action Needed
Hot Lunch – Order now for April
The window for ordering Apr Hot Lunch is Mar 01–10.
Late orders cannot be accepted.
Please take note of your child's scheduled field trips and appointments. We do our best to notify you regarding field trips on the hot lunch order form and in parent letters as well.
Questions? Please contact Sue Prins (gro.naitsirhcada@snirps)
Order Dessert Theatre Tickets
Our 8th graders have been working on th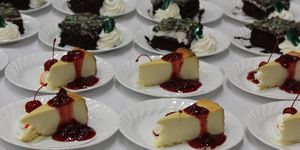 is year's musical (High School Musical Jr.) for many months and our 7th graders are gearing up for the role they will play in this special event scheduled for
Mar 17
and
Mar 18
.
All ACS students will attend the dress rehearsal on Wednesday, Mar 16 during school, but if you and your family would like a fun evening out and a sneak peek at what your students have to look forward to in Middle School, reserve your tickets today!
"Faith. Strong." Friday - Mar 04!
It's that time again. All students, staff and parents are encouraged to wear their ACS gear to school this week Friday, Mar 04. Watch next week's Ada Connection for a picture or two of our school spirit!
Kindergarten Orientation: Information for 2016-2017 Kindergarten Parents
Come to kindergarten orientation on Tuesday, Mar 15 at 7:00pm in the commons. This is for parents only.
During this time you will need to sign up your future kindergartener for visiting on Thursday, Apr 14 at 8:30-9:30am, 10:00-11:00am, or 12:00-1:00pm.
Testing must be done if your child turns 5 after Jun 01, 2016. The time for testing is Thursday, Apr 21 from 8:30-9:30am or 9:45-10:45am.
If you are not able to come to the orientation night, please stop in the office before Mar 15 and sign up your child to visit and pick up a folder with papers that need to be filled out and returned by Apr 14.
ACS Open House – Invite your friends to join us!
On Mar 08 from 10:00-12:00pm, ACS will be hosting an Open House for prospective families. Please invite your friends to join us! We would love to give them a tour and share about the ways we partner with parents in Christian education.
GRASP – Sign up by Mar 04
Grand Rapids Academic Summer Programs are available for ACS students. GRASP is an optional summer correspondence education program for grades K-8, which helps students maintain reading and math skills while they are on summer vacation. Forms are due (105 KB PDF) to the ACS office by Mar 04.
This Week
Moms in Prayer
Please join us Thursday 8:00-9:00am in the office conference room as we pray for our children, their teachers and the ACS community. This week we will be praying specifically for 3rd grade and we remember that God sustains.
They rejoice in your name all day long; they exult in your righteousness. For you are their glory and strength, and by your favor you exalt our horn. Indeed, our shield belongs to the LORD, our king to the Holy One of Israel. Once you spoke in a vision, to your faithful people you said: "I have bestowed strength on a warrior; I have exalted a young man from among the people. I have found David my servant; with my sacred oil I have anointed him. My hand will sustain him; surely my arm will strengthen him.

–Psalm 89: 16-21
Questions? Contact Laura Cawley (616.425.9728, moc.oohay@57_csarual)
ACS MENistry
Come join other dads on Friday mornings at 8am in the office back conference room as we explore our call to be faithful men of Christ. All ACS dads welcome!
Questions? Contact Andy Anderson (616.325.6116).
Calendar Reminders
Mar 08 – Open House at ACS (10:00am-12:00pm)
Mar 17 & 18 – Dessert Theatre
Mar 29 – Annual ACS Society Meeting
Mar 31-Apr 8 – No School (Spring Break)
Apr 11 – School resumes at 8:00
Apr 28 – Fine Arts Night
2016-2017 Calendar Highlights
Aug 24 – First day of school (dismissed at 11:30am)
Sep 02-05 – Labor Day Weekend
Sep 26 – No School (Professional Development)
Oct 19-21 – No School (CEA Convention)
Nov 23-25 – No School (Thanksgiving Break)
Dec 21-Jan 02 – No School (Christmas Break)
Jan 03 – School Resumes
Jan 23 – No School (Professional Development)
Feb 17-20 – No School (Winter Break)
Mar 30-Apr 07 – No School (Spring Break)
May 05 – Grandfriends Day (dismissed at 11:30am)
May 08 – No School (Professional Development)
May 29 – No School (Memorial Day)
Jun 07 – Last Day of School (dismissed at 11:30am)
ACS Athletics
PurePlay (PK-4th grade)
Spring soccer sign ups are still underway.
Friday is the last day to sign up for the Co-Ed volleyball clinic.
Requested Announcements
Green Wagon Farm: founded by ACS grad, Chad Anderson, is offering the opportunity to have fresh vegetables and herbs from June – Oct. For more information visit www.greenwagonfarm.com or stop by school and pick up an information flyer.