Ada Connection – June 08, 2017
A Note From Principal Brower
8th Grade Graduation
Tuesday night, we said "See you later" to an astounding group of young people. Our 8th graders brought a lot of energy and smiles to teachers and schoolmates over the past few years. We are sad to see them go, but so anxious to see how they use the gifts God has given them to change the world for Him.
We were sad to say goodbye to 17 families that have now graduated their youngest child from ACS. They have been a blessing to us for many years. They have shared their talents and their treasures and we have felt their prayers and appreciated their supportive words of encouragement. They will be missed.
Six of these families have been with us for a VERY LONG time. The DeVries, France, Reitsma and Styf families began their ACS journey at our old home on Bradfield - what changes they have seen!
Paul and Rosemary Heule brought their oldest to kindergarten in 1995 and this year they have graduated their youngest. That marks 22 years of ACS parenthood. Jeannine Lanning enrolled her oldest, Jessica Slagter in 1994 and now, 23 years later, she and Ray are graduating the youngest, Jacqueline. Life will seem different at ACS when they do not walk through the door in August.
We were equally honored to recognize Rich and Helen DeVos for 30 consecutive years as ACS grandparents. They have been a blessing to Ada Christian School. They have made a difference that will impact the families of ACS for many generations to come. In their hearts, the greatest treasures that they shared with us were their precious grandchildren!
We wish all of these families God's blessings as they transition to life away from ACS. Return visits are always well received. We hope to see you again soon!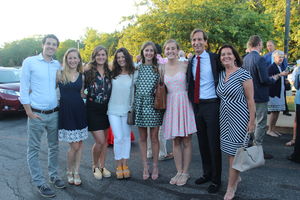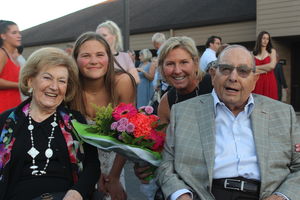 Have A Great Summer!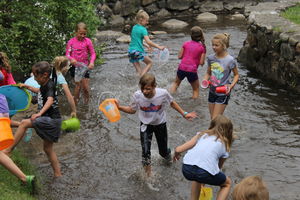 What a year we have had telling the wonders of creation's King!

Thank you for joining with us in a year filled with exciting adventures and grand transformations. Our integrated outdoor education program is growing. A Covenant Care program is starting. Kids are flourishing. And, God is continuously stretching us to love and serve one another and our community. What a GREAT year!

Without fail, at the end of each ACS school year I am humbled as I reflect on how blessed I truly am to be a partner in Christian education with each of you. Thank you for the kindness, support, prayers and love you pour out on our school community.
Fall Plans
We are looking forward to sharing news with you about the upcoming school year and introducing you to our new Spanish and 5th/6th grade teacher. We anticipate sending an email with details to you by the end of June!
Now You Know
Summer Reading Programs
Grand Rapids Kids has a list of summer reading clubson their website. SYNC audiobooks has a summer audiobook club for teens 13+. Take a listen!
DEA Scores
Included with your student's report card, you will find his/her Discovery Education Assessment (DEA) scores, a parent letter , and an explanation for interpreting the data . Watch this short video for additional help in understanding these scores.
Thank You From Mr. Bill
Joyce and I would like to thank all of you at Ada Christian (past and present) for all your expressions of thanks for my retirement, especially for the beautiful travel trailer. Joyce and I will enjoy traveling with it. It has been a privilege to serve at Ada Christian for the past 41 years. I have enjoyed getting to know you kids, I will miss them.
Wish you all the best,
Mr. Bill and Joyce.
Summer Band Lessons
A great way to keep up and improve your musical skills with amazing Mrs. Horton. Get better at any band instrument, or begin to learn a new one - sign up for Summer Music Lessons at ACS with Mrs Horton! Mrs. Horton will help anyone from 5th grade through adult.
A Word From The Education Foundation
Thank you for another successful year of supporting Ada Christian School and the
ACS Education Foundation! God has blessed our efforts in raising funds for the Annual Fund (over $300,000) and for the "Firm Foundations Campaign" (we met our 4M goal!)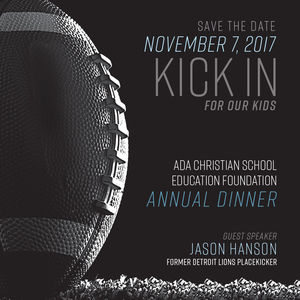 Looking ahead, we're excited to announce our annual fall dinner for the foundation
featuring former Detroit Lion placekicker, Jason Hanson, as our speaker. We also plan to honor Paul and Rosemary Heule as our Distinguished Service Award recipients.
Save the date for the ACS Education Foundation Dinner, Tuesday, Nov 07.
Summer Art Camp 2017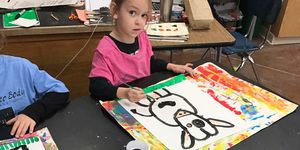 Instructor: Mr. Zac Wanner (our fabulous art teacher)
Where: Ada Christian School Art Room
When: Aug 07 – Aug 11 (just when you are getting tired of summer and want something exciting to do!)
Cost: $120 per student. Please return with payment to the ACS office; checks should be made payable to Zac Wanner.
Session I for students entering grades 3-5:
Aug 07 – Aug 11
9:00-11:30am
Session II for students entering grades 6-8:
Aug 07– Aug 11
12:45-3:00 pm
Limit: 15 students per camp session
Ready for some artistic fun? Sign up for art camp!
Tech Camp 2017
Dates: Aug 07-11 from 9:00-11:30am
Grades: Students entering grades 3-8
Cost: $120
Do you enjoy using technology? Mr. Musch, Ms. Frens, and Mr. Kiser would love to explore some technology activities, games and projects with you. Our ACS Technology Camp is for people of all technological skills. Possible activities: coding, Cubelets, game design, Makey Makey, Mindstorms, Osmo, Ozobots, stop motion videos, etc. No matter your skill level, you will have a great time hanging out with the tech team, learning new things and meeting new friends. Snack and games every day! The first 40 who sign up are in!

Please complete the sign-up, or fill out the paper (420 KB PDF) form and turn in funds to the office. Email Mr. Musch (gro.naitsirhcada@hcsuma), Mr. Kiser (gro.naitsirhcada@resikn) or Ms. Frens (gro.naitsirhcada@snerfj) if you would like the link to the online sign up.
Before And After Care Program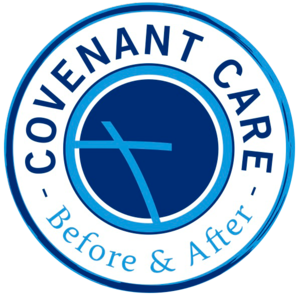 We are happy to announce that ACS is offering a before and after school childcare program called, Covenant Care, beginning next fall.
We have added new hours, see the changes!
Please print off the registration form and return or mail to the ACS office.
KIDS Program
Beginning June 01, 2017 all orders must be paid through PrestoPay. The summer schedule will be as followed:
Orders Placed Orders for Pick up
June 07 June 21
June 21 July 05
July 05 July 12
July 12 Aug 02
Aug 02 Aug 16
Aug 16 Aug 23
Aug 23 – Regular weekly schedule resumes
Action Needed
School Supply List
Check out the list and plan for Aug 24.
End of Year Library Details
If your child has any unreturned library materials, you will find a letter in your child's report card. When you find the book(s) please return them to school at your earliest convenience. A box will be set up in the school lobby. If you know that the books are lost, please submit payment to school so that replacement titles can be ordered. Thank you.
Hot Lunch Accounts
Please correct any outstanding balances. All remaining balances will roll over to next fall. If your oldest is an 8th grader and they have younger siblings the balance can be added to the younger accounts as well. If you would like a refund for a graduating 8th grader (with no younger siblings) you can e-mail cpratt@fhps.net stating that they you would like a refund along with a current address.
Summer Stories at ACS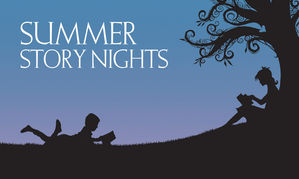 From June 19-Aug 14, ACS will be having an
outdoor story time from 7:00-7:40 pm
. This is an opportunity to let our neighbors and families enjoy all of the hard work that has gone into our Outdoor Education project.
Every Monday night
, there will be two 20 minute story times. The first 20 minutes will be filled by a volunteer from KDL and the second 20 minutes will be a volunteer reader from ACS.
Seeking Parents With A Servants Heart
Are you interested in helping to plan service projects for our school community? If so, please contact Amy Leonard (317.439.3677, moc.oohay@rekoocyma) or Sheila Hemker (708.212.2558, moc.liamg@rekmeh.aliehs).
ACS Host Families
We have host families to welcome new families to ACS. Would you consider being a host family for the upcoming school year? As a host family you introduce yourself to an assigned family that has a child entering the same grade as yours. We encourage you to welcome them, serve as a resource and attend the Ice Cream Social in late August. This event is hosted by the ACS Service Committee to welcome all kindergarten families and new families at ACS.
Excited about welcoming new families? Sign up as a host family.
PTO Happenings
Thank you to everyone who gave their time and resources for the many PTO events and fundraisers throughout the year! Also, a gigantic thank you to the talented and dedicated individuals who chaired these events. If you see any of these parents, please give them a big thanks!
Back to School Carnival – Judy Jackson, Alison Lisiak
Fall Fundraiser – Kristen Goodyke, Katie Kileen, Kim Jerke
Room Parents Coordinator – Kim Laufer
School Parties – Dawn Raymond
Moms In Prayer – Laura Cawley
Christmas Gift Shop – Brecken Grieve, Sarah Heynen
Daddy-Daughter Dance – Sharon Dykhouse, Amanda Wildman, Laura Kaminski
Mother-Son Event – Amanda Wildman
Bus Driver Appreciation – Sara Tamminga
Staff Appreciation – Kim Laufer, Katie Minks
Grand Friends Day – Dee Lenters
Fine Arts Night – Kim Laufer
Walk-A-Thon – Paula Bremer
Box Tops - Shelly Harmon
Curriculum Enhancement - Jamie Christenson
Because we were able to exceed our fundraising goals AND keep our events at or under budget, we have a surplus of funds that will go directly to teacher wish lists. We are currently considering a binding machine for grades K-2, a 3D printer, a nine square game for middle school, a trophy case, contribution toward a Marimba, a double sided white board, and a Cubelet! Our teachers and staff will be thrilled - thank you! Again, many thanks for a great year!
The 2017 PTO Executive Team:
President – Dawn Raymond
Vice President – Katie McNinch
Treasurer – Kristen Yeh
Assistant Treasurer - Pam Denker
Secretary - Sarah Plantinga
Board Liaison – Brecken Grieve
Staff Liaison – Julie DeKoster
Daddy Daughter Pictures
If you haven't gotten your daddy daughter pictures yet, find them here.
ACS Athletics
PurePlay
Fall soccer signups are now open.
Calendar Reminders
Aug 24 – First Day
Sept 01-04 – Labor Day Weekend
Sept 25 – No School (Staff Professional Development Day)
Oct 18-20 – No School (Fall Teacher's Convention)
Nov 07 – Education Foundation Dinner
Nov 22-24 – Thanksgiving Break
Dec 22 – Christmas Break Begins
Jan 08 – School Resumes
Jan 29 – No School (Staff Professional Development Day)
Feb 23-26 – Winter Break
Mar 29 – Spring Break Begins
Apr 09 – School Resumes
May 04 – GrandFriends Day
May 07 – No School (Staff Professional Development Day)
May 28 – Memorial Day
June 08 – Last Day
Requested Announcements
DC2 (Design. Discover. Collaborate. Create)
June 27-28 9:00am-3:30pm
Grand Valley University (Seidman Building – Downtown Campus)
Designed for boys and girls entering grades 5-6 in Fall 2017
Cost: $25 per student
Led by a team of local K -12 educators, students will work in small groups to collaboratively tackle problems that connect to both their lives and the world around them, answering questions like:
How might we redesign our recess experience?
How might we re-purpose scrap material from a local manufacturer?
How might we re-engineer a classroom to better meet our needs as students?
Camp Infinity
The camp will also include local mentors from industry and high school student coaches. There will be opportunities for students to engineer solutions in a 'maker's space' as they prototype and test their ideas. This is a great way for kids to stretch their thinking muscles this summer in a fun, collaborative, creative way as they harness the innovator within them. Visit this page to learn more.
July 10-13, 8:30 AM-3:30 PM
Kent Innovation High School (1655 E Beltline Ave NE, Grand Rapids, MI 49525)
DESIGNED FOR GIRLS ENTERING GRADES 5-8 in Fall 2017
COST: $100 per student – scholarships available.
Camp Infinity is a four day summer technology camp for girls entering 5th to 8th grade that introduces technology as fun and fulfilling and inspires the pursuit of technology education. Michigan Council for Women in Technology Foundation created it to address the primary reasons girls lose interest in technology: confidence, social relevance, and social (peer) acceptance. Interested in coming to camp? Sign up now!
Barb Kooreman Retirement
You're invited to attend an Open House in honor of Barb Kooreman! She has been teaching for 49 years and we are excited to celebrate all of her accomplishments surrounded by friends, family, colleagues, and previous students. Please feel free to spread the word! We want anyone and everyone to attend! If you are on Facebook, you can find the event posted online.
Retirement Open House in Honor of Barbara Kooreman
Date: June 3, 2017
Time: 1:00-4:00pm
Location: Grand Rapids Christian Middle School, 2036 Chesaning Dr SE, Grand Rapids, 49506
Camp Tall Turf Summer Openings
Tall Turf has summer staff position openings. Interested? Contact Miriam DeJong at 616-452-7906 or gro.frutllat@mairim.
Positions include: Youth Camp Counselor, Head Counselor, Youth Camp Program Director and Health Officer (RN, LPN, EMT or RN student*)
5th-9th Grade Gymnastics
There will be 8 sessions of gymnastics offered by CORE Gymnastics at the high school in the Quest Center this summer. Cost of each session is $15 for an hour and a half. The sessions will be held on Thursdays from 4:00-5:30pm beginning on Thursday, June 15. The remaining dates are as follows: June 22 and 29, July 13, 20, and 27, and Aug 10 and 17.
Questions? Contact Jacquie DeJonge (616.949.7516)
Cross Country Open House
The annual Grand Rapids Christian High cross country open house will be Friday, June 09 from 5:30–7:00pm at Coach Jager's house located at 1910 Pokogon SE. Meet teammates and coaches. Get race schedules and summer plans, register for camp, and more.
GR Christian School Running Camps
See the online Grand Rapids Christian camp brochures.
Dates for camp are: July 17-20 for middle school (grades 5-8) and July 23-28 for high school
CLC Golf Outing
Your sponsorship and/or participation at CLC Network's annual Golf Outing on Thursday, June 15 provide essential funds to help create inclusive communities for all individuals. Your support of CLC Network (also known as the Christian Learning Center) enriches the lives not only of persons with disabilities, but also those in the communities where they live. Visit CLC Network's website to learn more about sponsorship opportunities or sign up to attend the event, held at Pilgrim's Run Golf Club (Pierson, MI).