Ada Connection – Jan 30, 2019
A Note From The Principal
We Miss You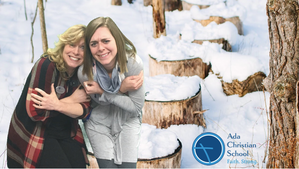 To say that this week is unusual, would it be an understatement. We are missing our kids! We hope to see you soon. Stay safe and warm.
If you and or your children are looking for something fun to do, consider writing and performing a snow day song to post on our ACS Facebook page. We would love to hear from you.
This Week
"Faith. Strong." Friday
It's that time again. All students, staff and parents are encouraged to wear their ACS gear to school this week Fri, Feb 01.
Lost & Found
The lost will be in the front lobby on Fri, Feb 01. What is left at the end of the day will be boxed away. You can always check the lost and found which is located by the kitchen/music rooms.
MENistry
MENistry is a coffee group for dads who want to get to know more about themselves and the Bible. Join us on Fridays from 8:00-9:00am.
Moms In Prayer – Praying For Classroom & Educational Support Teachers
Praying for classroom & educational support staff. God is omnipresent: Present at all places at all times.
"God is our refuge and strength, an ever-present help in trouble." - Psalm 46:1
Come join us for the journey when you can. We meet every Thursday morning 8:00-9:00am, in the ACS office back conference room.
Need more information? Contact Kelly Stafford (616.304.2963, ten.tsacmoc@droffats-kj).
Now You Know
Exploratory Week Update
What a crazy week of weather we are having! I am sure that your students are happy to have snow days, but a little disappointed that it had to happen during Exploratory Week. Well, we are too.
After looking at the weather forecast for the rest of this week, we made a decision this afternoon to reschedule the entire Exploratory Week for Tues, Feb 26 - Fri, Mar 01. We are going to do our best to get everything rescheduled the same way we had it scheduled for this week, just a bit later.
If, and when, we have school this week, we will return to a normal class schedule.
Thank you for understanding, and stay warm!
GRASP - Grand Rapids Academic Summer Programs
Forms are available for download or may be picked up in the ACS office. GRASP is an optional summer correspondence education program for grades K through 8, which helps students maintain reading and math skills while they are on summer vacation. Forms are due Feb 15.
Hot Lunch Schedule
Due to the snow days, the hot lunch menu has been adjusted for the next 3 days we are in school.
Day 1: Dutch Waffles
Day 2: Beef Dippers
Day 3: Chicken Poppers
Resume normal menu
Questions? Contact Shelly VanGoor, (gro.scrg@roognavs).
Action Needed
2019-2020 Preschool Registration
We are happy to announce that ACS Preschool Registration is now open for the 2019-2020 school year. We are asking you to do two things:
Kindergarten Intentions
Partner with us! If you intend to send your child to kindergarten for the 2019-2020 school year, please call the office at 616.676.1289 or email Sharon DeJong at sdejong@adachristian.org. We need your child's first, middle and last name as well as their birthdate for the list we are building.
We would also like to know if you prefer 5-day or Progressive Kindergarten. Parent preferences vary from year to year. To help us plan for staffing needs, we will cap the list for each option at 22 and then begin to build our 3rd class list. There is a chance that those on the 3rd list may be asked to alter their preference.
There will be a parent orientation on Tuesday, Mar 12 at 7:00pm for parents only. On Thursday, Apr 11, plan on having your child visit for one hour. If your child turns 5 after June 01, 2019, he/she will need to be tested on Thursday Apr 18. Sign up sheets will be at the orientation or in the office.
For families enrolling their oldest child in kindergarten, another part of the enrollment process is a meeting with Melissa Brower, our principal. This meeting may happen any time before enrollment. If you would like to schedule that meeting, please contact Julie DeKoster at 616.676.1289 or gro.naitsirhcada@retsokedj.
PTO Happenings
Daddy Daughter Dance – Feb 01, 2019
Tickets for the dance are available now through Jan 31. You may purchase online or in the office.
Tickets are $30/couple or $40/family. There will be an opportunity to purchase pictures the night of the dance from Moto Photo, who will have a photographer taking professional pictures. Orders must be placed the night of the dance. An envelope will be sent home with your daughter this week. Please bring the envelope the night of the dance if you are ordering pictures.
Jasmine's Closet
Thank you to all who donated a dress or two to Jasmine's Closet! We have around 15 gently used dresses to choose from. Please come check them out in the back conference room to see if your daughter could wear one for the Daddy/Daughter Dance. If one of them works, please take it at no charge! Here's to a special night for our girls and their daddies.
Mother Son Event
Save the date for Mar 01. More details to follow!
PTO Information
Looking for our calendar, information about upcoming events or opportunities to serve? Check out our updated website.
ACS Athletics
PurePlay
Basketball is underway with practices and games.

Co-ed child/parent volleyball clinic Sat, Mar 09, 9:00am-12:00pm.
Calendar Reminders
Feb 14 & 21 - Parent Teacher Conferences
Feb 15 - No Forest Hills PM transportation
Feb 22 & 25 - No School - Winter Break
Requested Announcements
Part-Time Bookkeeper Position Open
Heather Lane Pottery, a custom, handmade pottery shop in downtown Ada, is in need of a new bookkeeper. The position has a flexible schedule requiring about six hours per week.Responsibilities for the job include AP, AR, cash flow/forecasting, payroll management, preparation of financial statements, filing of multi-state sales tax returns, physical inventory reconciliation, and various other accounting duties using QuickBooks software. And also includes quarterly meetings with our accountant from Hungerford.
We are looking for a person who can give a two year commitment, and would enjoy being part of a creative, friendly work environment.Contact: Susan Hathaway, Owner at moc.yrettopenalrehtaeh@ofni
616.682.0730. Heather Lane Pottery, 7270 Thornapple River Dr. SE, Ada, MI 49301