This Week
Moms In Prayer
We're praying for our building Staff and bus drivers this Thursday. God is worthy: One who has worth or value; honorable, admirable
"We pray that we may live a life worthy of the Lord and may please him in every way: bearing fruit in every good work, growing in the knowledge of God." - Colossians 1:10
We're a group of Moms (aunts/grandmas) passionate about lifting up our kids and ACS faculty and staff in prayer. We meet every Thursday morning at 8:00-9:00am, in the orchestra room (through the Commons and straight past the kitchen). Younger siblings are always welcome! Come join us for the journey when you can.
Need more information? Contact Kelly Stafford (616.304.2963, ten.tsacmoc@droffats-kj)
MENistry
Come join other ACS dads on Wednesdays at 8:00am as we go through C.S. Lewis The Screwtape Letters. We meet in the orchestra room.
Now You Know
Box Tops – Scan Your Receipts
The Box Tops for Education program has changed the way we can earn cash for our school. Over the summer, participating brands began to change their packaging from the traditional Box Tops clip to the new Box Tops label. Going forward, instead of clipping from packages and checking expiration dates, all Box Tops will be earned digitally by scanning your receipt. There is a new user-friendly Box Tops mobile app; please be sure to download. The new app features state-of-the-art technology that allows you to scan your store receipt. Find participating products and instantly add Box Tops to our school's earnings online. If you still have traditional Box Tops clips at home, make sure to send them to school. Our goal as a school is $1000/year and we are currently at $430.
To help with the transition, here are a few helpful tips (182 KB PDF):
Both paper and digital Box Tops can be submitted. (You can even "double dip" during the packaging transition by clipping traditional Box Tops AND scanning your store receipt containing participating products.)
The expiration for paper Box Tops are printed on the Box Top itself.
Digital Box Tops must be scanned WITHIN14 DAYS of the date on your receipt.
Drop your receipts off at the office and we will scan them for you! Please place your receipts in the plastic receipt bin.
Box Top will honor any receipt where participating products are sold.
Thanks for helping our school get what it needs! If you have any questions please reach out to Shelly Harmon.
GRASP – Grand Rapids Academic Summer Programs
Forms can be downloaded or can be picked up in the ACS office. GRASP is an optional summer correspondence education program for grades K through 8, which helps students maintain reading and math skills while they are on summer vacation. Forms are due Feb 14.
Hoo's Doing What?
Beginning in the '20-'21 school year, Mr. Hoo is stepping back from his current 100% position as our OE Teacher into a 20% position as our OE Coach, which will include the following roles and responsibilities:
Mentoring our new Outdoor Education Integration Teacher
"Telling the Story and Keeping it Alive" (with kids, parents, teachers)
Professional Development of ACS teachers
Visiting camp adventures and other major OE activities and events
We all know we can never have another Hoo, but we also know God has a plan. We are thankful that Bill is stepping BACK and not AWAY. We are also happy that this plan will allow him to spend more time with his grandson, William, and to pursue many of the projects he has been thinking about and some he has probably already started.
Miss Leah will continue in her role as one of our onsite plant and animal experts. Mrs. Hoekzema will also continue assisting with her expertise in gardens and landscapes.
We are confident that the vision, planning, prayers, and work that Mr. Hoo and each of our teachers have poured into our 37-acre classroom will continue to flourish as Mr. Hoo transitions into an OE Coaching position.
If you know of someone who would be a most excellent Outdoor Education Teacher, be sure to have them apply.
Action Needed
Kindergarten Intentions
If you intend to send your child to kindergarten for the 2020-2021 school year, please call the office at 616.676.1289 or email Sharon DeJong at sdejong@adachristian.org. We need your child's first, middle and last name, address, email address, parents name, phone number as well as your child's birthdate for the list we are building.
We would also like to know if you prefer 5-day or Progressive Kindergarten. Parent preferences vary from year to year. To help us plan for staffing needs, we will cap the list for each option at 22 and then begin to build our 3rd class list. There is a chance that those on the 3rd list may be asked to alter their preference.
There will be a parent orientation on Tuesday, Mar 10 at 7:00pm for parents only. On Thursday, Apr 16, plan on having your child visit for one hour. If your child turns 5 after Jun 01, 2020, he/she will need to be tested on Thursday, Apr 23. Sign up sheets will be at the orientation or in the office.
For families enrolling their oldest child in kindergarten, another part of the enrollment process is a meeting with Melissa Brower, our principal. This meeting may happen any time before enrollment. If you would like to schedule that meeting, please contact Julie DeKoster at 616.676.1289 or gro.naitsirhcada@retsokedj.
Preschool Registration
We are happy to announce that ACS Preschool Registration is now open for the 2019-2020 school year. We are asking you to do two things:
PTO Happenings
Cannonsburg School Party – Jan 27
Cannonsburg Tubing on Jan 27 from 1:00-4:00pm
No school? Let's all go tubing!! Join us on Mon, Jan 27 from 1:00-4:00pm at Cannonsburg for some wintry fun. Tickets can be purchased on-site for $15/person for 3 full hours. Must be over 42" tall, and don't forget your waiver! Be sure to fill out the waiver ahead of time for less time waiting in line.
6800 Cannonsburg Road, Belmont, MI 49306
Questions? Contact Holly Karasinski, (moc.liamg@4322kylloh, 616.901.8882)
Daddy Daughter Dance – Feb 07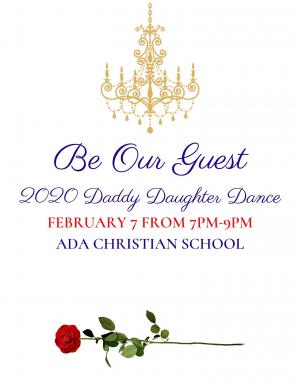 Be our guest!
Tickets for the dance
are available now through Feb 05. You may purchase online or in the office.
Tickets are $30/couple or $40/family.
Jasmine's closet is back again this year!
Please feel free to donate any gently used dresses and/or shoes. There is a rack set up in the back of the office.
Also, anyone is free to take a dress for the dance!
Athletics
PurePlay
1st-4th basketball: Mid-week practices and Saturday games continue.
Y5/K basketball: Saturday, 9:00-10:00am. Please enter through the main entrance. Make-up date: Feb 15
Co-ed Child-Parent volleyball clinic Mar 14, 9:00am-noon.
Calendar Reminders
Jan 27 - No School - InService
Feb 07 - Daddy/Daughter Dance
Feb 20 - Parent Teacher Conferences 4:30-8:30pm
Feb 27 - Parent Teacher Conferences 4:30-7:30pm
Feb 28 - Winter Break - No School
Mar 02 - Winter Break - No School
Requested Announcements
After School Program
Free After School Program is being offered for students in 1st through 4th grades. This 8-week session at Ada Christian Reformed Church is held every Wednesday afternoon beginning Jan 29 through Mar 18, 2020.
The program offers seven classes:
Girls Club (GEMS)
Boys Club (Cadets)
Life Skills through Magic
Dance Class
Stomp Band
Art Class
Tae Kwon Do
Students will be picked up at ACS at 3:00pm via our church van and transported to the church for activity and snack, then go to the class for which they registered. Parent pick-up is 5:00pm More information and registration. Send completed form to office@adacrc.org or fax to 616.676.8110. Questions? Call Ada CRC at 616.676.1698