Ada Connection – Jan 20, 2016
Principal's Note
"Faith. Strong." School Spirit!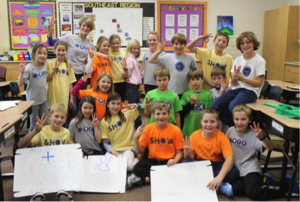 Congratulations to our School Spirit Leaders. Mrs. Slauer's 4th graders have had 100% participation for 3 months in a row by wearing their ACS shirts on "Faith. Strong." Fridays. 4S earned a special day with Principal Brower delivering hot chocolate. Way to go!
Action Needed
Winter Parking Reminders
Now that winter (ice) is here (finally) we need to be more careful in the loop.
We have several students and staff members that require a handicap parking space. Please be sure to leave those spots open unless you have a plate or hang tag of your own. Please be sure that others who may be picking your child/ren up hear this reminder as well. Thank you!
Please have your children ready to go when entering the loop.
Pull as far forward as you can.
Have your children leave out the right (curb) side of the car.
Loads of stuff to carry in? Please park in the lot.
Have patience...please wait for the cars ahead of you to go.
After school please remind children waiting to be picked up to stay OFF THE SNOW BANKS. It is very slick and if they slide into the road it is difficult for cars to stop.
It is cold and awesome outside! Winter recess reminders, and an opportunity to join us outside!
For recess plan on students going outside unless the wind chill is below zero. Students should bring coats, snow pants, boots, hats and gloves. 2nd - 5th graders may bring a roll up sled or a snow boogie (see below) if sledding conditions are good.
If you want to have some wintertime fun and are willing to help with recess duty on Thursday or Friday noons from 12:25-1:03, please email Sue Prins (gro.naitsirhcada@snirps).


Parent/Teacher Conferences Feb 11 & 18
Elementary Conferences: The elementary parent/teacher conference form went home with kindergarten through 5th grade students, due back to school by Jan 20. Use this form (173 KB, PDF) to indicate your date/time preference for your conferences.
Middle School Conferences: Middle School Teachers will be available in the commons both nights for conferences. No sign up is necessary for middle school conferences.
Beginning Kindergarten This Fall?
If you intend to send your child to kindergarten for the 2016-2017 school year, please contact Sharon DeJong (676.1289, gro.naitsirhcada@gnojeds). Kindergarten options include Progressive and 5-day sessions. There will be a parent orientation on Tuesday, Mar 15 at 7:00pm for parents only.
Middle School Parents: We Need Your Help!
Attention Middle School Parents: Exploratory Week is coming Jan 26-29 and we need your chaperoning/driving help to make it successful! This is a great opportunity to see your children in action during their sessions OR volunteer in a different session because you just want to learn something new yourself. For some sessions, we simply need chaperones, and others, we need both chaperones and van drivers. We are still looking for more help on Wednesday, Thursday, and Friday mornings. This is roughly a 2-hour time commitment. Please sign up soon! Thank you for your help!!
Daddy Daughter Dance and Dress Code
We have a lot of girls looking forward to the Daddy Daughter Dance! It is a special night, indeed. This note is simply to serve as a reminder that we ask students to dress in accordance with our dress code at school sponsored events. This includes the length of dresses and the need for sleeves (no tank or spaghetti straps without a jacket or sweater). Thank you for your support.
Empty 20oz Plastic Soda Bottles Needed
20oz plastic soda bottles are needed for an art project. Please drop the bottles off at the art room for Mr. Wanner. Thank you!
ACS MENistry – Dad's Group to Begin in February
Come join other dads on Fridays, beginning Feb 12 at 8:00am in the office conference room as we explore our call to be faithful men of Christ. All ACS dads welcome! Questions? Contact Andy Anderson, (616.325.6116).
"Faith. Strong." Clubs
Do you want to play with Lego? WeDo! Do you like to build things with your imagination? In this club, students will learn how to build and program characters and models using the Lego WeDo program. Participants will have the opportunity to make things... and then make things happen using software that teaches how to program commands that allow our creations to move, stop, and produce sounds. Please view, complete and turn in the Lego: WeDo signup form. (94 KB PDF)
Girls Pitching Club: This club is for girls, 3rd-8th grade who would like to learn how to pitch fast-pitch softball. On Tuesdays beginning Feb 16 for 6 weeks from 3:00-4:00pm in the north gym. Pick up an information form in the office. Questions? Contact Coach DK (gro.naitsirhcada@enielkeds)
The Lost and Found is growing!
Next time you are at school, please check the Lost and Found for your missing items.
PTO Happenings
Moms in Prayer
Please join us Thursday 8:00-9:00am in the office conference room as we pray for our children, their teachers and the ACS community. This week we will be praying specifically for Classroom and Educational Support staff and the In-service Day as we remember that God heals.
But he was pierced for our transgressions, he was crushed for our iniquities; the punishment that brought us peace was upon him, and by his wounds we are healed.

-Isaiah 53:5
Questions? Contact Laura Cawley (425.9728, moc.oohay@57_csarual)
Little Things Do Make a BIG Difference!
Thank you to all the students who participated in our Oct Box Top drive. Another drive has begun, so start collecting and saving now. Box Top sheets were handed out to K - 5th grade and also are in the office.
Calendar Reminders
Jan 25 - No School (In-Service Day)
Jan 28 - No Forest Hills Bus Transportation (PM)
Jan 29 - No Forest Hills Bus Transportation (AM and PM)
Feb 05 - Daddy Daughter Dance
Feb 15 - No Forest Hills Bus Transportation (AM and PM)
Feb 11 & 18 - Parent Teacher Conferences
Feb 19 & 22 - No School - Winter Break
Recent Events
Welcome, Heidi Annaliese Deckinga!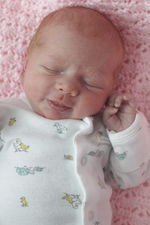 Congratulations to our fourth grade teacher, Mrs. Emily Deckinga, and her husband who are now parents to their new little girl, Heidi Annaliese Deckinga. Heidi was born on January 12 and weighed in at 7 pounds, 3 ounces. Mom and baby are doing great!
Requested Announcements
Christian Learning Center Auction
Many families have been blessed over the years by the partnership of ACS and the Christian Learning Center. It is a good work that they do and we look forward to many years of continued partnership. A key fundraiser for the Christian Learning Center is just around the corner. CLC will be holding an Auction (9 MB PDF) on Saturday, January 30th.If you could donate something to the Auction, please fill out and turn in this form (97 KB PDF) with your donation.
Karate/Tang Soo Do Class at ACS
Rick Mirandette of the Martial Arts Center will be offering a Korean Karate or Tang Soo Do class in our ACS Commons for interested students in 1st - 8th grade for 5 weeks beginning Feb 1. For more information, stop by the office and pick up a flier. This is not an ACS sponsored event.