Ada Connection – Jan 17, 2019
A Note From The Principal
Thank You From The Rauch Family
Dear ACS Family,
Three years ago we were told that I had ALS, and you began helping our family with prayers and support. Though these three years it continued. Then we had even more devastating new of Brian being diagnosed with stage 4 cancer. You once again supported us with prayers and even gave a 16 year old girl a birthday she will never forget even though the day was not how a young lady would expect her birthday to go. Then came Christmas. The out pouring your willingness to help like you did 3 years ago was more than anyone would ask for. We can't thank you enough. You are truly an amazing family.
I have been asked several times that they even begin to know what we are going through. Frankly, there are times I can't even begin to know what we are going through. I do know with out the love and grace that God gives us, we would not be this far. Then I think of Job and all he went through. So I know that if Job can go through all the turmoil that he went through and still trust in God so can we. It is not an easy path. However, with your prayers and support the path is bearable.
Update on all of us. Brian is doing remarkably well, he has even surprised his doctor. However, we are not out of the woods yet. The treatment he is getting only gives him extra days maybe a week. So, we are just happy to have that. As for me nothing has changed. Which is a good thing. The kids are doing good with everything. Everyone is glad to be back to a fairly normal routine.
Please continue to pray for us. We know that God is working. We also know that everything is done in His time. So, we continue to trust and wait for His plan for us.
Blessings,
Teresa
Now You Know
2019-2020 Preschool Registration
We are happy to announce that ACS Preschool Registration is now open for the 2019-2020 school year. We are asking you to do two things:
Family Service Opportunity – Thank You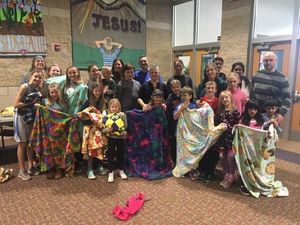 Thank you to everyone who came out to tie blankets on Saturday. It was a wonderful day of service!
Hot Lunch Volunteers
We need more lunch volunteers and have reduced the time commitment to better fit parent schedules. What a wonderful way to connect with others and see what your children are eating! Hot lunch volunteers are needed from 11:20am-12:45pm.
Available? Find a day that works for you.
Contact Shelly VanGoor with questions (gro.scrg@roognavs, 616.325.3461).
Action Needed
Parent Teacher Conferences
The parent/teacher conference form is coming home this week with your kindergartener through 4th grade. There will be extras in the office also. Please fill in your preference of nights. It must be returned by next Tuesday, Jan 22.
Parents of students in Middle School will have the opportunity to visit with each of their student's teachers. No sign up is necessary for middle school.
Open House & Information Night – Jan 22
We have rescheduled our Open House & Information Night for Tuesday, Jan 22 at 6:00pm. We invite you to share our Facebook post with specific information with friends and family who may be interested in Ada Christian.
Kindergarten Intentions
Partner with us! If you intend to send your child to kindergarten for the 2019-2020 school year, please call the office at 616.676.1289 or email Sharon DeJong at sdejong@adachristian.org. We need your child's first, middle and last name as well as their birthdate for the list we are building.
We would also like to know if you prefer 5-day or Progressive Kindergarten. Parent preferences vary from year to year. To help us plan for staffing needs, we will cap the list for each option at 22 and then begin to build our 3rd class list. There is a chance that those on the 3rd list may be asked to alter their preference.
There will be a parent orientation on Tuesday, Mar 12 at 7:00pm for parents only. On Thursday, Apr 11, plan on having your child visit for one hour. If your child turns 5 after June 01, 2019, he/she will need to be tested on Thursday Apr 18. Sign up sheets will be at the orientation or in the office.
For families enrolling their oldest child in kindergarten, another part of the enrollment process is a meeting with Melissa Brower, our principal. This meeting may happen any time before enrollment. If you would like to schedule that meeting, please contact Julie DeKoster at 616.676.1289 or gro.naitsirhcada@retsokedj.
PTO Happenings
Daddy Daughter Dance – Feb 01, 2019
Tickets for the dance are available now through Jan 31. You may purchase online or in the office.
Tickets are $30/couple or $40/family. There will be an opportunity to purchase pictures the night of the dance from Moto Photo, who will have a photographer taking professional pictures. Orders must be placed the night of the dance. An envelope will be sent home with your daughter this week. Please bring the envelope the night of the dance if you are ordering pictures.
Jasmine's Closet
New this year! Do you have a gently used girl's dress or shoes from past Daddy-Daughter Dances that you would like to donate to our ACS family? If so, please consider bringing them to Jasmine's Closet over the next two weeks. There is a rack set up in the back conference room of the front office for anyone to donate. For those needing a dress for this year's dance, please stop by and select a dress before the big night! Questions? Call Amy Leonard 317.439.3677
School Party – Jan 28
Cannonsburg Tubing on Jan 28 from 1:00-4:00pm
A day off of school? Let's all go tubing!! Join us on Mon, Jan 28 from 1:00-4:00pm at Cannonsburg for some wintry fun. Tickets can be purchased on-site for $15/person for 3 full hours. Must be over 42" tall, and don't forget your waiver! Be sure to fill the waiver out ahead of time for less time waiting in line.

6800 Cannonsburg Road, Belmont, MI 49306
Questions: Holly Karasinski hollyk2234@gmail.com 616.901.8882
PTO Information
Looking for our calendar, information about upcoming events or opportunities to serve? Check out our updated website.
ACS Athletics
PurePlay
Basketball is underway with practices and games.

Co-ed child/parent volleyball clinic Sat, Mar 09, 9:00am-12:00pm.
Calendar Reminders
Jan 17 & 18 – No Forest Hills PM Transportation
Jan 21 – No Forest Hills AM & PM Transportation
Jan 28 – No School
Feb 14 & 21 - Parent Teacher Conferences
Feb 15 - No Forest Hills PM transportation
Feb 22 & 25 - No School - Winter Break
Requested Announcements
After School Program
Ada Christian Reformed Church is offering a free After School Program on Wednesdays beginning Feb 06 and running through Mar 27, 2019. The 8-week sessions features five programs for students 1st through 4th grades:
1. Girls club [GEMS]
2. Boys club [Cadets]
3. Spanish Bible Study
4. Life Skills through Magic
5. Dance Class with Maggie Styf.
Students will be picked up at ACS at 3:00pm via our church van and transported to the church for snack, then go to the class for which they registered. Parent pick-up is 5:15pm. To learn more and to register go to: www.adacrc.org and click on After School Program. Registration deadline is Jan 31. Questions, call the church at 616.676.1698.
CLC Auction
Looking for some mid-winter fun? Bring your family and friends to the CLC Network (previously known as Christian Learning Center) Auction on Sat, Jan 26 at Calvary Christian Reformed Church (3500 Byron Center Ave SW, Wyoming, MI). Dinner and the silent auction start at 4:30pm, and the live auction begins at 6:00pm. Bid on merchandise, gift certificates, experiences, and much more! Your participation helps equip congregations and schools to glorify God through purposeful, innovative inclusion of persons with varied abilities. Learn more at clcnetwork.org.