Ada Connection – Jan 17, 2018
A Note From Principal Brower
Spelling Bee Winner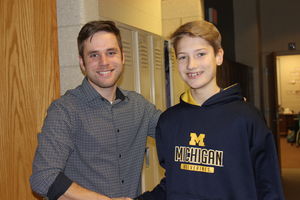 8th grader Brendan Terpstra is ACS's 2018 Spelling Bee champion! The word that solidified his victory was "expatiated", meaning
to write or speak at length or in great detail.
7th grader Cameron Figg was the runner-up champion - the word that knocked him out was "putrefaction", meaning
the decomposition of organic matter.
Congrats boys, and to all the other spellers as well!
Vote For An ACS Writer
Our very own Samantha Brandt is a finalist in the youth category of the Write Michigan contest! Please vote for her story. You can vote once each day.
Congratulations Samantha!
This Week
Moms In Prayer
This week we will be praying specifically for our Building & Transportation staff. God is eternal. Without beginning or end; existing through all time; everlasting.
Trust in the Lord forever, for the Lord, the Lord himself, is the Rock eternal. Isaiah 26:4
If you can join us for prayer, we meet every Thursday morning 8:00-9:00am, in the ACS office back conference room. Younger siblings are always welcome! Need more information? Contact Kelly Stafford (616.304.2963, ten.tsacmoc@droffats-kj).
MENistry
Come join other dads in room 504 on Fridays as we explore our call to be faithful men of Christ. We will be dwelling with the Word in the Book of Luke this semester. Coffee and donuts provided. All ACS dads welcome!
Now You Know
Winter Olympics Are Coming To ACS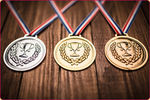 Every four years ACS joins with our nation and countries around the world in celebrating the Winter Olympics. This year the 2018 Winter Olympics will be held in PyeongChang, South Korea. The ACS Winter Olympics will take place on school grounds (only one event will be outside) from
Monday, Feb 05 to Thursday, Feb 09
. Closing ceremonies will be held on Friday, Feb 09 in the South Gym. Students in grades 1 through 8 will be on a team which will participate in 2 events each day. Floor Hockey, speed skating, curling, biathlon, bobsled and luge, are just some of the events that will take place.
Parent Volunteers – The True Olympians
We will need 28 parent volunteers to help each day of the ACS Winter Olympics Feb 05-Feb 09. We need 14 parent volunteers to help with 5th through 8th grade events from 11:45am-1:15pm and another 14 parent volunteers to help with 1st through 4th grade events from 1:00-2:30pm.
Please sign-up and Bruce Uekert will be in touch with you.
Do You Want To Play With Legos? WeDo!
Do you like to build things with your imagination? In this club, students will learn how to build and program characters and models using the Lego WeDo program. Participants will have the opportunity to make things and then make things happen using software that teaches how to program commands that allow our creations to move, stop, and produce sounds.
Complete the sign-up form online.
2018-2019 Calendar
Aug 23 – First ½ Day
Aug 31-Sept 03 – No School Labor Day
Sept 24 – No School In-Service Day
Oct 24-26 – No School - Teacher's Convention
Nov. 21-23 – No School - Thanksgiving Break
Dec 24-Jan 04 – No School - Christmas Break
Jan 28 – No School - In-Service
Feb 22 & 25 – No School - Winter Break
Mar 28-Apr 05 – No School - Spring Break
May 03 – GrandFriends ½ Day
May 06 – No School In-Service
June 06 – 8th Grade Graduation
June 07 – Last ½ Day
Meals For The Rauch Family
If you would like to help the Rauch family, Sara Uekert is organizing a meal schedule for Fridays. Find a time that works for you and sign up.

Questions? Email Sara Uekert (moc.oohay@trekeujs)
Action Needed
Parent Teacher Conferences – Feb 15 & Feb 22
The parent/teacher conference form is going home this week with kindergarten through 4th grade. There will be extras in the office also. Please fill in your preference of nights. It must be returned by next Tuesday, Jan 23.
Parents of students in middle school will have the opportunity to visit with each of their student's teachers. No sign up is necessary for middle school.
2018-2019 Preschool Registration Open
We are happy to announce that ACS Preschool Registration is now open for the 2018-2019 school year. We are asking you to do two things:
Kindergarten Intentions
If you intend to send your child to kindergarten for the 2018-2019 school year, please call the office or email Sharon DeJong (616.676.1289, gro.naitsirhcada@gnojeds) We need your child's first, middle and last name and birthdate for the list we are building. We would also like to know if you prefer 5-day or progressive kindergarten.
There will be a parent orientation on Tuesday, Mar 13 at 7:00pm for parents only. On Thursday, Apr 12, plan on having your child visit for one hour. If your child turns 5 after June 1, 2018, he/she will need to be tested on Thursday, Apr 19. Sign up sheets will be at the orientation or in the office.
PTO Happenings
Bus Driver Appreciation
On Feb 16, ACS has the honor of showing appreciation to our bus drivers. It truly takes a village to care for our children and our bus drivers are a necessary part of this village. To make this event special for the bus drivers, we need your help! We need a few people to make egg dishes.
Interested in serving? See how you can help.
Daddy Daughter Dance
Are you ready to "Dance like Animals"? Our 4th annual dance is being held on Friday, Feb 02 from 7:00-9:00 pm. Tickets are on sale online or in the office. Couples tickets for $30 and family tickets for $40. Looking forward to a fabulous night of jungle fun!
Mother Son Event
Save the date for Friday, Mar 02 and be ready for an Amazing Adventure designed to test your wits with team challenges, "Survivor" type puzzles, and creative games!
School Tubing Party – Jan 29
It's looking like a promising winter to head to Cannonsburg for our school party! Please join us for tubing at Cannonsburg on Monday, Jan 29 from 1:00-4:00pm (6800 Cannonsburg Road Belmont, MI 49306)
Tickets: $10 per person in advance, $15 at the door. Advance tickets are available until Jan 26.
Ready to join the fun? A sign up sheet is available in the office, drop off a check payable to ACS PTO and complete the waiver form (one per person).
ACS Athletics
PurePlay
Advanced notice: Co-ed Child/Parent Volleyball Clinic March 10, 9:00-12:00pm. Signups available soon.

Parents of softball players: Please contact Coach DK about a possible softball club forming (gro.naitsirhcada@enielkeds)
Calendar Reminders
Jan 25 – No Forest Hills transportation for PM
Jan 26 – No Forest Hills transportation for PM
Jan 29 – No School In-Service Day
Feb 02 – Daddy Daughter Dance
Feb 15 – Parent Teacher Conferences
Feb 16 – No Forest Hills transportation for PM
Feb 22 – Parent Teacher Conferences
Feb 23 & 26 – No School - Winter Break
Mar 02 – Mother Son Event
Requested Announcements
CLC Network Annual Auction
Looking for some mid-winter fun for an excellent cause? Bring your family and friends to the CLC Network (also known as Christian Learning Center) Auction on Saturday, Feb 03, at Calvary Christian Reformed Church (3500 Byron Center Ave SW, Wyoming, MI). The dinner and silent auction start at 4:30pm, the live auction begins at 6:00pm. Bid on merchandise, gift certificates, activities, and much more! Your participation helps equip schools and congregations to glorify God through purposeful, innovative inclusion of persons with varied abilities. Learn more at clcnetwork.org.