Ada Connection – Jan 09, 2018
A Note From The Principal
A Warm Welcome
Welcome to our newest families to ACS: Richard Petrucelli and his son Paul who is in 4C, John and Melissa Amash and daughter Jasmine in 2B and Jimmy and Tara Lis and their daughter Stella in KD.
Geography Bee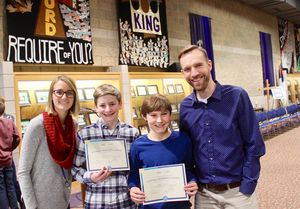 Do you know in which country you would be in if you visited the city of Khartoum? Which US state capital is further south--Florida or Texas? On Tues, Jan 08, ACS students were quizzed on questions like these as they competed in the annual National Geographic GeoBee. Twenty-four students qualified for this competition by taking a quiz in their history class back in December. After eleven grueling rounds of questions and a championship round, Isaac Stewart finished in 1st place and will go on to participate in the next round of the state competition. Max O'Grady finished in 2nd place, while Andrew Yeh finished in 3rd. Great job middle school students!
Spelling Bee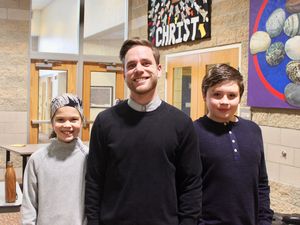 This week the Ada Christian community gathered together on a chilly morning for a heated competition. The 2019 ACS Spelling Bee was held in the Commons on Wed, Jan 09. Teachers, students and parents alike watched the 24 Middle School competitors impressively spell words of all sorts, ranging from "fun" to "auf Wiedersehen". The competitors were comprised of the top six spellers from each grade, who had all earned their spot in the competition based on their performance in their classroom spelling bees. After several rounds of skillful spelling, the competition was narrowed down to two of the youngest competitors! Both students performed admirably, and our community cheered as Paige Ferwerda (6th grade) was announced runner-up champion, and George Miner (5th grade) was lauded as the 2019 spelling champion. George's champion word was "angora" (noun; a yarn of the hair of a long-haired, usually white rabbit used especially for knitting).
This Week
"Faith. Strong." Friday – Jan 11

It's that time again. All students, staff and parents are encouraged to wear their ACS gear to school this week Fri, Jan 11.
Lost and Found
The lost will be in the front lobby on Fri, Jan 11. What is left at the end of the day will be boxed away. You can always check the lost and found which is located by the kitchen/music rooms.
MENistry
MENistry is a coffee group for dads who want to get to know more about themselves and the Bible. Join us Friday mornings in the office at 8:00am.
Moms In Prayer – New Year's Fellowship Time
Moms-in-Prayer New Year's Fellowship Hour: Some ACS groups have a Christmas fellowship time. We mix it up by having a New Year's Fellowship time on Jan 10 to reflect on the past year and pray on behalf of the ACS community for the brand new year, and welcome YOU! If you can join us for this sweet time of fellowship, please do! Every week, Moms-in-Prayer concentrate on our constant and desperate need for more of his presence in our lives and those for whom we pray rather than for a "fix" for our circumstances. We plead for more of his presence through our circumstances and pray we glorify him more with each day (Psalm 86:12). Oh, and one more thing, you do not have to pray aloud, join in silent prayer — God is totally cool with that.
Come join us for the journey when you can. We meet every Thursday morning 8:00-9:00am, in the ACS office back conference room.
Need more information? Contact Kelly Stafford (616.304.2963, ten.tsacmoc@droffats-kj).
Now You Know
Family Service Opportunity
Attention all who are looking for a service opportunity for the whole family.
Our ACS service team will be working together on a family service project on Sat, Jan 12 in the ACS commons from 11:00am-1:00pm. We will be tying fleece blankets that will be donated to Heartside Ministries, an organization that works with homeless individuals and families in Grand Rapids. Families with children of all ages are welcome to join us for a couple of hours tying, refreshments and fellowship.
Feel free to drop in or out as needed. Fleece for blankets will be provided, but feel free to bring your own if you have extra at home or have a special blanket you would like to make. Please rsvp to Sheila.hemker@gmail.com or 708.212.2558 so we can be sure to have enough fleece and food.
Hot Lunch Menu
The Jan menu is here.
Action Needed
Direct Your Dollars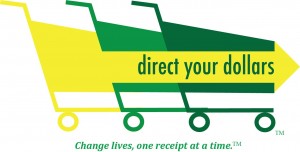 We are more than 50% of the way to our next $1,000 check from Direct Your Dollars! Thank you for submitting your Forest Hills Foods, D&W and Family Fare receipts. Receipts from $1 to over $300 all work together to help us to our goal. We are on track to get our next check before the school year ends.
Open House & Information Night – Jan 15
We are hosting an Open House & Information Night, Tuesday, Jan 15 at 6:00pm. We invite you to share our Facebook post with specific information with friends and family who may be interested in Ada Christian.
PTO Happenings
Daddy Daughter Dance – Feb 01, 2019
Tickets for the dance are available now through Eventbrite.
There will also be an envelope in the office. Tickets are $30/couple or $40/family. There will be an opportunity to purchase pictures the night of the dance from Moto Photo, who will have a photographer taking professional pictures. Orders must be placed the night of the dance. An envelope will be sent home with your daughter this week.
Jasmine's Closet
New this year! Do you have a gently used girl's dress or shoes from past Daddy-Daughter Dances that you would like to donate to our ACS family? If so, please consider bringing them to Jasmine's Closet over the next two weeks. There is a rack set up in the back conference room of the front office for anyone to donate. For those needing a dress for this year's dance, please stop by and select a dress before the big night! Questions? Call Amy Leonard 317.439.3677
School Party – Jan 28
Cannonsburg Tubing on Jan 28 from 1:00-4:00pm
A day off of school? Let's all go tubing!! Join us on Mon, Jan 28 from 1:00-4:00pm at Cannonsburg for some wintry fun. Tickets can be purchased on-site for $15/person for 3 full hours. Must be over 42" tall, and don't forget your waiver! Be sure to fill the waiver out ahead of time for less time waiting in line.

6800 Cannonsburg Road, Belmont, MI 49306
Questions: Holly Karasinski hollyk2234@gmail.com 616.901.8882
PTO Information
Looking for our calendar, information about upcoming events or opportunities to serve? Check out our updated website.
ACS Athletics
PurePlay
Basketball is underway with practices and games.

Co-ed child/parent volleyball clinic Sat, Mar 09, 9:00am-12:00pm.
Calendar Reminders
Jan 17 & 18 – No Forest Hills PM Transportation
Jan 21 – No Forest Hills AM & PM Transportation
Jan 28 – No School
Feb 14 & 21 - Parent Teacher Conferences
Feb 15 - No Forest Hills PM transportation
Feb 22 & 25 - No School - Winter Break
Requested Announcements
After School Program
Ada Christian Reformed Church is offering a free After School Program on Wednesdays beginning Feb 06 and running through Mar 27, 2019. The 8-week sessions features five programs for students 1st through 4th grades:
1. Girls club [GEMS]
2. Boys club [Cadets]
3. Spanish Bible Study
4. Life Skills through Magic
5. Dance Class with Maggie Styf.
Students will be picked up at ACS at 3:00pm via our church van and transported to the church for snack, then go to the class for which they registered. Parent pick-up is 5:15pm. To learn more and to register go to: www.adacrc.org and click on After School Program. Registration deadline is Jan 31. Questions, call the church at 616.676.1698.
Movie Event
Redeemer Presbyterian Church (8605 E. Fulton, Ada) invites you and your spouse to a free movie event on Fri, Jan 11 at 7:00pm. We will be showing the movie Like Arrows. Please visit http://familylifeministries.org/likearrows/ or contact Kristen Yeh with any questions. (She saw a sneak preview at Celebration Cinema and highly recommends it!)
About the movie:
When conflict, rebellion, and resentment overwhelm their family, Charlie and Alice are forced to rethink their parenting strategy. In the process, they realize how critical intentionality and focus are when shaping and molding young lives. FamilyLife's first feature film explores the challenges and joys that come with raising children. Through a journey that unfolds over 50 years, Charlie and Alice discover the unmistakable power of family.Together, they learn that knowing and living by God's Word is what brings transformation and hope to any family.
Like Arrows casts a powerful vision for parents, reminding us that nothing is more important for any family than to have God and His Word directing our lives. Executive produced by Alex and Stephen Kendrick, and FamilyLife's Dennis and Barbara Rainey and Bob Lepine, the film is part of a significant new parenting initiative featuring FamilyLife's Art of Parenting™, which includes an eight-session small group series and a free online video series.