Ada Connection – Jan 08, 2019
A Note From The Principal
Another Year is Dawning
As I sang this song in church Sunday, I thought of the new year ahead at ACS with a grateful heart for the time we will spend waiting, trusting, and serving our Father together.
Another Year Is Dawning
Written by Miss Frances Ridley Havergal, 1874
Another year is dawning, dear Father, let it be
In working or in waiting, another year with Thee;
Another year of progress, another year of praise,
Another year of proving Thy presence all the days.
Another year of mercies, of faithfulness and grace,
Another year of gladness in the shining of Thy face;
Another year of leaning upon Thy loving breast;
Another year of trusting, of quiet, happy rest.
Another year of service, of witness for Thy love,
Another year of training for holier work above;
Another year is dawning, dear Father, let it be
On earth, or else in Heaven, another year for Thee.
Happy New Year!
A Warm Welcome
A warm welcome to new ACS families Eric and Lauren Steindler and daughter Ava (4S), and to Heather Visser and Donovan and Beth Visser and daughter Grace (5S).
This Week
Geography Bee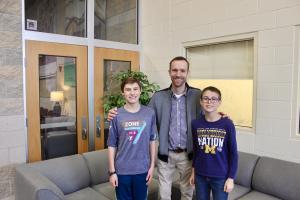 Congratulations to our Geography Bee winner Max O'Grady and runner-up Ford Erickson.
Spelling Bee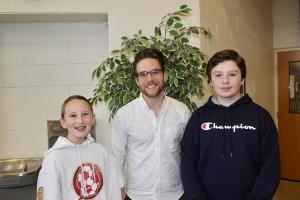 Congratulations to our Spelling Bee winner George Minor and runner-up Eli Wise.
"Faith. Strong." Friday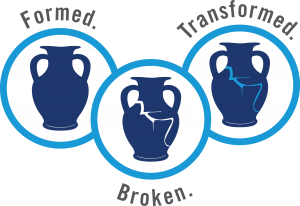 It's that time again. All students, staff and parents are encouraged to wear their ACS gear to school this week Fri, Jan 10.
Lost & Found – Jan 10
The lost will be in the front lobby on Fri, Jan 10. What is left at the end of the day will be boxed away. You can always check the lost and found which is located by the kitchen/music rooms.
Moms In Prayer
Welcome to the new year! I want to remind you of our underlying theme this year: everything we do is important to Him, nothing we do is insignificant in His eyes. All things have a spiritual nature and significance to Him. Even when Moses left the palace and spent 40 years as a lowly shepherd, God was equipping and teaching him. If you're in a routine that questions your significance, please keep looking for God and pressing into Him. He is with you, equipping you, loving you.
This Thursday morning, we'll be having a time of fellowship and kick-off to the new year. Feel free to join us and enjoy coffee and a few goodies. This Thursday, Jan 09, 8:00-9:00am, in the Orchestra Room number 504 through the Commons and past the kitchen. We look forward to seeing you! (siblings always welcome)
Need more information? Contact Kelly Stafford (616.304.2963, ten.tsacmoc@droffats-kj)
MENistry
Come join other ACS dads on Wednesdays at 8:00am as we go through C.S. Lewis The Screwtape Letters. We meet in the orchestra room.
Now You Know
6th Graders Share Book Trailers With Authors
6th Graders, Reese Reid and Lily O'Grady, participated in a Mock Newbery club sponsored by librarians, Lois Boerman and Sue Prins, in coordination with the Kent District Library. Reese and Lily read and discussed in weekly book clubs potential Newbery Award winners. Each of them chose one of these books on which to base a book trailer for a 6th grade English Language Art and Technology Integration project. The goal of the project was to share key elements of the book in a movie trailer style which would build excitement for the story without spoilers and possibly with a cliffhanger question. Their projects were then shared with the Marketing Manager and Educational Marketing Coordinator, respectively at each book's publisher. Each Marketing employee then shared these trailers with the book's authors.

These are links to their trailers:
Caterpillar Summer by Gillian McDunn; book trailer by Lily O'Grady
White Bird by R. J. Palaccio; book trailer by Reese Reid
You're Invited: SEED Market
You're invited to our 5th and 6th grade SEED Market on Jan 17, from 2:00-4:00pm in the North Gym.

5th & 6th graders create a business and market products of their own creation to the ACS community. All profits of the SEED market will benefit a non-profit organization(s) of the 5th & 6th graders' choosing.
We hope to see you there!

Thank you,
The 56 Team
Protect Young Eyes
Take a moment to read this helpful article from Protect Young Eyes: Parent Controls on Digital Christmas Gifts.
Chess Club
Chess Club starts next week Tuesday and Wednesday and the following 6 weeks. Wednesday is filled, Tuesday still has 5 spots. Call Bill Hoo with any questions (616.250.0089, gro.naitsirhcada@etartsgoohb)
Action Needed
Preschool Registration
We are happy to announce that ACS Preschool Registration is now open for the 2019-2020 school year. We are asking you to do two things:
Open House and Information Night
Share ACS with your family and friends — we would love to schedule a personal tour or meet them at our open house and information night on January 21 @ 6:00pm.
MAPS Testing
At Ada Christian School, each and every teacher and staff member works to provide the best possible education for your child. Ada Christian teachers use daily work samples, quizzes, informal screening, and teacher-student conferencing to monitor student growth. They utilize this information to guide instructional delivery that is geared toward your child's individual needs.
ACS also uses a school-wide formal assessment called MAP Growth. These tests not only determine your child's instructional level, but also measure academic growth throughout the school year (and from year to year) in Math, Reading, and Language Usage.
MAP Growth tests are unique in that they are adaptive tests. As your child works through the assessment, the questions become more challenging with each correctly answered question. And, when your child answers a question incorrectly, the assessment becomes easier. Ultimately, targeting your child's specific learning level.
Students will be participating on different days and at different times throughout the next several weeks. Your child's teacher will share the specific dates with you in their class newsletter.
If it is your desire to have your child NOT participate in this assessment process, please complete the opt out form by Friday, Jan 10. Printed forms are also available in the ACS office.
Your Partners in Christian Education,
Melissa Brower & Julie DeKoster
PTO Happenings
Cannonsburg School Party – Jan 27
Cannonsburg Tubing on Jan 27 from 1:00-4:00pm
No school? Let's all go tubing!! Join us on Mon, Jan 27 from 1:00-4:00pm at Cannonsburg for some wintry fun. Tickets can be purchased on-site for $15/person for 3 full hours. Must be over 42" tall, and don't forget your waiver! Be sure to fill out the waiver waiver ahead of time for less time waiting in line.
6800 Cannonsburg Road, Belmont, MI 49306
Questions? Contact Holly Karasinski, (moc.liamg@4322kylloh, 616.901.8882)
Daddy Daughter Dance – Feb 07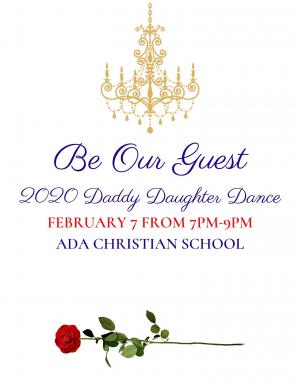 Be our guest!
Tickets for the dance
are available now through Feb 05. You may purchase online or in the office.
Tickets are $30/couple or $40/family.
Athletics
PurePlay
1st-4th basketball practices begin this week. Games begin Saturday. Y5/K basketball begins this Saturday, Jan 11 9:00-10:00am.
Co-ed Child-Parent volleyball clinic Mar 14, 9:00am-noon.
Calendar Reminders
Jan 20 - No Forest Hills AM & PM transportation
Jan 27 - No School - InService
Feb 07 - Daddy/Daughter Dance
Feb 20 - Parent Teacher Conferences 4:30 - 8:30
Feb 27 - Parent Teacher Conferences 4:30 - 7:30
Feb 28 - Winter Break - No School
Mar 02 - Winter Break - No School