Ada Connection – Feb 28, 2018
This Week
"Faith. Strong." Friday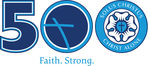 It's that time again. All students, staff and parents are encouraged to wear their ACS gear to school this week
Friday, Mar 02
.
Lost & Found
The lost will be in the front lobby on Friday, Mar 02. What is left at the end of the day will be boxed away. You can always check the lost and found which is located by the kitchen/music rooms.
Moms In Prayer
This week we will be praying for 2nd grade. God is our Friend. One who is attached to another by affection or regard, supporter and confidant.
"Anyone who withholds kindness from a friend forsakes the fear of the Almighty." – Job 6:14
If you can join us for prayer, we meet every Thursday morning 8:00-9:00am, in the ACS office back conference room. Younger siblings are always welcome! Need more information? Contact Kelly Stafford (616.304.2963, ten.tsacmoc@droffats-kj).
MENistry
Come join other dads in room 504 on Fridays at 8:00am as we explore our call to be faithful men of Christ. We will be dwelling with the Word in the Book of Luke this semester. Coffee and donuts provided. All ACS dads welcome!
Now You Know
Calvin 5K Spring Classic
Would you like a chance to promote Ada Christian School at a local race, get some exercise, and have the chance to win some great prizes? Sign up for the Calvin 5K Spring Classic School Challenge on Apr 28.
One student from each of the top five schools with the most participants will win a $350 gift certificate to Village Bike. The school with the most participants will win a $250. Participation in the 5K run, 5K walk or kids' fun run all count toward Ada Christian's participation. Tell your friends, family and neighbors. Anyone who registers under Ada Christian will be added to our team. Once you sign up, send an email to Anna Ter Beek at aberke98@yahoo.com to let her know you signed up. There will be a weekly drawing every Wednesday between now and race day to win a $5 gift card to Gazelle Sports. The earlier you sign up, the more chances you have to win!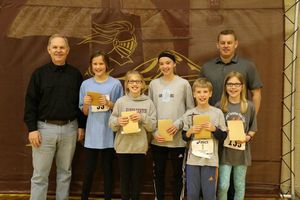 Last years bike winner Henry Kraay, along with Mr. Alphenaar from Aspen Investment Management.
March Is Reading Month
March is Reading Month starts tomorrow. Our month-long reading celebration activities are being introduced in the library to the Kindergarten through 4th grade students. Two items to note that will be happening in the next week are:
Stripes Day
In honor of Dr. Seuss' Mar 02 birthday and Read Around America Day, students and staff are asked to wear something striped this Friday.
Glenys Nellist visit
Author Glenys Nellist will be returning to Ada Christian School on Mar 07 to share her new books Easter Love Letters from God, God Made Mommy Special and God Made Daddy Special. If you are interested in ordering any of these books and having them autographed just print, fill it out and send the order in to your child's teacher.
Baked goods, pet supplies, crafts, jewelry and more at 5th & 6th Grade SEED Market
The ACS 5th and 6th graders invite you to come shop at the SEED (Service, Education, Entrepreneurship, and Design) Market on Friday, Mar 02 from 2:30-4:00pm. There will be over 20 student businesses represented! All proceeds will be donated to a charity selected by students.
2018-2019 Calendar
Aug 23 – First Day (half day)
Aug 31-Sept 03 – No School (Labor Day)
Sept 24 – No School (In-Service)
Oct 24-26 – No School (Teacher's Convention)
Nov 08 – ACS Education Foundation Dinner
Nov 21-23 – No School (Thanksgiving Break)
Dec 24-Jan 04 – No School (Christmas Break)
Jan 28 – No School (In-Service)
Feb 22 & 25 – No School (Winter Break)
Mar 28-Apr 05 – No School (Spring Break)
May 03 – GrandFriends (half day)
May 06 – No School (In-Service)
Jun 06 – 8th Grade Graduation
Jun 07 – Last Day (half day)
Action Needed
2018 -2019 Kindergarten Orientation
Come to kindergarten orientation on Tuesday, Mar 13 from 7:00-8:00pm in the commons. This is for parents only. During this time you will sign up your future kindergartener for visiting. Visitation times are Thursday, Apr 12 at 8:30-9:30am, 10:00–11:00am, or 12:00–1:00pm.
Testing must be done if your child turns 5 after June 01, 2018. The time for that is Thursday, Apr 19 from 8:30–9:30am or 9:45-10:45am. If you are not able to come to the orientation night, please stop in the office before Mar 13 and sign up your child to visit and pick up a folder with papers that need to be filled out and return on Apr 12.
PTO Happenings
Peanut Butter & Pretzel Drive
Help support Kids Food Basket this spring by bringing in creamy peanut butter and snack size pretzels that can be used in trail mix. Collection will take place Mar 12-16. Your donation can make a big different to a child in need!
Shoes To Fill
The ACS PTO would love to have you join our executive board team. We are currently looking for a Vice President and Secretary to serve next school year (2018-2019). If you are interested please submit your name and a little about yourself to PTO@adachristian.org. Please submit by Mar 09.

So you'd like to get more involved in the school PTO, but you're not sure you're ready to take the lead role? Our vice president position has your name written all over it! You'll learn behind-the-scenes intel and be part of decision making on important issues throughout the year. You'll help the president get things done—kind of like a superhero's sidekick, but without the silly costume. Read more about the job description to see if it's the right fit.

Be honest—you're the one in your friend group who filled out every page in your child's baby book...at the right time, no less. If you're the kind of person who documents everything, from your toddler's first steps to how far you jogged yesterday, we have the perfect role for you. You'll get to put your stellar record keeping skills and attention to detail to good use as our PTO secretary. Read the job description and decide if it's a good fit.
Amazing Adventure – Mother Son Event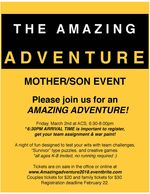 Come join us on Friday, Mar 02 and be ready for an Amazing Adventure designed to test your wits with team challenges, "Survivor" type puzzles, and creative games!
ACS Athletics
PurePlay
Volleyball for all! Co-ed Child/Parent Volleyball. Saturday, Mar 10, 9:00am-12:00pm
Spring soccer sign ups have begun too.
Softball skills sessions: Mar 01 5-6:30, Mar 06 3:00-4:30pm, Mar 15 5:00-6:30pm. To sign up email Coach DK (gro.naitsirhcada@enielkeds)
Calendar Reminders
Mar 02 – Mother Son Event
Mar 02 – Second Trimester Ends
Mar 22 & 23 – Dessert Theater
Mar 27 – Annual Society Meeting in Commons
Mar 28 – All school Chapel at 8:15
Mar 29 - Apr 06 – No School - Spring Break
Apr 09 – School Resumes
Requested Announcements
SpringHill Day Camp at Cascade Fellowship
SpringHill Day Camp will be coming to Cascade Fellowship on July 09-13. Early Bird pricing through February is $189. Discounts and scholarships available by calling the church office 616.949.4342. See SpringHill link on cascadefellowship.org for more info and to register. Flyers also available in the office.