Ada Connection – Feb 21, 2018
A Note From Principal Brower
Committed To Safety
When incidences occur at a school like we saw in Florida last week, it seems so natural for a couple things to come to our minds right away. First of all, grief and sorrow for the families and friends impacted by an attack on children. Second, questions and concerns about the safety of our own boys and girls.
At ACS, we have worked hard to ensure we are as best prepared as possible to keep our students safe.
We consult with Jason Russel from SEC for our security needs. Jason is a former CIA agent who protected all of the living presidents' children with the exception of the Trump children. With his help, we have adopted and practice several safety precautions including:


indoor safety practice drills
faculty and staff training
visitor safety protocol
all classroom doors locked during the day
blast-proof coating on many windows and doors
automatic locking doors
about 40 interior and exterior cameras
partnership with local law enforcement
annual requests for increased police drive-throughs


In addition, we contracted Mr. Vander Vliet from Northport Securities to sweep our school for hidden cameras (None were found!) and to train ACS staff in knowing what to look for in the future.
We are committed to doing all we can to keep our students safe. If you ever notice any suspicious activity, please contact us right away.


Sincerely, Principal Brower


Please watch the video below discussing student safety at ACS.
This Week
Moms In Prayer
This week we will be praying for 1st grade. God is the Finisher. One who is a fortified place, a stronghold and a place of security.
"Since you are my rock and my fortress, for the sake of your name lead and guide me." - Psalm 31:3
If you can join us for prayer, we meet every Thursday morning 8:00-9:00am, in the ACS office back conference room. Younger siblings are always welcome! Need more information? Contact Kelly Stafford (616.304.2963, ten.tsacmoc@droffats-kj).
MENistry
Come join other dads in room 504 on Fridays at 8:00am as we explore our call to be faithful men of Christ. We will be dwelling with the Word in the Book of Luke this semester. Coffee and donuts provided. All ACS dads welcome!
Now You Know
5th & 6th Grade SEED Market
The ACS 5th and 6th graders invite you to come shop at the SEED (Service, Education, Entrepreneurship, and Design) Market on Friday, Mar 02 from 2:30-4:00pm. There will be over 20 student businesses represented from baked goods, pet supplies, crafts, jewelry, and much more! All proceeds will be donated to a charity selected by students.
Parent Teacher Conferences – Feb 22
The conference schedule for Feb 22 is now available. Parents of students in middle school will have the opportunity to visit with each of their student's teachers in the commons.
No sign up is necessary for Middle School. Teachers will be available from 4:30-7:30pm on Feb 22.
Conferences with our "Specials" Teachers: Mrs. VanNoord, Mrs. Bosma, Mrs. O'Brien and Mr. Wanner will be in the Commons. Mrs. Kladder will be available on Feb 22.
2018-2019 Calendar
Aug 23 – First ½ Day
Aug 31-Sept 03 – No School Labor Day
Sept 24 – No School In-Service Day
Oct 24-26 – No School - Teacher's Convention
Nov. 21-23 – No School - Thanksgiving Break
Dec 24-Jan 04 – No School - Christmas Break
Jan 28 – No School - In-Service
Feb 22 & 25 – No School - Winter Break
Mar 28-Apr 05 – No School - Spring Break
May 03 – GrandFriends ½ Day
May 06 – No School In-Service
June 06 – 8th Grade Graduation
June 07 – Last ½ Day
Action Needed
Looking For Michigan Bird Books
Our third grade is seeking books on Michigan birds, especially the book entitled, "The Kitchen Table Bird Book" by John Ham. Unfortunately, it is out of print. If you have this book at home would you consider donating it to our third grade?

Thanks,
Judy A. and Judy S.
PTO Happenings
SkyZone School Party – Feb 26
Monday, Feb 26 from 4:00-6:00pm, $10 to jump and $1 socks.
Please bring cash to pay at the door. Waiver may be completed on site or online. (New waivers as of 1-22-18 - Required for all jumpers)
Shoot hoops, face off for a fun game of dodge ball, take a flying leap into the foam pits or just jump sky-high on the grid! We'll have the entire place to ourselves, it's reserved for ACS friends and parents only. Join us for this school party, it's one you won't want to miss!

Questions? Ask Holly Karasinski (616.901.8882, moc.liamg@4322kylloh).
Shoes To Fill
The ACS PTO would love to have you join our executive board team. We are currently looking for a Vice President and Secretary to serve next school year (2018-2019). If you are interested please submit your name and a little about yourself to PTO@adachristian.org. Please submit by Mar 09.

So you'd like to get more involved in the school PTO, but you're not sure you're ready to take the lead role? Our vice president position has your name written all over it! You'll learn behind-the-scenes intel and be part of decision making on important issues throughout the year. You'll help the president get things done—kind of like a superhero's sidekick, but without the silly costume. Read more about the job description to see if it's the right fit.

Be honest—you're the one in your friend group who filled out every page in your child's baby book...at the right time, no less. If you're the kind of person who documents everything, from your toddler's first steps to how far you jogged yesterday, we have the perfect role for you. You'll get to put your stellar record keeping skills and attention to detail to good use as our PTO secretary. Read the job description and decide if it's a good fit.
Amazing Adventure – Mother Son Event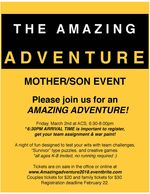 Come join us on Friday, Mar 02 and be ready for an Amazing Adventure designed to test your wits with team challenges, "Survivor" type puzzles, and creative games!
Tickets are on sale online or in the office. Couples tickets for $20 and family tickets for $30. Registration deadline Feb 22.
ACS Athletics
PurePlay
Volleyball for all! Co-ed Child/Parent Volleyball. Saturday, March 10, 9:00am-12:00pm Deadline to sign up: Extended to Feb 21 at midnight.
Spring soccer sign ups have begun too.
Softball skills sessions: Mar 01 5-6:30, Mar 06 3:00-4:30pm, Mar 15 5:00-6:30pm. To sign up email Coach DK (gro.naitsirhcada@enielkeds)
Calendar Reminders
Feb 22 – Parent Teacher Conferences
Feb 23 & 26 – No School - Winter Break
Mar 02 – Mother Son Event
Mar 02 – Second Trimester Ends
Mar 22 & 23 – Dessert Theater
Mar 27 – Annual Society Meeting in Commons
Mar 28 – All school Chapel at 8:15
Mar 29 - Apr 06 – No School - Spring Break
Apr 09 – School Resumes
Requested Announcements
SpringHill Day Camp at Cascade Fellowship
SpringHill Day Camp will be coming to Cascade Fellowship on July -13. Early Bird pricing through February is $189. Discounts and scholarships available by calling the church office 616.949.4342. See SpringHill link on cascadefellowship.org for more info and to register. Flyers also available in the office.