Ada Connection – Feb 20, 2019
This Week
MENistry
MENistry is a coffee group for dads who want to get to know more about themselves and the Bible. Join us on Fridays from 8:00-9:00am.
Moms In Prayer – Praying For 7th Grade
Praying for 7th graders and their teachers. God is our peace/shalom: One who provides wholeness of life or body, harmony, success and victory over our enemies.
"The Lord bless you and keep you; the Lord make his face shine on you and be gracious to you; the Lord turn his face toward you and give you peace." - Numbers 6:24-26
Come join us for the journey when you can. We meet every Thursday morning 8:00-9:00am, in the ACS office back conference room.
Need more information? Contact Kelly Stafford (616.304.2963, ten.tsacmoc@droffats-kj).
Now You Know
Sweatshirts For Sale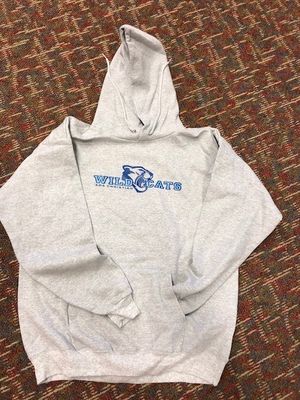 ACS Wildcat sweatshirts on sale now for $20. Save $15. Adult sizes. Check them out in the lobby.
Box Tops - Until Feb 21
Please have your kids empty your drawers and search your cupboards for any and all Box Tops at home and send them to school before Feb 21. We will not be sending home collection sheets this year. Please place your Box Tops in a Ziploc bag; you may include your Bonus Box Tops with single Box Tops. Thank you!
Here are a few reminders:
Please cut out labels on the dotted line.
Please do not submit Box Tops with an expiration date before Mar 01, 2019.
If the expiration date is cut off of the Box Top it cannot be submitted.
Box Tops are to be turned in at the office.
Students turning in 25 or more Box Tops will receive a candy reward.
Parent Teacher Conferences – Feb 21
The conference schedule for our elementary grades is available to download.
No sign up is necessary for Middle School. Parents of students in middle school will have the opportunity to visit with each of their student's teachers in the commons.
The teachers will be available from 4:30-7:30pm.
Parenting Relationships Summit - Free To Listen
On Tuesday, Protect Young Eyes Founder Chris McKenna will join a full list of amazing speakings to tackle tough issues impacting kids. He's joined by Lila Rose (Live Action), Dr. Meg Meeker (Strong Fathers, Strong Daughters), Dr. Les Parrott (The Parent You Want To Be), and many more! This amazing, FREE event can be listened to whenever you have time during the 2-week window. Enjoy!
2019-2020 Calendar
Aug 26 – First Day (Half Day)
Aug 30-Sept 02 – No School (Labor Day)
Sept 30 – No School (In-Service Day)
Oct 23-25 – No School (Teacher's Convention)
Nov 27-29 – No School (Thanksgiving Break)
Dec 23-Jan 03 – No School (Christmas Break)
Jan 27 – No School (In-Service Day)
Feb 28-Mar 02 – No School (Winter Break)
Apr 02-10 – No School (Spring Break)
May 01 – GrandFriends (Half Day)
May 04 – No School (In-Service Day)
Jun 04 – 8th Grade Graduation
Jun 05 – Last Day (Half Day)
Hot Lunch
Review the Feb menu with your student(s).
Available to help during hot lunch? Find a time that works for you.
Questions? Contact Shelly VanGoor, (gro.scrg@roognavs).
Action Needed
School Board Committees
Did you know that there are seven standing committees of the school board? Executive, Education, Development, Finance, Long-Range Planning, Operations, and Promotions. Each committee is chaired by a school board member and committee members typically include administration, faculty and parents from our school community. Term of appointment is for one year and committee members may serve up to three consecutive one-year terms.
If you are interested in serving on one of these committees or would like more information, please contact a school board member or e-mail the board secretary.
2019-2020 Preschool Registration
We are happy to announce that ACS Preschool Registration is now open for the 2019-2020 school year. We are asking you to do two things:
Kindergarten Intentions
Partner with us! If you intend to send your child to kindergarten for the 2019-2020 school year, please call the office at 616.676.1289 or email Sharon DeJong at sdejong@adachristian.org. We need your child's first, middle and last name as well as their birthdate for the list we are building.
We would also like to know if you prefer 5-day or Progressive Kindergarten. Parent preferences vary from year to year. To help us plan for staffing needs, we will cap the list for each option at 22 and then begin to build our 3rd class list. There is a chance that those on the 3rd list may be asked to alter their preference.
There will be a parent orientation on Tues, Mar 12 at 7:00pm for parents only. On Thur, Apr 11, plan on having your child visit for one hour. If your child turns 5 after June 01, 2019, he/she will need to be tested on Thur Apr 18. Sign up sheets will be at the orientation or in the office.
For families enrolling their oldest child in kindergarten, another part of the enrollment process is a meeting with Melissa Brower, our principal. This meeting may happen any time before enrollment. If you would like to schedule that meeting, please contact Julie DeKoster at 616.676.1289 or gro.naitsirhcada@retsokedj.
PTO Happenings
Recess Help Needed Feb 21
Looking for a way to bless our hard working teachers during PT Conferences? Covering Recess Duty is a great way to help! This gives them those precious extra moments to prepare, or even just to take a small mental break without managing a playground full of sweet but rambunctious kiddos.
This is such a great opportunity for those who can't commit to a full year-long recess schedule - you get to jump in and bless the teachers, plus it's an extra chance to see your child in action on the playground. That's always a special treat for them. Please take a quick moment to check out the sign up page and claim your spot!


Thank you so much for your support,
Your PTO
Open PTO Position
Well, our dearly beloved Secretary, Karen Naude (who was amazing) has moved back to her Florida home. (Do any of us blame her? Decidedly not.) We miss her laugh and bright sunny spirit terribly and wish her the absolute best as she resumes her beautiful life down there. However, that leaves us with a little opportunity on our hands. If you've considered getting involved in the Parent Teacher Organization, this is the perfect way to begin. Little responsibility and lots of fun.
Your job:
1. Attend monthly PTO meetings and take notes.
2. Type them up into minutes.
3. Write and mail thank you cards to our hard-working volunteer event chairs (a handful a month).
4. Jump in to help as needed throughout the year on various events as your schedule permits.
Your pay: $0 (unless you're including benefits, vacation time, sick days etc, in which case....well...it's actually still $0)
We pride ourselves in transparency.
Want to check it out? Come to our next meeting! We promise we won't make you take notes on your first visit.
Please contact Holly Karasinski, PTO President at moc.liamg@4322kylloh or 616.901.8882.
Mother Son Event – Mar 01
Come join us for a fun night battling it out in a game of laser tag, archery tag and other games and challenges with your son(s).
Please follow all 3 steps below, each one must be completed:
1. Check out EventBrite to sign up or pay cash or check in the office. Cost is $20/couple and $30/family.
2. Go to SignUpGenius to secure your laser tag and archery spots (filling up fast).
3. Finish up at https://www.battlegr.com to sign the waiver to play - very bottom, red box.
Deadline to sign up is Fri, Feb 22. Please be sure to complete all 3 steps by then. We've noticed that quite a number have made reservations for laser/archery tag that have not been secured by signing up with cash or check in the office or eventbrite online. We won't be able to keep these on the schedule after Feb 22nd, so please double check to make sure you've completed Step 1. Thanks so much and can't wait to see you there!

Questions? Contact Denice Burgess at moc.oohay@ssegrub_ecined
SkyZone School Party – Feb 25
Monday, Feb 25 from 4:00-6:00pm, $10 to jump and $1 socks.
Please bring cash to pay at the door. Waiver may be completed on site or online. (New waivers required annually for all jumpers.)
Shoot hoops, face off for a fun game of dodge ball, take a flying leap into the foam pits or just jump sky-high on the grid! Join us for this school party, it's one you won't want to miss!
Questions? Ask Holly Karasinski (616.901.8882, hollyk2234@gmail.com).
PTO Information
Looking for our calendar, information about upcoming events or opportunities to serve? Check out our updated website.
ACS Athletics
PurePlay – Spring Opportunities
Co-ed Child/Parent volleyball clinic: Open to boys and girls, Y5-4th, accompanied by a parent/adult. Saturday, Mar 09, 9:00am-12:00pm. $30.00 per adult/child pair. Includes 2 t-shirts and 3 hours of learning, cooperation and fun. Register online Deadline: Feb 22.

Soccer: Y5-4th grade. Saturdays, Apr 13, 20, 27, May 04, 11 and 18. Register online. $45-65. Parent volunteers are needed to coach teams. Deadline: Mar 22.

Track and Field Club: K-4th. Wednesdays, 3-4:15. Apr 10, 17, 24, May 01 and meet on May 08. No cost. Email me to sign up. Parent volunteers are needed to assist me.

Tennis: 1st -4th. Tuesdays, 3:00-4:15pm. April 30, May 07, 14, and 21. $10.00 per student. Parents who help will have the fee waived. Email me to sign up, (gro.naitsirhcada@enielkeds).
Calendar Reminders
Feb 21 - Parent Teacher Conferences
Feb 22 & 25 - No School - Winter Break
Mar 21 & 22 - Dessert Theatre
Mar 26 - Annual Society Meeting
Mar 28 - Apr 05 – No School - Spring Break