Ada Connection – Feb 19, 2020
This Week
Mural Painting – Feb 21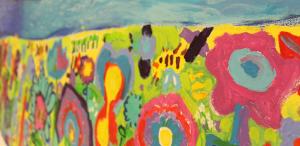 We are learning so much about God's Kingdom through art. If you have walked through school this week you probably noticed a beautiful mural taking shape! Artist Joel Tanis has been working with students to create a mural that represents the Ada Christian School community. There is only one piece of our community missing: you!
We would like to extend an invitation for our families to participate in the painting of our mural. Friday, Feb 21 after school you will have the opportunity to add to the mural. To help with crowds we are suggesting the following schedule (by last name):
A-F 3:15-3:45
G-L 3:45-4:15
M-S 4:15-4:45
T-Z 4:45-5:15
If you are unable to come at your appointed time you may come between 5:15-5:45pm.
Let's create something beautiful together!
Parent Teacher Conference Schedule – Feb 20 & 27
Review the conference schedule for Feb 20 and Feb 27. Parents of students in middle school will have the opportunity to visit with each of their student's teachers in the commons. No sign up is necessary for Middle School. Feb 20 the teachers will be available from 4:30-7:30pm and Feb 27 from 4:30-7:30pm.
Moms In Prayer
We're praying for 8th graders and their teachers this Thursday. God is compassionate; One who is caring, loving and empathetic.
"May we, as God's chosen ones, holy and dearly loved, clothe ourselves with compassion, kindness, humility, gentleness and patience. " - Col 3:12
We're a group of Moms (aunts/grandmas) passionate about lifting up our kids and ACS faculty and staff in prayer. We meet every Thursday morning at 8:00-9:00am, in the orchestra room (through the Commons and straight past the kitchen). Younger siblings are always welcome! Come join us for the journey when you can.
Need more information? Contact Kelly Stafford (616.304.2963, ten.tsacmoc@droffats-kj)
MENistry
Come join other ACS dads on Wednesdays at 8:00am as we go through C.S. Lewis The Screwtape Letters. We meet in the orchestra room.
Now You Know
2020-2021 Calendar
Here is a preview of our school calendar for the 2020-2021 school year:


Aug 25 – First Day (Half Day)
Sept 04-Sept 07 – No School (Labor Day)
Sept 28 – No School (In-Service Day)
Oct 21-23 – No School (Teacher's Convention)
Nov 25-29 – No School (Thanksgiving Break)
Dec 19-Jan 03 – No School (Christmas Break)
Jan 18 – No School (In-Service Day)
Feb 18-Feb 22 – No School (Winter Break)
Apr 02-12* – No School (Spring Break) - *Please note, we will start Spring Break on Friday, Apr 02 and return on Tuesday, Apr 13.
May 07 – GrandFriends (Half Day)
May 10 – No School (In-Service Day)
Jun 08 – 8th Grade Graduation
Jun 09 – Last Day (Half Day)
Camp Invention
In partnership with the National Inventors Hall of Fame® (NIHF), we are pleased to offer the nationally acclaimed Camp Invention® program to children entering kindergarten through sixth grade. This exciting, weeklong summer adventure provides lessons that explore connections between science, technology, engineering and innovation. Children rotate through several hands-on activities each day while using teamwork, creative thinking and problem-solving skills to invent unique solutions to real-world challenges. The week begins on June 15-June 18 with Dani Buchanan serving as Director of the all-new 2020 program, Elevate!
During this program, young innovators will:
Build a cityscape out of upcycled materials, navigate planes through a storm and take apart a robot they'll bring home at the end of the program.
Learn the value of their creativity as they sketch and build prototypes, design logos, market their invention and protect their intellectual property.
Collaborate and discover solutions to protect the Earth's ecosystems as they compete in zipline races, explore energy conservation and help wildlife habitats.
Discover the great inventors behind their favorite sports, play high-energy games and design the ultimate sports complex.
Camp Invention's activities give participants the opportunity to explore, create and build confidence as they bring their biggest ideas to life.
Register using promo code SUM25 to save $25 (expires Mar 31) off the $245 registration fee. Availability is limited. Visit invent.org/camp or call 800-968-4332 to secure your child's spot today!
Questions? Contact Dani Buchanan (gro.naitsirhcada@nanahcubd)
Whatcha Doin' Out There?!
Take a moment to read about the Top Ten OE Moments from this month.
Unicycle Club
The ACS Unicycle Club is for 1st-8th grade students who would like to learn how to ride a unicycle or progress in other unicycle skills. We are offering the club one last time this school year.
We will meet the first four Tuesdays in March after school from 3:05-4:00pm starting on Tuesday, Mar 03.
We provide the unicycles, and you provide the rider. The club will be capped at 20 members. Although unicycles are provided, you may bring your own if you prefer.
The cost is $15. Sign up online. If you are registering multiple children, please fill out an individual form for each one.
Members will be admitted on a first come, first served basis. Students who have not participated in a previous Unicycle Club will be given priority. If the club reaches capacity, a waiting list will be started. Questions? Contact Lois Boerman (gro.naitsirhcada@namreobl)
Mother Son Event presented by MENistry
Friday, Mar 13 6:00-9:00pm
Moms – please sign up for the annual mother-son event and come prepared to have a blast with your son as you roller skate, bowl, and play laser tag at Roll Away in Lowell.
Password: motherson
The online sign-up is through Eventbrite, a 3rd party vendor that charges a percentage per ticket. If you do not wish to pay the additional $2.24 for the online ticket, feel free to stop by the front office to register and pay for the event. Each individual signing up to attend requires their own individual sign up. Each person attending receives an amazing Mother-Son T-shirt, with the artwork created by an ACS student. This is an amazing deal! Roller skating, bowling, laser tag, and a t-shirt - all for just $10!
In order for us to make sure we order the appropriate t-shirt sizes, we need each mother and each son to sign up and purchase tickets individually. The online and in-person signup will be available up until noon Mar 12. We WILL accept last minute decisions – wrist bands can be purchased at the door on the night of the event. However, anyone that signs up after Mar 02 will not be guaranteed a t-shirt that fits, as our generous t-shirt donor needs a ten day advance notice for custom shirt sizes.
Volunteers needed! Dads, come support your wife and son at this great event and help us work the bowling alley and laser tag lines, pass out skates, and sell concessions. Sign up to volunteer.
Action Needed
Kindergarten Round-Up
2020- 2021 Kindergarten Parents: Come to Kindergarten Round-Up on Tue, Mar 10 at 7:00-8:00pm in the commons. This is for parents only. During this time you will need to sign up your future kindergartener for visiting on Thur, Apr 16 at 8:30–9:30am, 10:00–11:00am, or 12:00–1:00pm. Testing must be done if your child turns 5 after June 1, 2020. The time for that is Thur, Apr 23 from 8:30–9:30am or 9:45-10:45am. If you are not able to come to the orientation night, please stop in the office before Mar 10 and sign up your child to visit and pick up a folder with papers that need to be filled out and return on Apr 16. If you have not signed up for kindergarten for the fall yet please call Sharon DeJong at 616-676-1289 or sdejong@adachristian.org as soon as possible.
PTO Happenings
Recess Help
Looking for a way to bless our hard working teachers during PT Conferences? Covering Recess Duty is a great way to help! This gives them those precious extra moments to prepare, or even just to take a small mental break without managing a playground full of sweet but rambunctious kiddos.

This is such a great opportunity for those who can't commit to a full year-long recess schedule - you get to jump in and bless the teachers, plus it's an extra chance to see your child in action on the playground. That's always a special treat for them. Please take a quick moment to check out the sign up page and claim your spot!

Have time to serve? Sign-up for a recess slot.

Thank you so much for your support,
Your PTO
Athletics
PurePlay
Spring soccer signups are now open.
Co-ed Child-Parent volleyball clinic Mar 14, 9:00am-noon. Deadline: Feb 20.
Unicycle club sign-ups are open.
Calendar Reminders
Feb 20 - Parent Teacher Conferences 4:30-7:30pm
Feb 27 - Parent Teacher Conferences 4:30-7:30pm
Feb 28 - Winter Break - No School
Mar 02 - Winter Break - No School
Mar 10 - New Kindergarten Parent Information Night - Commons at 7:00pm
Mar 13 - No Forest Hills PM Transportation
Mar 26 & 27 - Dessert Theater
Mar 31 - Annual Society Meeting - Commons at 7:00