Ada Connection – Feb 14, 2018
A Note From Principal Brower
Amazing Artists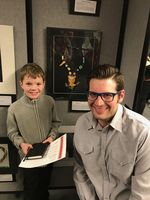 We have some amazing artists in our midst. Mr. Wanner submitted several students' artwork to Michigan Art Education Association (MAEA). The following students were selected to be both in the regional show at the GRAM and then compete again at the state level adjudication at the beginning of March.
Elementary:
Monore Honholt - "Slip and Slide"
Ethan Lewis - "Scare Who?"
Aaden Landis - " Wide Awake Owl"
Josh Siegfried - "Emotions"
Kate Bruining - "Something in the Distance"
Middle School:
Adelyn Hoekzema - "Petoskey Michigan"
Alaina Clark - "Beach and Mountains"
The artists and their families enjoyed a reception at the GRAM last week, but the artwork is on display in the education wing until Feb 23. Congratulations to all!
ACS Olympians Compete For The Gold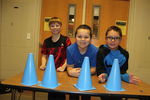 We had so much fun hosting our very own ACS Olympics! Thank you to each of our teachers, aides, and volunteers for leading us in the spirit of unity.

Thank you to each of you, ACS students, for your participation in Olympics this week. Your enthusiasm was invigorating, but it was your teamwork, a sense of unity in pursuing a common cause that was inspiring.
And let's remember, metals are fun to pursue, but our ultimate goal in this life and for all eternity is being teammates united in accepting God's call and pursuing the greatest prize of all which involves centering our lives in Christ Alone! Solus Christus!

More pictures on our ACS Facebook Page
ACS Students Turn 100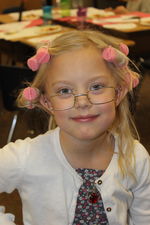 Celebrating 100 days of learning, the students in Mrs. Wilbur's first grade came to class as 100-year-olds! Oh my!
This Week
OE Market
Today and tomorrow our OE market will be open. Fresh greens, radishes, turnips and Snapdragon bouquets all homegrown at ACS will be for sale in the lobby after school!
Moms In Prayer
This week we will be praying for Covenant Care, Preschool and Kindergarten. God is the Finisher. One who completes, perfects and fulfills, brings to an end.
"However, I consider my life worth nothing to me; my only aim is to finish the race and complete the task the Lord Jesus has given me—the task of testifying to the good news of God's grace." - Acts 20:24
If you can join us for prayer, we meet every Thursday morning 8:00-9:00am, in the ACS office back conference room. Younger siblings are always welcome! Need more information? Contact Kelly Stafford (616.304.2963, ten.tsacmoc@droffats-kj).
MENistry
Come join other dads in room 504 on Fridays at 8:00am as we explore our call to be faithful men of Christ. We will be dwelling with the Word in the Book of Luke this semester. Coffee and donuts provided. All ACS dads welcome!
Now You Know
5th & 6th Grade SEED Market
The ACS 5th and 6th graders invite you to come shop at the SEED (Service, Education, Entrepreneurship, and Design) Market on Friday, Mar 02 from 2:30-4:00pm. There will be over 20 student businesses represented from baked goods, pet supplies, crafts, jewelry, and much more! All proceeds will be donated to a charity selected by students.
An Olympic Thank You
A huge Olympic "thank you" to all the parent volunteers who made it possible for our students to experience an exciting and team building week of Winter Olympic events. You explained the events, offered words of wisdom, and cheered us on. You were awesome to work with and we couldn't have done it without you. Looking forward to 2022!

Gratefully,
Mr. Hoo & Mrs. Alphenaar
Parent Teacher Conferences – Feb 15 & 22
The conference schedule for Feb 15 and Feb 22 is now available. Parents of students in middle school will have the opportunity to visit with each of their student's teachers in the commons.
No sign up is necessary for Middle School. Feb 15 the teachers will be available from 5:30-8:30pm and Feb 22 from 4:30-7:30pm.
Conferences with our "Specials" Teachers: Mrs. VanNoord, Mrs. Bosma, Mrs. O'Brien and Mr. Wanner will be in the Commons both nights. Mrs. Kladder will be available on Feb 22. Mrs. Boerman and Mrs. Vruwink will be available on Feb 15.
Action Needed
Service Team Registration
All 3-5 graders are welcome to join Service Team this spring as we practice the virtue of service by meeting the needs of different populations including unborn children, school age children, teens, families, and the elderly. We plan to partner with local agencies including the PRC, Kids Food Basket, Young Lives, Family Promise and Heartland Home.
Space is limited and is on a first come, first serve basis. Please fill out the registration form and return to the school office by Feb 20 along with your $30 registration fee. Checks can be made out to ACS.
Meeting dates with be Tuesdays Feb 27 and Mar 06, 13, 20 and 27 from 3:00-5:00pm (snack will be provided).
Questions? Contact Sheila Hemker (708.212.2558, moc.liamg@rekmeh.aliehs)
Bring On The Box Tops
For the next two weeks, through Friday Feb 16, please have your kids empty your drawers and search your cupboards for any and all Box Tops at home.
A few reminders: 1) Please check expiration dates. We cannot use them if expired. 2) Please cut your box tops out along the dotted lines. 3) Box tops are to be turned in at the office in a ziplock like bag. Kids turning in a bag of Box Tops will receive a treat. Thank you for your support!
PTO Happenings
SkyZone School Party – Feb 26
Monday, Feb 26 from 4:00-6:00pm, $10 to jump and $1 socks.
Please bring cash to pay at the door. Waiver may be completed on site or online. (New waivers as of 1-22-18 - Required for all jumpers)
Shoot hoops, face off for a fun game of dodge ball, take a flying leap into the foam pits or just jump sky-high on the grid! We'll have the entire place to ourselves, it's reserved for ACS friends and parents only. Join us for this school party, it's one you won't want to miss!

Questions? Ask Holly Karasinski (616.901.8882, moc.liamg@4322kylloh).
Shoes To Fill
The ACS PTO would love to have you join our executive board team. We are currently looking for a Vice President and Secretary to serve next school year (2018-2019). If you are interested please submit your name and a little about yourself to PTO@adachristian.org. Please submit by Mar 09.

So you'd like to get more involved in the school PTO, but you're not sure you're ready to take the lead role? Our vice president position has your name written all over it! You'll learn behind-the-scenes intel and be part of decision making on important issues throughout the year. You'll help the president get things done—kind of like a superhero's sidekick, but without the silly costume. Read more about the job description to see if it's the right fit.

Be honest—you're the one in your friend group who filled out every page in your child's baby book...at the right time, no less. If you're the kind of person who documents everything, from your toddler's first steps to how far you jogged yesterday, we have the perfect role for you. You'll get to put your stellar record keeping skills and attention to detail to good use as our PTO secretary. Read the job description and decide if it's a good fit.
Parent Teacher Conference Help
Parent teacher conferences are coming up on Feb 15 & 22. To support our teachers during this long work day, we would like to provide them with dinner. We could use your help providing food.
Sign up to bring ingredients.
Amazing Adventure – Mother Son Event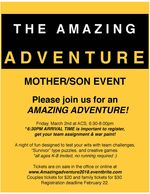 Come join us on Friday, Mar 02 and be ready for an Amazing Adventure designed to test your wits with team challenges, "Survivor" type puzzles, and creative games!
Tickets are on sale online or in the office. Couples tickets for $20 and family tickets for $30. Registration deadline Feb 22.
ACS Athletics
PurePlay
Volleyball for all! Co-ed Child/Parent Volleyball. Saturday, March 10, 9:00am-12:00pm Deadline to sign up: Feb 16.
Spring soccer sign ups have begun too.
Softball skills sessions: Feb 20 3:00-4:30pm, Mar 01 5-6:30, Mar 06 3:00-4:30pm, Mar 15 5:00-6:30pm. To sign up email Coach DK (gro.naitsirhcada@enielkeds)
Calendar Reminders
Feb 15 – Parent Teacher Conferences
Feb 16 – No Forest Hills transportation for PM
Feb 22 – Parent Teacher Conferences
Feb 23 & 26 – No School - Winter Break
Mar 02 – Mother Son Event
Mar 02 – Second Trimester Ends
Mar 22 & 23 – Dessert Theater
Mar 27 – Annual Society Meeting in Commons
Mar 28 – All school Chapel at 8:15
Mar 29 - Apr 06 – No School - Spring Break
Apr 09 – School Resumes