Ada Connection – Feb 12, 2020
A Note From Principal Brower
A Warm Welcome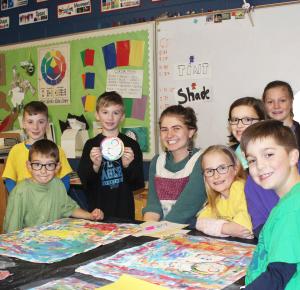 Dear Families,
Hello! My name is Jamie Kuiper and I will be working as a student teacher for the next 14 weeks in your child's art classroom. I am working towards a certification in teaching art to kids k-12. This is the fourth and final semester of my training as a teacher, and I have enjoyed working with students ages 4-16 in and out of the art classroom over the past 4 years.
My parents were missionaries, so I'm originally from all over the place, but I have been attending Calvin University for four years now. Besides learning practical classroom skills and art techniques I have also worked for two summers as a camp counselor at Camp Roger/Camp Scottie, and working with students at New City Neighbors, an urban farm located in Grand Rapids.
I will be working with Mr. Wanner, gradually increasing my responsibilities with the students over the course of the semester, and I will lead two teaching weeks. During this time, I will need to occasionally record the classroom and student's work in order to assess my progress with my professor. These recordings will only be reviewed by my professor at Calvin, Jo-Ann VanReeuwyk. If you have any concerns about video taping of the lesson, please contact Mr. Wanner or I. I am very excited to be in the art classroom, and look forward to a great semester!
Sincerely,
Jamie Kuiper
Calvin University
ude.nivlac.stneduts@57klj
TikTok – Please Be Aware
TikTok is a new video sharing app that is growing in popularity in general and with our ACS students. Protect Young Eyes has posted an app review and a parent controls tutorial.
This Week
Moms In Prayer
We're praying for 7th graders and their teachers this Thursday. God is our Comforter; One who consoles, reassures, helps and assists.
"Turn our mourning into gladness; give us comfort and joy instead of sorrow." - Jer 31:13b
We're a group of Moms (aunts/grandmas) passionate about lifting up our kids and ACS faculty and staff in prayer. We meet every Thursday morning at 8:00-9:00am, in the orchestra room (through the Commons and straight past the kitchen). Younger siblings are always welcome! Come join us for the journey when you can.
Need more information? Contact Kelly Stafford (616.304.2963, ten.tsacmoc@droffats-kj)
MENistry
Come join other ACS dads on Wednesdays at 8:00am as we go through C.S. Lewis The Screwtape Letters. We meet in the orchestra room.
Now You Know
Parent Teacher Conference Schedule – Feb 20 & 27
Review the conference schedule for Feb 20 and Feb 27. Parents of students in middle school will have the opportunity to visit with each of their student's teachers in the commons. No sign up is necessary for Middle School. Feb 20 the teachers will be available from 4:30-7:30pm and Feb 27 from 4:30-7:30pm.
Unicycle Club
The ACS Unicycle Club is for 1st-8th grade students who would like to learn how to ride a unicycle or progress in other unicycle skills. We are offering the club one last time this school year.
We will meet the first four Tuesdays in March after school from 3:05-4:00pm starting on Tuesday, Mar 03.
We provide the unicycles, and you provide the rider. The club will be capped at 20 members. Although unicycles are provided, you may bring your own if you prefer.
The cost is $15. Sign up online. If you are registering multiple children, please fill out an individual form for each one.
Members will be admitted on a first come, first served basis. Students who have not participated in a previous Unicycle Club will be given priority. If the club reaches capacity, a waiting list will be started. Questions? Contact Lois Boerman (gro.naitsirhcada@namreobl)
Class Composites
Do you wish you had ordered a class composite, but didn't? Karen Huttenga (Huttenga Photography) has approximately one extra class composite of each classroom available for purchase. They are available on a first come first serve basis. If you are interested, please email Karen at khuttenga@sbcglobal.net with your request and she will let you know if the one you are requesting is still available. They are $9.00 each.
Mother Son Event presented by MENistry
Friday, Mar 13 6:00-9:00pm
Moms – please sign up for the annual mother-son event and come prepared to have a blast with your son as you roller skate, bowl, and play laser tag at Roll Away in Lowell.
Password: motherson
The online sign-up is through Eventbrite, a 3rd party vendor that charges a percentage per ticket. If you do not wish to pay the additional $2.24 for the online ticket, feel free to stop by the front office to register and pay for the event. Each individual signing up to attend requires their own individual sign up. Each person attending receives an amazing Mother-Son T-shirt, with the artwork created by an ACS student. This is an amazing deal! Roller skating, bowling, laser tag, and a t-shirt - all for just $10!
In order for us to make sure we order the appropriate t-shirt sizes, we need each mother and each son to sign up and purchase tickets individually. The online and in-person signup will be available up until noon Mar 12. We WILL accept last minute decisions – wrist bands can be purchased at the door on the night of the event. However, anyone that signs up after Mar 02 will not be guaranteed a t-shirt that fits, as our generous t-shirt donor needs a ten day advance notice for custom shirt sizes.
Volunteers needed! Dads, come support your wife and son at this great event and help us work the bowling alley and laser tag lines, pass out skates, and sell concessions. Sign up to volunteer.
Box Tops – Due Feb 14
The Box Tops for Education program has changed the way we can earn cash for our school. Over the summer, participating brands began to change their packaging from the traditional Box Tops clip to the new Box Tops label. Going forward, instead of clipping from packages and checking expiration dates, all Box Tops will be earned digitally by scanning your receipt. There is a new user-friendly Box Tops mobile app; please be sure to download. The new app features state-of-the-art technology that allows you to scan your store receipt. Find participating products and instantly add Box Tops to our school's earnings online. If you still have traditional Box Tops clips at home, make sure to send them to school. Our goal as a school is $1000/year and we are currently at $430.
To help with the transition, here are a few helpful tips (182 KB PDF):
Both paper and digital Box Tops can be submitted. (You can even "double dip" during the packaging transition by clipping traditional Box Tops AND scanning your store receipt containing participating products.)
The expiration for paper Box Tops are printed on the Box Top itself.
Digital Box Tops must be scanned WITHIN14 DAYS of the date on your receipt.
Drop your receipts off at the office and we will scan them for you! Please place your receipts in the plastic receipt bin.
Box Top will honor any receipt where participating products are sold.
Thanks for helping our school get what it needs! If you have any questions please reach out to Shelly Harmon.
GRASP – Grand Rapids Academic Summer Programs
Forms can be downloaded or can be picked up in the ACS office. GRASP is an optional summer correspondence education program for grades K through 8, which helps students maintain reading and math skills while they are on summer vacation. Forms are due Feb 14.
Action Needed
Help Share Our School
It is a blessing to partner with you in Christian education and no one is better at sharing the story of ACS than our very own parents.
Some ways you can help us invite others to learn more about ACS:
Encourage friends, neighbors and family to make an appointment for a personal tour.
Have a business or practice? We would be happy to provide ACS promotional resources to you.
Share our Facebook page or posts.
Thank you for all the ways you are already sharing the story of Ada Christian School as we work together to equip students for God's world.
Kindergarten Intentions
If you intend to send your child to kindergarten for the 2020-2021 school year, please call the office at 616.676.1289 or email Sharon DeJong at sdejong@adachristian.org. We need your child's first, middle and last name, address, email address, parents name, phone number as well as your child's birthdate for the list we are building.
We would also like to know if you prefer 5-day or Progressive Kindergarten. Parent preferences vary from year to year. To help us plan for staffing needs, we will cap the list for each option at 22 and then begin to build our 3rd class list. There is a chance that those on the 3rd list may be asked to alter their preference.
There will be a parent orientation on Tuesday, Mar 10 at 7:00pm for parents only. On Thursday, Apr 16, plan on having your child visit for one hour. If your child turns 5 after Jun 01, 2020, he/she will need to be tested on Thursday, Apr 23. Sign up sheets will be at the orientation or in the office.
For families enrolling their oldest child in kindergarten, another part of the enrollment process is a meeting with Melissa Brower, our principal. This meeting may happen any time before enrollment. If you would like to schedule that meeting, please contact Julie DeKoster at 616.676.1289 or gro.naitsirhcada@retsokedj.
PTO Happenings
Recess Help
Looking for a way to bless our hard working teachers during PT Conferences? Covering Recess Duty is a great way to help! This gives them those precious extra moments to prepare, or even just to take a small mental break without managing a playground full of sweet but rambunctious kiddos.

This is such a great opportunity for those who can't commit to a full year-long recess schedule - you get to jump in and bless the teachers, plus it's an extra chance to see your child in action on the playground. That's always a special treat for them. Please take a quick moment to check out the sign up page and claim your spot!

Have time to serve? Sign-up for a recess slot.

Thank you so much for your support,
Your PTO
Daddy Daughter Dance
What a beautifully enchanted evening!! The Commons was transformed into a magical castle with chandeliers hanging high above the ballroom floor, candelabras offering a soft glow and timeless roses kept carefully in glass adorning the tables. Most beautiful of all, however, were the precious daughters twirling and whirling and laughing as they danced with their fun Prince Charming Fathers and played with their friends.
Thank you to all the mothers who worked tirelessly for months in advance to create a fun evening for our fathers and daughters. Their thoughtful work created a lasting memory tucked in the hearts of everyone attending, and that is of immeasurable value for our girls.
A special thank you to our Chairs Liz Keilen, Rachel Gurk, Sheila Hemker, Kristen Gruennert and Kelly Honholt - as well as their amazing team of volunteers who pulled it all together flawlessly.
And of course, a very special thank you to the Dads who jumped in with both feet, smiling for picture after picture and dancing with enthusiasm...if not skill. We have the best Dads around!
Athletics
PurePlay
PP Basketball: 1st-4th grade seasons are complete. Congratulations on our tournament winners!

Y5/K basketball: Saturday Feb 15, 9:00-10:00am. Please use main entrance.

Spring soccer signups are now open.
Co-ed Child-Parent volleyball clinic Mar 14, 9:00am-noon. Deadline: Feb 20.
Calendar Reminders
Feb 20 - Parent Teacher Conferences 4:30-7:30pm
Feb 27 - Parent Teacher Conferences 4:30-7:30pm
Feb 28 - Winter Break - No School
Mar 02 - Winter Break - No School
Mar 10 - New Kindergarten Parent Information Night - Commons at 7:00pm
Mar 13 - No Forest Hills PM Transportation
Mar 26 & 27 - Dessert Theater
Mar 31 - Annual Society Meeting - Commons at 7:00