Ada Connection – Feb 10, 2016
Principal's Note
"Faith. Strong." Friday – Wow!
We had STRONG participation in our "Faith. Strong." Friday! Our students sported logo wear and great school spirit. Mrs. Slauer's class is leading the way by having 100% participation for four consecutive months. It seems the "Slauer Power" spirit is inspiring others!
Congratulations to Mrs. Deckinga/Pastoor's, Mrs. Graham's and Mrs. Wittenbach's classes for 100% participation! (Mrs. Wittenbach's class isn't pictured this week – they had their ACS shirts covered with Art smocks when I made the loop to take photos. I will catch them soon!)
ACS Artists Receive Recognition
CONGRATULATIONS to Mr. Wanner's students who had artwork entered in the MAEA Regional competition this year.
The Michigan Art Education Association, or MAEA, is an organization that art teachers can join like the NEA or MEA. The MAEA is divided into 18 regions and each region has a yearly juried competition. This competition only allows five entries for kindergarten through 5th grade and five entries for 6th grade through 8th grade. Artwork is judged to determine which pieces move on to regional and state competition.
This year, Mr. Wanner entered five elementary pieces and five middle school pieces by the following artists: Cole Brayman, Katrina Kuiper, Avah Jerke, Larson Helweg, Andrew Snell, Ruth Diepstra, Dafna Heule, Myka Hoyer, Tyler Eekhoff, and Jack Long.
Of the ten pieces entered into the competition five were selected for the regional show. Those artists with pieces are: Cole Brayman, Katrina Kuiper, Myka Hoyer, Dafna Heule, and Jack Long.
Of these pieces, three were also selected to compete again at the state level. Those artists with pieces are: Katrina Kuiper, Dafna Heule, and Jack Long.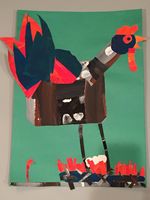 Katrina's Rooster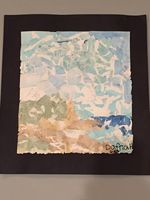 Dafna's Landscape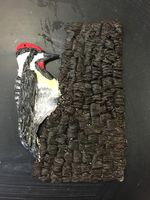 Jack's WoodpeckerWhat a wonderful testimony of the quality of our ACS Fine Arts programming for students. Congratulations!
Daughters Danced Under the Stars with Daddies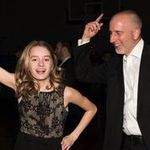 Thank you to our PTO for sponsoring our annual Daddy-Daughter Dance. What a special night for our girls to dance under the stars with the men who cherish them so much.
Action Needed
Parent-Teacher Conferences – Feb 11, 5:30-8:30pm and Feb 18, 4:30-7:30pm
Elementary Parents – have a scheduled conference

(93 KB PDF)

with their homeroom teacher
Middle School Parents – may visit with each of their student's teachers in the commons. No sign up is necessary for Middle School.
Specials Teachers are also available for conferences.
Both Nights –

Mrs. Weaver (3-8 Spanish), Mr. Wanner (K-8 Art) and Mrs. Van Noord (5-8 band/choir/8th Homeroom) will be at tables in the Commons available for a 5 minute conference with elementary and middle school parents

Feb 11 – Mrs. Kladder (5-8 Orchestra), Mrs. DeKleine (K-4 P.E.), Ms. Prins (5-8 PE) will be available
Feb 18 – Mrs. Boerman (K-8 Library/Media), Mrs. VandenBosch (K-4 Music) will be available
Hot Lunch – Last Day to Sign Up
The window for ordering March Hot Lunch is Feb 01–10.
Late orders cannot be accepted.
Please take note of your child's scheduled field trips and appointments. We do our best to notify you regarding field trips on the hot lunch order form and in parent letters as well.
Questions? Please contact Sue Prins (gro.naitsirhcada@snirps)
Bus Driver Appreciation Breakfast
We are looking forward to showing appreciation to our fabulous ACS bus drivers by hosting a breakfast on Feb 26, and are in need of some breakfast items. If you can help, please sign up at our Volunteer Spot. All breakfast items need to be in the ACS kitchen by 8:00am on Feb 26. Thank you!!
Teacher & Administrator Reviews
We need to hear from you about how we're doing. Melissa Brower's performance review survey is available for anyone to complete but must be submitted by Friday. Some teacher reviews have also been emailed directly to families of their students.
Your input is valuable. Please take the time to offer feedback and constructive criticism. And thank you to those who have already provided feedback.
ACS MENistry
Come join other dads on Fridays, beginning Feb 12 at 8:00am in the office conference room as we explore our call to be faithful men of Christ. All ACS dads welcome! Questions? Contact Andy Anderson (616.325.6116).
GRASP – Sign up by Mar 04
Grand Rapids Academic Summer Programs are available for ACS students. GRASP is an optional summer correspondence education program for grades K-8, which helps students maintain reading and math skills while they are on summer vacation. Forms are due (105 KB PDF) to the ACS office by Mar 04.
"Faith. Strong." Clubs: Pitching Club
Pitching Club for Girls Softball meets Tuesdays from 3:00-4:00pm with Coach DK.
Questions? Contact Coach DK (gro.naitsirhcada@enielkeds)
PTO Happenings
School Party: Skiing and Snowboarding
The next school party is Feb 22 at Cannonsburg (6800 Cannonsburg Rd. Belmont). Signups for the reduced price are over now, but you may still go to Cannonsburg that day and ski at their regular prices.
Questions? Contact Amberly Hoyer (moc.loa@reyohylrebma).
Moms in Prayer
Please join us Thursday 8:00-9:00am in the office conference room as we pray for our children, their teachers and the ACS community. This week we will be praying specifically for preschool and kindergarten and we remember that God guards.
Let your gentleness be evident to all. The Lord is near. Do not be anxious about anything, but in every situation, by prayer and petition, with thanksgiving, present your requests to God. And the peace of God, which transcends all understanding, will guard your hearts and your minds in Christ Jesus.
–Philippians 4:5-7
Questions? Contact Laura Cawley (616.425.9728, moc.oohay@57_csarual)
Calendar Reminders
Feb 11 & 18 – Parent Teacher Conferences
Feb 15 – No Forest Hills Bus Transportation (AM and PM)
Feb 19 & 22 – No School (Winter Break)
Mar 29 – Annual ACS Society Meeting
Mar 31-Apr 8 – No School (Spring Break)
2016-2017 Calendar Highlights
Aug 24 – First day of school (dismissed at 11:30am)
Sep 02-05 – Labor Day Weekend
Sep 26 – No School (Professional Development)
Oct 19-21 – No School (CEA Convention)
Nov 23-25 – No School (Thanksgiving Break)
Dec 21-Jan 02 – No School (Christmas Break)
Jan 03 – School Resumes
Jan 23 – No School (Professional Development)
Feb 17-20 – No School (Winter Break)
Mar 30-Apr 07 – No School (Spring Break)
May 05 – Grandfriends Day (dismissed at 11:30am)
May 08 – No School (Professional Development)
May 29 – No School (Memorial Day)
Jun 07 – Last Day of School (dismissed at 11:30am)
ACS Athletics
PurePlay Sports (Y5-4th Grade)
Registrations are open for Spring Sports – Sign up now or view details
Wildcats Athletics (Grades 5-8)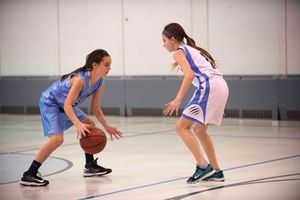 Registrations are open for Spring Sports –
Sign up now! The deadline to register is 11:45pm Tuesday, Feb 16
Requested Announcements
West Side Christian Card Show
We will have our 25th annual benefit sports card show in the West Side Christian School gymnasium (955 Westend N.W.) on Saturday, Mar 05, from 9:00-3:00pm. Mickey Stanley of the 1968 world champion Detroit Tigers will be signing between 12:00-2:00pm. Admission will be free, and concessions will be available. All proceeds will go to the Christian Education Fund. For further information, contact Vern (616.784.4299).
Brookside CRC Seeks Worship Director
Brookside Christian Reformed Church is currently accepting applications for a part-time Director of Music and Worship. Responsibilities include planning weekly worship, overseeing the musical ministry of the church, and engaging all members in weekly worship. Position is approximately 20hrs. per week. Application deadline: Feb 16, 2016. To learn more about the congregation at Brookside or to view the full job description, go to brooksidecrc.org. Please send cover letter and resume to Pastor Paul DeVries at gro.crcediskoorb@seirvedp, including the words "Director of Music and Worship" in the subject line. Alternately, mail these materials to Pastor DeVries at Brookside Christian Reformed Church, 3600 Kalamazoo Ave. SE, Grand Rapids, MI 49508.