Ada Connection – Feb 07, 2018
A Note From Principal Brower
Welcome Mark Stuit, Director Of Advancement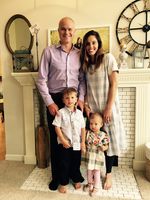 Mr. Stuit is joining us from Grand Rapids Christian Schools where he has served as the Director of Development for the past five years. He is the proud husband of Kara and father to his son, Remington (4) and to his daughter, Rosemary (2). Mr. Stuit and his family are members of LaGrave Avenue CRC, and he considers it an "honor to work with families who are trying to raise their children as servants of Christ."
In addition to fundraising, Mr. Stuit will take on some of our ACS marketing responsibilities. He shared with our Search Committee that he finds purpose and joy in setting a plan, executing it, and having a vision become a reality. Also, that he sees marketing as the "glue between development and admission efforts."
Mr. Stuit will officially begin his work at ACS on Mar 19. Following is a note from him to you:
Dear Friends and Colleagues,
My family and I are very excited for the opportunity to join the Ada Christian community! For the past 5 years, I have worked for the Grand Rapids Christian Schools as the Director of Development. I look forward to doing what I can to l help further Ada Christian's development, admissions, and marketing efforts. Christian education has played an integral role in my life and I am forever grateful for the Christian education that I received. I am excited to get know all of you over the next few months and continue the mission of Ada Christian School.
See you soon,
Mark Stuit
Pop Sockets For Sale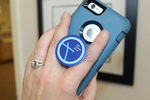 ACS has our own Pop Sockets! See Sharon in the office to get yours, $10 each.
This Week
Moms In Prayer
This week we will be praying for our specials teachers. God is our Father. One who is our parent and protector.
"My son, do not despise the Lord's discipline, and do not resent his rebuke, because the Lord disciplines those he loves, as a father the son he delights in." - Proverbs 3:11-12
If you can join us for prayer, we meet every Thursday morning 8:00-9:00am, in the ACS office back conference room. Younger siblings are always welcome! Need more information? Contact Kelly Stafford (616.304.2963, ten.tsacmoc@droffats-kj).
MENistry
Come join other dads in room 504 on Fridays at 8:00am as we explore our call to be faithful men of Christ. We will be dwelling with the Word in the Book of Luke this semester. Coffee and donuts provided. All ACS dads welcome!
Now You Know
Parent Teacher Conferences – Feb 15 & 22
The conference schedule for Feb 15 and Feb 22 is now available. Parents of students in middle school will have the opportunity to visit with each of their student's teachers in the commons.
No sign up is necessary for Middle School. Feb 15 the teachers will be available from 5:30-8:30pm and Feb 22 from 4:30-7:30pm.
Conferences with our "Specials" Teachers: Mrs. VanNoord, Mrs. Bosma, Mrs. O'Brien and Mr. Wanner will be in the Commons both nights. Mrs. Boerman and Mrs. Kladder will be available on Feb 22 and Mrs. Vruwink on Feb 15.
Service Team Registration
All 3-5 graders are welcome to join Service Team this spring as we practice the virtue of service by meeting the needs of different populations including unborn children, school age children, teens, families, and the elderly. We plan to partner with local agencies including the PRC, Kids Food Basket, Young Lives, Family Promise and Heartland Home.
Space is limited and is on a first come, first serve basis. Please fill out the registration form and return to the school office by Feb 20 along with your $30 registration fee. Checks can be made out to ACS.
Meeting dates with be Tuesdays Feb 27 and Mar 06, 13, 20 and 27 from 3:00-5:00pm (snack will be provided).
Questions? Contact Sheila Hemker (708.212.2558, moc.liamg@rekmeh.aliehs)
Dyer-Ives Poetry Competition
The Dyer-Ives Poetry Competition was started in 1968 by poet James Allen at the urging of John Hunting, the founder of the Dyer-Ives Foundation, to encourage excellence in writing and to provide recognition for local work of high quality. The annual contest is open to poets ages 5 through adult who reside in Kent County. Submissions are accepted Feb 01 - Mar 01 and winners are selected in the spring. Winners selected in three age categories have their poems published in Voices, receive a cash award, and participate in a reading during the Festival of the Arts in June, held at the Main Library.
For more submission details and more information visit the Dyer-Ives website.
2018-2019 Calendar
Aug 23 – First ½ Day
Aug 31-Sept 03 – No School Labor Day
Sept 24 – No School In-Service Day
Oct 24-26 – No School - Teacher's Convention
Nov. 21-23 – No School - Thanksgiving Break
Dec 24-Jan 04 – No School - Christmas Break
Jan 28 – No School - In-Service
Feb 22 & 25 – No School - Winter Break
Mar 28-Apr 05 – No School - Spring Break
May 03 – GrandFriends ½ Day
May 06 – No School In-Service
June 06 – 8th Grade Graduation
June 07 – Last ½ Day
Action Needed
Box Tops
For the next two weeks, through Friday Feb 16, please have your kids empty your drawers and search your cupboards for any and all Box Tops at home.
A few reminders: 1) Please check expiration dates. We cannot use them if expired. 2) Please cut your box tops out along the dotted lines. 3) Box tops are to be turned in at the office in a ziplock like bag. Kids turning in a bag of Box Tops will receive a treat. Thank you for your support!
Kindergarten Intentions
If you intend to send your child to kindergarten for the 2018-2019 school year, please call the office or email Sharon DeJong (616.676.1289, gro.naitsirhcada@gnojeds) We need your child's first, middle and last name and birthdate for the list we are building. We would also like to know if you prefer 5-day or progressive kindergarten.
There will be a parent orientation on Tuesday, Mar 13 at 7:00pm for parents only. On Thursday, Apr 12, plan on having your child visit for one hour. If your child turns 5 after June 1, 2018, he/she will need to be tested on Thursday, Apr 19. Sign up sheets will be at the orientation or in the office.
PTO Happenings
SkyZone School Party – Feb 26
Monday, Feb 26 from 4:00-6:00pm, $10 to jump and $1 socks.
Please bring cash to pay at the door. Waiver may be completed on site or online. (New waivers as of 1-22-18 - Required for all jumpers)
Shoot hoops, face off for a fun game of dodge ball, take a flying leap into the foam pits or just jump sky-high on the grid! We'll have the entire place to ourselves, it's reserved for ACS friends and parents only. Join us for this school party, it's one you won't want to miss!

Questions? Ask Holly Karasinski (616.901.8882, moc.liamg@4322kylloh).
Shoes To Fill
The ACS PTO would love to have you join our executive board team. We are currently looking for a Vice President and Secretary to serve next school year (2018-2019). If you are interested please submit your name and a little about yourself to PTO@adachristian.org. Please submit by Mar 09.

So you'd like to get more involved in the school PTO, but you're not sure you're ready to take the lead role? Our vice president position has your name written all over it! You'll learn behind-the-scenes intel and be part of decision making on important issues throughout the year. You'll help the president get things done—kind of like a superhero's sidekick, but without the silly costume. Read more about the job description to see if it's the right fit.

Be honest—you're the one in your friend group who filled out every page in your child's baby book...at the right time, no less. If you're the kind of person who documents everything, from your toddler's first steps to how far you jogged yesterday, we have the perfect role for you. You'll get to put your stellar record keeping skills and attention to detail to good use as our PTO secretary. Read the job description and decide if it's a good fit.
Parent Teacher Conference Help
Parent teacher conferences are coming up on Feb 15 & 22. To support our teachers during this long work day, we would like to provide them with dinner. We could use your help providing food.
Sign up to bring ingredients.
Amazing Adventure – Mother Son Event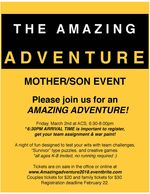 Come join us on Friday, Mar 02 and be ready for an Amazing Adventure designed to test your wits with team challenges, "Survivor" type puzzles, and creative games!
Tickets are on sale online or in the office. Couples tickets for $20 and family tickets for $30. Registration deadline Feb 22.
ACS Athletics
PurePlay
Volleyball for all! Co-ed Child/Parent Volleyball. Saturday, March 10, 9:00am-12:00pm Deadline to sign up: Feb 16.
Spring soccer sign ups have begun too.
Calendar Reminders
Feb 02 – Daddy Daughter Dance
Feb 15 – Parent Teacher Conferences
Feb 16 – No Forest Hills transportation for PM
Feb 22 – Parent Teacher Conferences
Feb 23 & 26 – No School - Winter Break
Mar 02 – Mother Son Event
Mar 02 – Second Trimester Ends
Mar 22 & 23 – Dessert Theater
Mar 27 – Annual Society Meeting in Commons
Mar 28 – All school Chapel at 8:15
Mar 29 - Apr 06 – No School - Spring Break
Apr 09 – School Resumes
Requested Announcements
Autism Spectrum Disorder: The New Developmental Melting Pot Or Distinct Disorder?
Thursday, Feb 22 at 7:00pm @ Calvin College Chapel Sanctuary, 1795 Knollcrest Circle SE, Grand Rapids
Join Dr. Erin Seif for an informative conversation about autism spectrum disorder (ASD). You'll learn about:
• The prevalence of autism in the U.S.
• Diagnostic criteria, referrals and types of ASD evaluations
• Educational and health care services for individuals with ASD
RSVP for this free community event at www.MSUYourHealthLecture.com or 616.234.2694