Ada Connection – Feb 03, 2016
Principal's Note
Questionnaires Coming Your Way
Just as we challenge our students to grow and learn, it is our teachers' desire to grow and learn, also. Teachers are evaluated each year for the first three years of their employment at ACS and once every three years following. As part of that evaluation process, we send questionnaires to parents for feedback. Questionnaires will be sent via email over the next 3 weeks. Please take time to respond to the questionnaires – they typically take about 5 minutes to complete. Thank you!
Exploratory Success – Thank you.
Thank you to the parents, friends of ACS, Middle School Support team members, and teachers for the great time our middle school students had during Exploratory Week! It takes a lot of planning, drivers, sectional leaders, imagination and energy to make this experience as special as it was for our young men and women. Experiences with woodworking, outdoor survival, winter sports, babysitting training, felting, illusions, men's cooking, stop motion videos, bowling, scrapbooking, card making, event planning, and MUCH more were offered during this active, exciting week.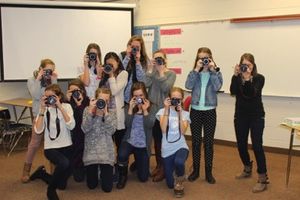 Thank you, also, to our incredible students who represented our school well. We never tire of hearing compliments of how respectful and well-behaved our students are!
Here is a picture of Mrs. Holtrop with her digital photography students.
Action Needed
Parent Teacher Conferences Feb 11, 5:30 - 8:30pm and
Feb 18, 4:30 - 7:30pm
Elementary Parents have a scheduled conference (93 KB PDF) with their homeroom teacher
Middle School Parents will have the opportunity to visit with each of their student's teachers in the commons. No sign up is necessary for Middle School.
Specials Teachers are also available for conferences. Mrs. Weaver (3-8 Spanish), Mr. Wanner (K-8 Art) and Mrs. Van Noord (5-8 band/choir/8th Homeroom) will be at tables in the Commons available for a 5 minute conference with elementary and middle school parents both evenings.
Feb 11 - Mrs. Kladder (5-8 Orchestra), Mrs. DeKleine (K-4 P.E.), Ms. Prins (5-8 PE) will be available
Feb 18 - Mrs. Boerman (K-8 Library/Media), Mrs. VandenBosch (K-4 Music) will be available
Hot Lunch
The window for ordering Mar Hot Lunch is Feb 01–10.
Late orders cannot be accepted.
Please take note of your child's scheduled field trips and appointments. We do our best to notify you regarding field trips on the hot lunch order form and in parent letters as well.
Questions? Please contact Sue Prins (gro.naitsirhcada@snirps)
"Faith. Strong." Friday, Feb 05!
It's that time again. All students, staff and parents are encouraged to wear their ACS gear to school this week Friday, Feb 05! Watch next week's Ada Connection for a picture or two of our school spirit!
ACS MENistry – Dad's Group to Begin February 12
Come join other dads on Fridays, beginning Feb 12 at 8:00am in the office conference room as we explore our call to be faithful men of Christ. All ACS dads welcome! Questions? Contact Andy Anderson, (616.325.6116).
GRASP - Sign up by Mar 04
Grand Rapids Academic Summer Programs are available for ACS students. GRASP is an optional summer correspondence education program for grades K-8, which helps students maintain reading and math skills while they are on summer vacation. Forms are due (105 KB, PDF) to the ACS office by Mar 04.
PTO Happenings
Moms in Prayer
Please join us Thursday 8:00-9:00am in the office conference room as we pray for our children, their teachers and the ACS community. This week we will be praying specifically for Specialist Teachers and also for Parent Teacher Conferences, and we will remember that God is wise.
Do not forsake wisdom, and she will protect you; love her, and she will watch over you. Wisdom is supreme; therefore get wisdom. Though it cost all you have, get understanding. Esteem her, and she will exalt you; embrace her, and she will honor you. She will set a garland of grace on your head and present you with a crown of splendor. Listen, my son, accept what I say, and the years of your life will be many. I guide you in the way of wisdom and lead you along straight paths. –Proverbs 4:6-11a
Questions? Contact Laura Cawley (425.9728, moc.oohay@57_csarual)
School Ski and Snowboard Party – Feb 22
The next school party is Feb 22 at Cannonsburg (6800 Cannonsburg Rd. Belmont) for Skiing or Snowboarding.
You must sign up and fill out paperwork in the office by 9:00am Friday, Feb 05.
Arrive at Cannonsburg at 9:30am for orientation and get rental equipment with goal of being on the hill at 10:00am.
Cost is $10, includes a lift ticket and rental of equipment. You may rent a helmet for an additional $5.
Lessons are also an additional $5 and encouraged for beginners.
Questions? Contact Amberly Hoyer, (moc.loa@reyohylrebma)
Calendar Reminders
Feb 05 – Daddy Daughter Dance
Feb 15 – No Forest Hills Bus Transportation (AM and PM)
Feb 11 & 18 – Parent Teacher Conferences
Feb 19 & 22 – No School (Winter Break)
Recent Events
Golden Plunger Award Winners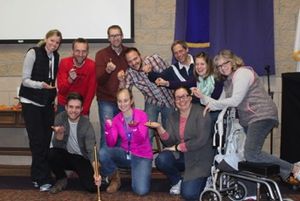 Our Cool Activities Team challenged all teachers to a Disney/Pixar themed bathroom decorating contest. All entries were impressive, but the middle school teachers walked away with the win for their Monster's Inc décor! In addition to a golden plunger to display in their staff bathroom, each participant won a miniature golden plunger to call their own. Congratulations!
2016-2017 Calendar Highlights
Aug 24 – First day of school (dismissed at 11:30)
Sep 02-05 – Labor Day Weekend
Sep 26 – No School (Staff In-Service)
Oct 19-21 – No School (CEA Convention)
Nov 23-25 – No School (Thanksgiving Break)
Dec 21-Jan 02 – No School (Christmas Break)
Jan 03 – School Resumes
Jan 23 – No School (Staff In-Service)
Feb 17-20 – No School (Winter Break)
Mar 30-Apr 07 – No School (Spring Break)
May 05 – Grandfriends Day (dismissed at 11:30)
May 08 – No School (Staff In-Service)
May 29 – No School (Memorial Day)
Jun 07 – Last day of school (dismissed at 11:30)
ACS Athletics
PurePlay (PK-4th grade)
Spring sport registration is available online right now.
Wildcats Athletics (grades 5-8)
Spring sport registration is now open on our ACS 5-8 Athletic Website. Registration will close at 11:45 PM on Tuesday, Feb 16. If your son or daughter is interested in playing a spring sport, you must register before the deadline. Information for spring sports can be found on the athletics website.