A Note From The Principal
A Christmas Wish
On behalf of our faculty and staff, I want to wish each of your families a very Merry Christmas as we celebrate the Good News of Christ -- the Prince of Peace!
"For to us a child is born, to us a son is given; and the government shall be upon his shoulder, and his name shall be called Wonderful Counselor, Mighty God, Everlasting Father, Prince of Peace." - Isaiah 9:6
Please join us Friday morning for our Christmas Chapel planned by our 78ers.
Bidding Farewell
Mr. Jeff will be pursuing new opportunities as we bring in the new year. We want to wish him the very best in his next endeavors and share a sincere thank you for the work he has done at ACS for the past two and a half years.
This Week
Christmas Chapel
Please join us on Fri, Dec 20 at 8:15am. Our 7th and 8th grade teams will be leading us in worship.
Moms In Prayer
This week we're praying for our building staff and bus drivers: Jeff Droge, Rhonda Fosburg, Sheryl DeWeerd, Sue VanSpronsen and Forest Hills bus drivers. God unites — to come or bring together for a common purpose or action.
"May we be completely humble and gentle; may we be patient, bearing with others in love. May we make every effort to keep the unity of the Spirit through the bond of peace." - Ephesians 4:2-3
We're a group of Moms (aunts/grandmas) passionate about lifting up our kids and ACS faculty and staff in prayer. We meet every Thursday morning at 8:00-9:00am, in the orchestra room (through the Commons and straight past the kitchen). Younger siblings are always welcome! Come join us for the journey when you can.
Need more information? Contact Kelly Stafford (616.304.2963, ten.tsacmoc@droffats-kj)
MENistry
Come join other ACS dads on Wednesdays at 8:00am as we go through C.S. Lewis The Screwtape Letters. We meet in the orchestra room.
Now You Know
Fri-Yay T-Shirts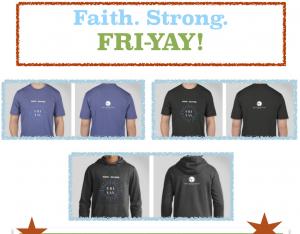 Order your "Faith. Strong." Fri-Yay shirts from now until Jan 04.
Questions? Contact Laura Kaminski
LEGO Mindstorms
In this club, members will complete "missions" on a table-top playing field. Participation in the FIRST Lego® League competition is NOT necessary. The coaches welcome girls as well as boys to join!
Coaches: Ms. Frens and Mr. Jorgensen (veteran FLL coach and former ACS parent)
Applicants: Students in grades 4-8 (Minimum 8 and maximum 10 students)
When: One Friday each month: Jan 24, Feb 21, Mar 20, Apr 17, May 15
Time: 3:15-5:00 pm
Where: Ada Christian School Computer Lab / Library
Fee: $50
ACS FIRST® LEGO® League: Please complete the signup by Friday, Jan 10, 2020. Payment can be made through the Cash App (Search for Jackie Frens) or checks payable to JACKIE FRENS. Club limited to 10 participants. If more than 10 applications received, applicants will be selected based on various considerations as participation requires commitment and persistence.
Check out First Inspires for more information about FIRST® LEGO® League.
Chess Club
Chess is the greatest board game on earth.This club will help members learn some basic openings and other strategies. Whether you are a beginner or intermediate player, you will have a good time and be sipping hot chocolate as the cold winter winds howl outside. Two sections will be offered - one on Tuesdays and one on Wednesdays. Sign up today!
Coach: Mr. Hoo
Who: Students in grades 2-8. (Maximum of 25 students per section, 50 total)
What: You will need an active mind ready for game fun.
Where: Mr. Hoo's Outdoor Education Room (room 407)
When: Tuesdays or Wednesdays (two sections). 3:00-4:15pm
Action Needed
Christmas Break Reading Challenge

Baker Book House is sponsoring a
reading challenge
over Christmas Break for Kindergarten-5th grade students. From now until Jan 11, students are encouraged to complete up to 25 specific book related challenges. For every five challenges completed, Baker will award prizes. Complete all 25 challenges and win a $5 gift card.
As an added incentive for schools to participate, Baker Book House is awarding a $50 gift card to the librarian whose school has the greatest percentage of participants.
All completed sheets must be returned to Baker Book House by Jan 11, 2020 for prizes.
More details from Fox17 News.
Cannonsburg Ski Punch Cards
If you handed in your paperwork and payment for Cannonsburg Ski Punch Cards your cards are ready! Cannonsburg has a tentative opening for Dec 20 but it is always weather dependent. Hopefully this snow will stick and the conditions will cooperate! You can either stop in at the Cannonsburg office during business hours or wait until your first day on the hill and pick them up then. Either way, I hope you have a safe and fun season on the slopes!
Questions? Contact Katie Kuiper, (jk_kuiper@yahoo.com or 616.485.1888)
ACS Annual Fund
Dear Parents,
During this season of giving, we humbly ask for your support to Ada Christian School through the ACS Annual Fund.
The ACS Annual Fund is a top fundraising priority for our school. When you give to the ACS Annual Fund, you make an immediate impact on the students, faculty, and vibrant educational programs that distinguish our school. Gifts to the ACS Annual Fund offset budgetary needs and directly support:
Tuition Assistance
Student Support Services
Outdoor Education
Fine Arts
This year we have a goal of $310,000. If you have given to the ACS Annual Fund in the past, thank you! We hope you will continue your tradition of giving again this Christmas season. Give your gift today or you can mail/drop off your gift in the office.
Sincerely,
Mark Stuit, Director of Advancement
PTO Happenings
Daddy Daughter Dance – Feb 07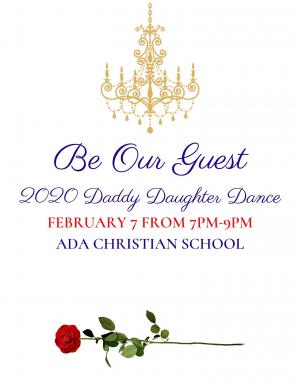 Be our guest!
Tickets for the dance
are available now through Feb 05. You may purchase online or in the office.
Tickets are $30/couple or $40/family.
Athletics
PurePlay
1st-4th basketball is off until January. Y5/K basketball begins Jan 11.
Advanced notice: Co-ed Child-Parent volleyball clinic Mar 14, 9:00am-noon.
Calendar Reminders
Dec 19 - No Forest Hills PM transportation
Dec 20 - Christmas Chapel at 8:15
Dec 20 - No Forest Hills PM transportation
Dec 23 - Jan 05 - Christmas Break
Jan 06 - School Resumes
Jan 27 - No School - Inservice