Ada Connection – Dec 16, 2015
Principal's Note
Outdoor Education News!
Exciting News! We are planning for new growth – for our building, our property and our community.
On Monday evening our Board approved recommendations for a comprehensive and integrated outdoor education program for PK-8th grade students at ACS.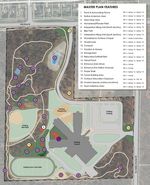 Some of our allocated funds from our Firm Foundations Campaign will be used to initiate some landscaping in the "V" between the 3-5 and middle school wings. In addition, construction and development of other outdoor education elements will begin soon! Things like: a pond, Native American area, giant map and archeology area, removal of invasive species and replacement of native plants, homestead/pioneer area, interpretive trails, hoop house, gardens, prairie/prayer walk, vernal pond and teamwork initiatives area.
We are very grateful for a generous gift from Cheri DeVos. Her donation is making it possible for us to build an outdoor education classroom and greenhouse – beautiful spaces for our students to bring the outdoors in as they explore and discover some of the many wonders of God's creation.
Why invest in outdoor education?
Motivating learners! This is all about our students flourishing in multi-disciplinary, multi-sensory learning activities outdoors that are hands-on and interesting.
Learning that ties in with our present curriculum and is memorable.-- learning that is centered on mind, body and soul in community.
Creating a facility and providing support for our curriculum that helps us integrate outdoor education in an outstanding way.
Providing welcoming spaces where family and community members experience the love and peace of Christ.
We are thankful for the many development team members that have partnered with us in planning, especially Mr. Hoo and Mr. Boerkoel who are helping to pioneer this historic journey for ACS.
Take a new look at the Outdoor Education page for additional details and watch our newsletters for more updates.
Middle School Christmas Concert – Glory to God in the Highest!
Action Needed
Christmas Chapel
Our All School Christmas Chapel is 8:15 Friday morning, led by our 3rd and 4th grade students. What a joy to celebrate the reason for the season as an ACS community!
"Strong. Beginnings." Preschool 2016-2017
The registration period for 2016-2017 Preschool classes is now open and online! Secure your spot and register for preschool now.
Questions? Contact Jennifer Gormley (gro.naitsirhcada@yelmrogj)
Do you want to play with Lego? WeDo!
Do you like to build things with your imagination? In this club, students will learn how to build and program characters and models using the Lego WeDo program. Participants will have the opportunity to make things... and then make things happen using software that teaches how to program commands that allow our creations to move, stop, and produce sounds. Please view, complete and turn in the Lego: WeDo signup form.
Lost and Found
The Lost and Found tables will be cleared off on Friday, Dec 18. Please claim any lost items soon.
PTO Happenings
Moms in Prayer
There is no Moms in Prayer this week. Please join us on Thursday, January 10 for coffee.
Questions? Contact Laura Cawley (425.9728, moc.oohay@57_csarual)
Calendar Reminders
Dec 21-Jan 1 – No School (Christmas Break)
Jan 25 – No School (Professional Development)
Jan 28 – No Forest Hills Bus Transportation (PM)
Jan 29 – No Forest Hills Bus Transportation (AM and PM)
Recent Events
ACS PTO Christmas Shop
A BIG thank you to Brecken Grieve, Sarah Heynen and their very busy team of moms that shopped, priced, displayed, helped shoppers and most excellent gift wrappers. Much joy was brought into the lives of the ACS students during these two action packed days! Bless you and Merry Christmas.
ACS Athletics
PurePlay (PK-4th grade)
PurePlay signups are closed.
Boys basketball- clinic this Saturday (Grades 1-4)
Girls basketball- clinic begins Saturday Jan 9 (Grades 1-4)
Y5/K- clinic begins Saturday Jan 9
Wildcats Athletics (grades 5-8)
5th/6th Basketball - Off to a great start, looking forward to upcoming games!
7th/8th Basketball - Regular season begins the week of Jan 11. Game schedules will likely be released late during Christmas break and will be posted as soon as possible.