Ada Connection – Dec 13, 2017
This Week
Moms In Prayer
This week we are praying specifically for the 5th-8th grade Christmas program.
"When I called, you answered me; you greatly emboldened me." -Psalm 138:3
Come join us on this journey when you can. We meet weekly on Thursdays, 8:00-9:00am, in the ACS office back conference room.
Need more information? Contact Kelly Stafford (616.304.2963, ten.tsacmoc@droffats-kj).
MENistry
Come join other dads in room 504 from 8:00-9:00am on Friday's as we explore our call to be faithful men of Christ. We will be dwelling with the Word in the book of Luke this semester. Coffee and donuts provided. All ACS dads are welcome!
Action Needed
KIDS-TRIP
Need holiday gift cards? Want to earn tuition credit? Order your Christmas gift cards through Scrip. Small denomination gift cards are back for the Holidays, including:
Starbucks $5
Applebee's $10
Barnes & Noble $5
D&W/Family Fare $10
Meijer $10
Panera $5
Target $10
And many more!
All orders placed after Dec 20 will not be ready for pick up until Jan 10. The KIDS-TRIP is not open the Wednesday's we are off of school.
TRIP is an easy way to reduce tuition by purchasing gift cards, certificates and e-cards for things you buy every day from hundreds of national vendors. Set up an online account to earn TRIP credit anytime, anywhere. PrestoPay set-up is also required for payment of online orders. You will be able to order e-cards in minutes or reload existing cards overnight as well as pre-order plastic gift cards to pick up at our office. Purchase, manage and redeem your electronic cards on your mobile device through the Benefit Mobile app or use ShopWithScrip's mobile site.
Elizabeth Westhouse,
KIDS-TRIP Coordinator
Ski Club
If you filled out your paperwork and turned it in for ski club then we wanted to let you know that your passes will be ready and waiting for you at Cannonsburg! Now that the snow is flying you can pick them up and use them anytime. Ski club nights will begin Jan 08 from 4:00-8:00pm.
If you missed turning in your paperwork you can still participate. Just go directly to Cannonsburg and let them know you are with Ada Christian. They will give you the same pricing and make your pass while you wait. Questions? Call Katie Kuiper (616.485.1888)
Now You Know
Help Our Goats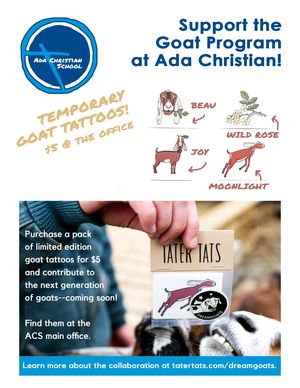 Moonlight, Beau and Joy are pregnant and we expect "kids" this April. We will be selling washable goat tattoos to students this Thursday and Friday at morning break. They are $1.50 for one and $5.00 for a packet of four.
Support Outdoor Education
This Thursday at 3:00pm we will be selling produce from the recent harvest in our hoophouse and greenhouse. $1.00 for a bag, delicious! We will also have goat tattoos (great stocking stuffers) and bundles of northern cedar kindling (leftover from barn construction). Thank you for your support!
Christmas Chapel – Dec 22
Please join us on Friday, Dec 22 at 8:15am. Our 3rd and 4th grade teams will be leading us in worship.
Chess Club With Mr. Hoo
Chess with Mr. Hoo is for students in grades 3-8. This club will help members learn some basic openings and other strategies. Whether you are a beginner or intermediate player, you will have a good time. Everyone will play at least a couple of games each session. We will all learn how to play tournament chess (with a clock) and have some tournaments. We will try as a club, for those who are able, to go to a tournament in February that will be held at Hope College.
Two sections will be offered from 3:00-4:15pm:
Tuesdays (Jan 16, 23, 30, Feb 06, 13, 20)
Wednesdays (Jan 17, 24, 31, Feb 07, 14, 21)
Cost is $50. Fill out a form and return by Tuesday, Jan 09. Please make checks payable to Bill Hoogstrate. Extra forms are available in the office.
PTO Happenings
Christmas Gift Shop – Dec 07 & 08
Thank you to all the students, parents, volunteers, and staff who helped in the success of the PTOs Christmas Shop. This fun event took over 90 volunteers, a small committee who did a lot of shopping and working, staff coordination, and parent cooperation to make it happen. You all are a blessing. Thank you!
ACS Cookbooks For Sale
A great Christmas gift idea! The ACS PTO is selling cookbooks with yummy recipes that were submitted by ACS families! Each cookbook is $12.00 and would make a great gift for yourself or someone else. These are available for purchase in the office.
Daddy Daughter Dance
Mark your calendar for the 4th annual Daddy Daughter Dance on Friday, Feb 02. There will be more details to follow.
ACS Athletics
PurePlay

PurePlay basketball 1st-4th grades clinic this Saturday.
Y5/K registration deadline THIS Friday.

Signups and information are available online.
Calendar Reminders
Dec 19 – Middle School (5-8) Christmas Program
Dec 22 – Christmas Chapel at 8:15am
Dec 22 – ½ day of school, dismissed at 11:30am
Dec 22 – No Forest Hills 11:30am transportation
Dec 25 - Jan 05 – Christmas Break
Jan 08 – School Resumes
Jan 29 – No School (Professional Development)
Requested Announcements
CSI Seeking Part-time Receptionist
Christian Schools International (CSI) is seeking qualified applicants for the temporary part-time position of receptionist for January through May 2018. Hours are Monday, Tuesday and Friday 9:00am-3:00 pm. This front desk person will greet visitors, answer the phone, and provide administrative clerical support. Must be organized and able to multi-task. Competence in Microsoft Office software is necessary, and experience in an office environment is a plus. Knowledge of Microsoft CRM program is preferred. Please send a cover letter and resume to gro.enilnoisc@ztnald.