A Note From The Principal
A Warm Welcome
Please welcome the Fraungruber family, Scott and Michelle and their daughters Janessa in 6K and Janae in 3A.
This Week
Middle School Christmas Concert – Dec 12
Please share the MS Christmas Concert livestream link with your family members who cannot attend on Dec 12.
Lost & Found – Dec 13
The lost will be in the front lobby on Fri, Dec 13. What is left at the end of the day will be boxed away. You can always check the lost and found which is located by the kitchen/music rooms.
Moms In Prayer
We're praying for our 8th graders & their teachers this Thursday morning. God is understanding – One who has empathetic or tolerant recognition of somebody else's nature or situation.
"We pray that You will give us knowledge and understanding of all kinds of literature and learning." - Daniel 1:17a
We're a group of Moms (aunts/grandmas) passionate about lifting up our kids and ACS faculty and staff in prayer. We meet every Thursday morning at 8:00-9:00am, in the orchestra room (through the Commons and straight past the kitchen). Younger siblings are always welcome! Come join us for the journey when you can.
Need more information? Contact Kelly Stafford (616.304.2963, ten.tsacmoc@droffats-kj)
MENistry
Come join other ACS dads on Wednesdays at 8:00am as we go through C.S. Lewis The Screwtape Letters. We meet in the orchestra room.
Now You Know
Water Wizards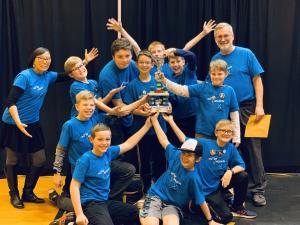 The Water Wizards is the name of the ACS FIRST Lego League team who competed at ROBO-Battle of the Minds Regional Tournament on Saturday, Dec 07, 2019. The team name came from their selection of Water Quality as the focus of their project. The theme for the season was City Shaper, which invited teams to research issues related to city planning and development. The team members were inspired to choose water quality after they learned of the PFAS contamination in the Thornapple River near their homes.
The Lego League Tournament was based on 3 areas:
1. Robot challenges that involved designing and coding an eV3 Mindstorms robot.
2. Presenting a project based on the theme
3. Pepresenting core values (discovery, fun, impact, inclusion, innovation and teamwork).
The Water Wizards competed against over 20 teams from the area and as far away as Benton Harbor. The ACS team members impressed the judges with their dedication to problem solving in the challenges and their passion for learning more about how to maintain clean water.
These are the members of the Water Wizards:
Mason Benson
Eli Goldsmith
Charlie King
Henry Kraay
Henry Lineberry
George Minor
Eddie Overbeck
Asher Rauch
Jake Semple
James VandenBosch
Coach Ray Jorgensen also won the Coaches' Award for his dedication, creativity and overall stellar representation of the Lego League core values.
Congratulations, Water Wizards, for your hard work all season and on representing ACS well at the Tournament!
Fri-Yay T-Shirts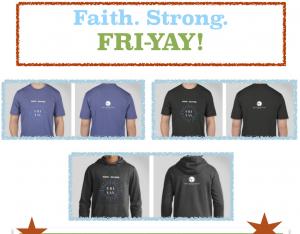 Order your "Faith. Strong." Fri-Yay shirts from now until Jan 04.
Questions? Contact Laura Kaminski
Unicycle Club
The ACS Unicycle Club is for 1st-8th grade students who would like to learn how to ride a unicycle or progress to other unicycle skills. In October, we ran our inaugural ACS Unicycle Club. Nineteen students participated and ten others were placed on a waiting list. We had a great time and plan to run the club again in January.
We will meet every Tuesday in January after school from 3:05-4:00pm starting on Tuesday, Jan. 07. We provide the unicycles, and you provide the rider. The club will be capped at 20 members. Although unicycles are provided, you may bring your own if you prefer. The cost is $15. Use this link to sign-up online. If you are registering multiple children, please fill out an individual form for each one.
Members will be admitted on a first come, first served basis. Students who have not participated in any previous Unicycle Club will be given priority. If the club reaches capacity, a waiting list will be started. Questions? Contact: Mrs. Boerman (gro.naitsirhcada@namreobl) or Coach DK (gro.naitsirhcada@enielkeds).
Christmas Chapel
Please join us on Fri, Dec 20 at 8:15am. Our 7th and 8th grade teams will be leading us in worship.
Chess Club
Chess is the greatest board game on earth.This club will help members learn some basic openings and other strategies. Whether you are a beginner or intermediate player, you will have a good time and be sipping hot chocolate as the cold winter winds howl outside. Two sections will be offered - one on Tuesdays and one on Wednesdays. Sign up today!
Coach: Mr. Hoo
Who: Students in grades 2-8. (Maximum of 25 students per section, 50 total)
What: You will need an active mind ready for game fun.
Where: Mr. Hoo's Outdoor Education Room (room 407)
When: Tuesdays or Wednesdays (two sections). 3:00-4:15pm
Action Needed
Christmas Break Reading Challenge

Baker Book House is sponsoring a reading challenge over Christmas Break for Kindergarten-5th grade students. The challenge began when your child brought home the official participation sheet from Baker. The sheet includes a 5x5 grid with 25 specific book related challenges. Baker Book House is encouraging kids to read and see how many of the challenges they are able to complete. There are a variety of prizes related to how many books are read. All completed sheets must be returned to Baker Book House by Jan 11, 2020 for prizes.
If your child does not bring home a form by next Wednesday and s/he would like to participate, you may pick up an extra form in the school office.
Cannonsburg Ski Punch Cards
If you handed in your paperwork and payment for Cannonsburg Ski Punch Cards your cards are ready! Cannonsburg has a tentative opening for Dec 20 but it is always weather dependent. Hopefully this snow will stick and the conditions will cooperate! You can either stop in at the Cannonsburg office during business hours or wait until your first day on the hill and pick them up then. Either way, I hope you have a safe and fun season on the slopes!
Questions? Contact Katie Kuiper, (jk_kuiper@yahoo.com or 616.485.1888)
ACS Annul Fund
Dear Parents,
During this season of giving, we humbly ask for your support to Ada Christian School through the ACS Annual Fund.
The ACS Annual Fund is a top fundraising priority for our school. When you give to the ACS Annual Fund, you make an immediate impact on the students, faculty, and vibrant educational programs that distinguish our school. Gifts to the ACS Annual Fund offset budgetary needs and directly support:
Tuition Assistance
Student Support Services
Outdoor Education
Fine Arts
This year we have a goal of $310,000. If you have given to the ACS Annual Fund in the past, thank you! We hope you will continue your tradition of giving again this Christmas season. Give your gift today or you can mail/drop off your gift in the office.
Sincerely,
Mark Stuit, Director of Advancement
PTO Happenings
Christmas Shop
Thank you to all the students, parents, volunteers, and staff who helped in the success of the PTO Christmas Shop. You are a blessing, thank you! A special thank you to Brittany, Amanda and Kelly for working hard all year long to prepare for this fun event.
It was such a joy to see the enthusiasm in the children as they chose the "perfect" gifts for their family members all by themselves. They are so excited to give, and so intent on wrapping with lots and lots and lots (and lots) of colorful paper and tape, it's just really cool to see. We have one big crew of thoughtful, giving-hearted children, that's for sure. You should be very proud of them.
We had a successful event this year - the streamlined pricing was a big win in every area. Most importantly, it simplified shopping for the children. We appreciate your help and we hope you love your surprise (if your child hasn't already told you what it is!).
Warmly,
Your ACS PTO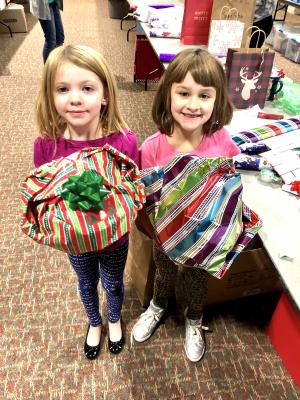 PS - Bet you can't guess what it is..... soooooooo cute.......
Daddy Daughter Dance – Feb 07
Tickets for the dance will available next week! Tickets are $30/couple or $40/family.
Athletics
PurePlay
1st-4th Basketball Clinics continue Saturday. Y5/K basketball begins Jan 11.
Advanced notice: Co-ed Child-Parent volleyball clinic Mar 14, 9:00-noon.
Calendar Reminders
Dec 19 - No Forest Hills PM transportation
Dec 20 - Christmas Chapel at 8:15
Dec 20 - No Forest Hills PM transportation
Dec 23 - Jan 05 - Christmas Break
Jan 06 - School Resumes
Jan 27 - No School - Inservice