Ada Connection – Dec 09, 2015
A Note from the Principal
Foundation Dinner Success
Thank you! Our annual ACS Foundation Dinner was a wonderful success. Thank you to all who participated in this important event for our school. We had about 400 friends and family members in attendance, and a generous check for more than $370K was shared with our school by our Foundation. The gifts given to our Foundation are gifts that continue giving for the years to come and help with much needed tuition assistance. Mr. Huckabee shared an encouraging life lesson from his one and only experience at bobsledding -- "Plan for the curves ahead. The ice behind you won't hurt you." Susan Stafford, Jane Zwiers and Jeff Zylstra received the Distinguished Service Award for 2015.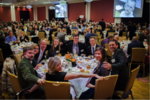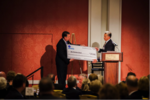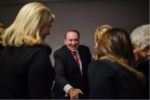 (Photos by Becca Elizabeth Photography)
Action Needed
Christmas Shop Opens Tomorrow, Dec 11
Please remember to send your child's shopping list and envelope with money to school on Thursday. A BIG thank you to our many volunteers for putting together this year's PTO Christmas Shop! - Note - we could still use some help at the shop. To volunteer for this fun event, go to www.adachristian.org/volunteer. Thanks to the many parents who have already signed up!
Our 3rd Annual ACS Christmas Shop will be Dec 10 and 11.
We need a few more helpers to set up, work registers, wrap gifts, and help the students select their gifts for their parents and siblings.
Last year, gift cards to local businesses sold well. If you have or know of any business willing to donate gift cards for $10 or less, please contact Brecken Grieve (moc.liamg@eveirgnekcerb).
Hot Lunch
The window for ordering January Hot Lunch is Dec 01–10.
Late orders cannot be accepted.
Please take note of your child's scheduled field trips and appointments. We do our best to notify you regarding field trips on the hot lunch order form and in parent letters as well.
Questions? Please contact Sue Prins (gro.naitsirhcada@snirps)
Lost and Found
Please check the Lost and Found tables that are located near the kitchen and music rooms at ACS. The items on the tables will be cleared off on Friday, Dec 18.
Christmas Chapel
Please join us on Friday, Dec 18 at 8:15am. Our 3th and 4th grade teams will be leading us in worship.
Taking Care of Your Children
Friday, Dec 11, the 8th grade class will be hosting a night of babysitting for ACS families from 6:00 - 9:00pm. Children ages 4 through 5th grade are invited to play games in the gym, do crafts, and even watch a movie with many of their 8th grade friends. This event is a fundraiser for the 8th grade class trip in May.
PTO Happenings
Moms in Prayer
Please join us from 8:00-9:00am in the office conference room as we pray for our children, their teachers and the ACS community. This week we will be praying specifically for 8th grade, as we remember that Jesus is Emmanuel - God with us.
All this took place to fulfill what the Lord had said through the prophet: "The virgin will be with child and will give birth to a son, and they will call him Immanuel"--which means, "God with us."
-Matthew 1:22-23
Questions? Contact Laura Cawley (425.9728, moc.oohay@57_csarual)
Daddy Daughter Dance
Mark your calendar for the 2nd annual Daddy Daughter Dance. This year's dance will be on Friday, Feb 05. There will be more details to follow. Will you dance under the stars?
Calendar Reminders
Dec 10 – Christmas Program at 7:00pm (Grades 1–4)
Dec 10-11 - PTO Christmas Gift Shop
Dec 15 – Middle School Christmas Program at 7:00pm (Grades 6–8)
Dec 21-Jan 01 - No School (Christmas Break)
Jan 25 - No School (In-Service Day)
Jan 28 - No Forest Hills Bus Transportation (PM)
Jan 29 - No Forest Hills Bus Transportation (AM and PM)
Recent Events
Writing Contest Success
CONGRATULATIONS! On November 17 it was announced that one of our 7th grade students, Dafna Heule, had her essay chosen as the second place winner of the Dutch-American Heritage Day contest. Our student was proud to win a prize of $250 for herself, as well as $500 for our school. We are proud of her -- she exemplifies the very attributes of which she wrote!
ACS Athletics
PurePlay (PK-4th grade)
Sign up for Basketball ends this Friday.
Boys' clinic Saturday at GRCES Iroquois campus:
1st 8:30-9:30
2nd 9:45-10:45
3rd/4th 11:00-12:00
Wildcats Athletics (grades 5-8)
5/6 Basketball - The 5th and 6th grade basketball season is off to a great start, schedules have been released and we are looking forward to watching the upcoming games!
7/8 Basketball - The 7th and 8th grade pre-season tournament will be on Saturday, Jan 09, with the regular season starting the week of Jan 11. Game schedules for 7th and 8th grade will most likely be released late during Christmas break.