Ada Connection – Dec 05, 2018
A Note From The Principal
Parade Participants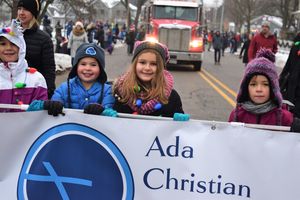 ACS students and families enjoyed the Ada Parade Saturday. Thank you, Mrs. Van Noord for organizing our singers and to all who participated!
A Warm Welcome
The newest family to ACS is Gary Minor and Marla Morales. Their son George Minor is in 5S. Join me in welcoming them to our school!
This Week
Advent Walk Details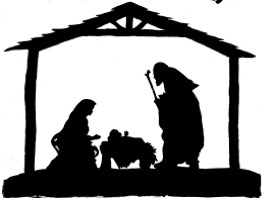 We are looking forward to seeing you on Thursday night for the
SHARE THE LIGHT: ACS ADVENT WALK
. A couple of items to note to make your experience most enjoyable.
Please park and enter through the main entrance. You will be greeted in the lobby and guided to the Middle School Commons where you will receive a map, be put into a group, and be shown where to begin.
The luminaries that you see will help light the way on your journey to Bethlehem. Just like a luminary, the Light of Christ helps to guide us on the pathway of life. As you hear about the Savior's birth, it is our hope that His Light will grow in you.
This worshipful journey through luminaries will take place outside so be sure to dress appropriately. On your walk, please stay on the lighted pathways and travel with your group. Your journey will conclude around a warm fire where you may enjoy hot chocolate and fellowship with friends. Please note, all playgrounds will be closed.
Please come as a family whenever you choose, however, the following schedule is suggested to help the evening flow smoothly…
PK-1st grade families are encouraged to visit at 5:30 pm
2nd - 4th grade families are encouraged to visit at 6:00 pm
5th-6th grade families are encouraged to visit at 6:30 pm
7th-8th grade families are encouraged to visit at 7:00 pm
Each tour will last around 30 minutes, and you are welcome to stay by the fire as long as you like. The last tour will begin around 7:00 pm. For safety reasons, children are to remain with their parents at all times.

See you on Thursday!
"Faith. Strong." Friday – Dec 07

It's that time again. All students, staff and parents are encouraged to wear their ACS gear to school this week
Fri, Dec 07
.
Lost & Found
The lost will be found in the front lobby on Fri, Dec 07. What is left at the end of the day will be boxed away. You can always check the lost and found which is located by the kitchen/music rooms.
MENistry
MENistry is a coffee group for dads who want to get to know more about themselves and the Bible.
Moms In Prayer – Praying For 8th Grade
This week we will be praying for 8th graders and their teachers. God is the Master Planner: One who has the perfect program or method worked out beforehand.
"Make Your ways known to me, Lord; teach me Your paths. Guide me in Your truth and teach me, for You are the God of my salvation; I wait for You all day long." - Psalm 25:4-5
Come join us for the journey when you can. We meet every Thursday morning 8:00-9:00am, in the ACS office back conference room.
Need more information? Contact Kelly Stafford (616.304.2963, ten.tsacmoc@droffats-kj).
Now You Know
Christmas Shop Schedule
Please review the Christmas Shop schedule and plan accordingly with your student(s).
Dec Hot Lunch
The Dec menu is here! Review the menu with your child(ren) and plan for each day.
Action Needed
Unicycle Club
If you own a unicycle and need a place to practice during the winter, join the ACS Unicycle Club. Starting Jan 08, we will meet every Tuesday after school from 3:00-3:55pm for eight weeks—four Tuesdays in January and four Tuesdays in February. All skill levels are welcome!
It's free and it's fun. All we ask is that you register here. All skill levels are welcome. For more info contact:
Coach DK (gro.naitsirhcada@enielkeds)
or Mrs. Boerman (gro.naitsirhcada@namreobl).
LEGO Club
Let's design, build and program LEGO® MINDSTORMS® robots!
In this club, club members will complete "missions" on a table-top playing field. Participation in the FIRST Lego® League competition is not necessary.
Interested in LEGO programming? Sign up by Dec 20.
KIDS Program – Christmas Gift Cards
This is the last week to order gift cards to receive them in time for Christmas.
Do you know that you can purchase gift cards and have a percentage of that purchase go directly to reduce your tuition bill? During the holidays, there are special low-denomination gift cards offered which are perfect for gifts. This is also a great time to stock up for birthdays and personal use. You can plan ahead and order for Black Friday also. In addition to physical gift cards, some retailers offer ScripNow eCards which can be printed from your computer almost immediately. Here is a list of some cards offered now:
Starbucks ($5 and $10 plastic cards and eCards) – 7%
Panera ($5 and $10 plastic cards and eCards) – 8%
Subway ($10 plastic cards) – 6%
Bath & Body Works ($10 plastic cards and eCards) – 12%
Chipotle ($10 plastic cards and eCards) – 10%
Buffalo Wild Wings ($10 plastic cards and eCards) – 8%
Taco Bell ($5 and $10 plastic cards) – 5%
Wendy's ($10 plastic cards) – 6.5%
Barnes and Noble ($5 and $10 plastic and eCards) – 12.75% (bonus – regularly 8%)
Pizza Hut (plastic cards and eCards) – 8%
Arby's ($10 plastic cards) – 8%
Celebration Cinema ($10 plastic cards) – 4%
Krispy Kreme ($10 plastic cards and eCards) – 8%
Steak 'n Shake ($10 plastic cards and eCards) – 8%
If you are ordering physical gift cards, make sure to order by 8:00am on Dec 12 to get these in time for Christmas. To enroll in the program, please go to: https://shop.shopwithscrip.com/Login/Enroll The enrollment code for ACS is: 125B8695194.
Have questions or need help? Please email kids@adachristian.org 
Chess Club
Chess is the greatest board game on earth. Who knows – someone from ACS may someday be a Grandmaster (the most elite players on the planet). This club will help members learn some basic openings and other strategies. Everyone will play at least a couple games each session. We will all learn how to play tournament chess (with a clock) and have some tournaments. We will try as a club, for those who are able, to go to a tournament in February that is held at Hope College. Beating Mr. Hoo will earn you a special prize.
Whether you are a beginner or intermediate player, you will have a good time and be sipping hot chocolate as the cold winter winds howl outside. Two sections will be offered - one on Tuesdays and one on Wednesdays starting in Jan. Sign up by Dec 20.
PTO Happenings
Christmas Shop – Volunteers Needed
Christmas Shop begins tomorrow! We still have over 20 spots available. Please consider helping out at this wonderful event. Be sure to extend the invitation to Grandparents to give them a chance to enjoy the magic, we already have a number of Grandparents signed up!
There are less than 20 spots left, we're so close to being full! We'll all be so blessed to have those filled by this afternoon. So, while you're thinking of it, sign up now! Like, right now. From your phone...and now... sign up to help.
On Thur and Fri, Dec 06 & 07 the ACS Commons will again be transformed into a Christmas Gift Shop for your children to select Christmas gifts for their parents and siblings only. Students will shop with their classes during a designated shopping time. Parent volunteers will be helping your children select and wrap gifts. A note will be sent home with your children with all the details on Mon, Dec 03.
On Fri, Dec 07 at 2:30pm, we will open the Christmas Gift Shop to parents – feel free to come in and shop alone (or with your children after school) for other relatives. We will stay open until 3:30pm.
If you have more than one child at ACS, please send each child with their own spending money, rather than writing one large check. This helps us tremendously during checkout, as your children will probably not be shopping together at the same time.
Please have your child bring these items to school on Thur, Dec 06:
A large brown grocery bag with their name on it
A completed order form
Spending money (check made out to ACS or cash)
PTO Information
Looking for our calendar, information about upcoming events or opportunities to serve? Check out our updated website.
ACS Athletics
PurePlay
1st-4th grade Pureplay Basketball clinics begin this Saturday!
Boys at GRCS Iroquois campus
Girls at the Quest Center, GRC High school

Y5/K Basketball begins Jan 12
Calendar Reminders
Dec 07 - No Forest Hills pm transportation
Dec 13 – 5th-8th Grade Christmas Concert at 7:00
Dec 21 - All School Chapel
Dec 24 - Jan 04 - Christmas Break
Jan 07 - Back to School
Requested Announcements
Brookside Nativity
A telling of the Christmas Story with live actors and animals. Fri, Sat, and Sun, Dec 07, 08, & 09 with performances at 7:00, 7:30 and 8:00pm each evening. Signing for deaf and hard of hearing available Fri and Sat, all performances. Bring your loved ones to experience the wonder and joy of the birth of our Savior. This is an outdoor experience—dress warmly. Crafts, hands on experience with Neighbors of Nazareth and hot chocolate and cookies served inside. This event is free—no tickets required. Brookside Christian Reformed Church, 3600 Kalamazoo Ave., SE, Grand Rapids, MI 49508. For more information go to www.brooksidecrc.org or call 616-452-3191.