Ada Connection – April 26, 2017
A Note From Principal Brower
Spoiled
That is the first word that comes to my mind when I think about the many ways our students and parents showered us with notes, recess coverage, treats, recess coverage, flowers, recess coverage, a delicious lunch, recess coverage, and more during teacher/staff appreciation week. (Did I mention recess coverage?) Thankful. This is the small word that I hope conveys great appreciation for your kindness!
Overwhelmed And Thankful
So often when tragedy strikes, we see hearts filled with love surrounding, lifting, and carrying us. In the midst of loss, God has a way of filling us up.
The unexpected phone call Thursday morning informing us that Mrs. Wittenbach's house was struck by lightning and on fire was followed by an outpouring of concern and countless offers to help in any and every way.
Our ACS family is amazing...and God is ALWAYS good.
"I long to dwell in your tent forever and take refuge in the shelter of your wings." -Psalm 61:4
Melissa VanderLeek will be coordinating efforts between ACS and Ada Bible Church once we know what Kim and Ken Wittenbach need and how we can best help. We will keep you informed as we have news to share.
Thank you for your outpouring of concern and offers to help. Your prayers and thoughts are not taken for granted and are greatly appreciated!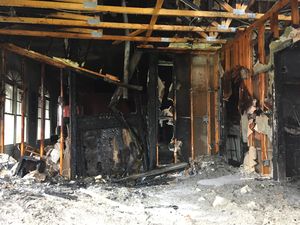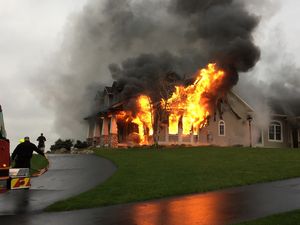 New Before And After Care Coming Soon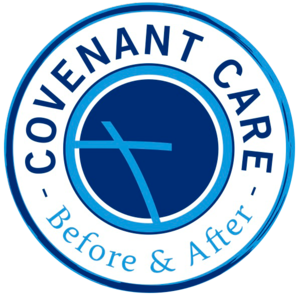 We are happy to announce that ACS is offering a before and after school childcare program called, Covenant Care, beginning next fall. [FILE '146']See the details![/FILE]
Grand Friends Day - Help Needed
We are so close. This event is right around the corner and we still need 10 volunteers! This is such a wonderful day for everyone. I personally like to volunteer for this event because I am able to interact with my parents and I love seeing my kids overjoyed with excitement. Okay, perhaps, the excitement may be derived by the sugar from the extra doughnuts my kids are able to swindle from grandma but truly a blessing to be a part of.
Available to help? Sign-up today.
This Week
Fine Arts Night - Apr 27 from 6:30-8:00pm
A perfect night to share with friends and neighbors that may be interested in ACS. The hallways will be filled with amazing works of art. Mr. Wanner has a gift for encouraging young artists and they are eager to share the fruits of their labors! Please come enjoy Ada Christian's very own "Art Prize"! Our 6th graders are creating our very own "Epcot Center"! During your visit to the North Gym, you will be able to travel the world enjoying the sights, sounds and tastes of more than 50 countries. See you there!
Moms In Prayer - God Is Merciful
This week we will be praying specifically for Building and Transportation Staff. God is a merciful.
"With what shall I come before the LORD, and bow myself before God on high? Shall I come before him with burnt offerings, with calves a year old? Will the LORD be pleased with thousands of rams, with ten thousands of rivers of oil? Shall I give my firstborn for my transgression, the fruit of my body for the sin of my soul?" He has told you, O man, what is good; and what does the LORD require of you but to do justice, and to love kindness, and to walk humbly with your God?" -Micah 6:6-8
Please join us Thursday at 8:00-9:00am in the back office conference room as we pray for our children, their teachers and the ACS community.
Questions? Contact Laura Cawley (616.425.9728, moc.oohay@57_csarual).
MENistry
A group of ACS dads who meet and dwell with the Word of God every Friday 8:00-9:00am in the back office conference room. We will be discovering how to be a Christ-like spiritual leader within our families, places of work, and the world.
Now You Know
ACS Spirit Shop Open Today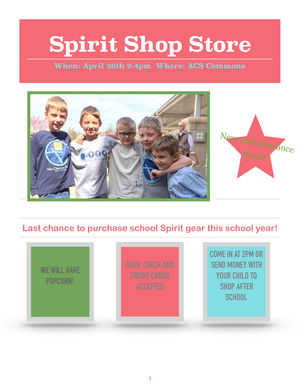 On Wednesday, Apr 26 the ACS Spirit Shop will be open. Come to the Commons from 2:00-4:00pm to shop for ACS gear!
[FILE '144']Order your game day must haves[/FILE] now through May 05.
4th Grade Plant Sale
Coming the week of May 01 at the school entrance. Hanging flower baskets ($12.00), Herbs - set of 3 ($10.00), Perennials ($4.00 - $6.00)
Celebrating Mr. Bill
Thank you to all who purchased tickets to attend Mr. Bill's celebration at Fifth Third Ballpark on Friday, May 05. Look for an email next week with more details regarding your tickets.
A Day On The Green
Our annual golf outing to raise much-needed funds for financial aid,
will be held on
May 15
, 2017 at Egypt Valley Country Club.
Join us for an afternoon of golf
, followed by a 19th hole reception and silent auction. This year's event feature fun new ways to increase your opportunity to win! Sponsorships are available.
Not a golfer? Volunteers are needed too!
Looking Ahead
2017-2018 calendar. Feel free to start your plans for the coming year…we certainly are!
Aug 24 – First Day
Sept 01-04 – Labor Day Weekend
Sept 25 – No School - Staff Professional Development Day
Oct 18-20 – No School - Fall Teacher's Convention
Nov 22-24 – Thanksgiving Break
Dec 22 – Christmas Break Begins
Jan 08 – School Resumes
Jan 29 – No School - Staff Professional Development Day
Feb 23-26 – Winter Break
Mar 29 – Spring Break Begins
Apr 09 – School Resumes
May 04 – GrandFriends Day
May 07 – No School - Staff Professional Development Day
May 28 – Memorial Day
June 08 – Last Day
Action Needed
Class Placement
If you would like to share information that may be helpful for your child's teacher to know with regard to next year's class placement, [FILE '147']please download the request form[/FILE] and return it to the office.
Forms are due NO LATER than Thursday, May 04.
Online Re-Enrollment Open
Please make sure that you have completed your online enrollment. If you did not pay by credit card you also need to bring the $200 enrollment fee to the office.
If you have any questions, please email Nate Kiser (gro.naitsirhcada@resikn) and he will be happy to help.
Lost And Found
Please help us get those Lost and Found tables cleared off. The tables are located by the music rooms and kitchen. The tables will be cleared off Friday, Apr 28.
PTO Happenings
Walk-A-Thon Info Is Coming Home Apr 26
Get ready to walk! Our children will be participating in the ACS Walk-A-Thon on the morning of Fri, May 12 (same day as Field Day). Look for donation envelopes coming home today, Wed, Apr 26. This is the only other fundraiser (aside from Fall Fundraiser – Charleston Wrap) of the year and proceeds go to such items/events as:
Teacher and room parent funds
Offsetting school field trip costs
The School Yearbook
Fifth grade camp
Music scholarships for band and orchestra students
Books for our library
Bibles for our 3rd graders to use through 8th grade
Teacher wish lists
Grandfriends' Day and Staff Appreciation
Back to School Picnic/Carnival
We are set for volunteers - thank you to those of you who have already volunteered to help make this a success! Questions? Contact Paula Bremer (ten.tsacmoc@remerbjp)
Mother/Son Event
Friday, May 19, is our 2nd annual Mother/Son event at the Roanoke. Invites will be sent home with your child. We are looking for about 6 volunteers. Parents with only girls - this is a great opportunity for you and your daughter(s) to serve together.
Available to help? Sign-up now.
School Party - May 08
The last school party of the year will be at Grand Rapids Gymnastics (GRG) on Mon, May 08 from 12:30-2:00pm. Cost is $5 per child. You do not need to sign up ahead of time. GRG, 1601 Galbraith Ave, Grand Rapids.
Thank You
From the entire PTO, please accept our heartfelt gratitude for all the kindness you expressed to our ACS teachers and staff. Thank you for bringing in food, writing notes, and volunteering for recess duty. A big thank you to the committee chairs, Katie Minks and Kim Laufer, for your dedicated work.
ACS Cookbook
Deadline for recipe submission will be May 31! Please submit your recipes electronically or via photo copy and give to Sharon in the office.
ACS Athletics
PurePlay
Soccer this Saturday: Boys @ 12:00pm, Girls @ 1:15pm (time change due to Calvin college run).
Track and Field continues today, pick up kids at 4:15pm.
Tennis begins next week. There is still time to sign up.
Calendar Reminders
Apr 27 - Fine Arts Night
May 05 - Grand Friends Day
May 05 - ½ day, dismissal at 11:30
May 05 - No Forest Hills 11:30 transportation
May 08 - No School - Inservice day
May 12 - No PM Forest Hills transportation
May 29 - No school - Memorial Day
June 06 - 8th grade graduation
June 07 - Last ½ day of school, dismissal at 11:30
June 07- No Forest Hills 11:30 transportation
Aug 24 - First day of school, dismissal at 11:30
Requested Announcements
Calvin Spring Classic 5K
Calling all runners, walkers and movers! Ada Christian School will be participating in the Calvin Spring Classic 5K School Challenge on Apr 29. This is a great way to be active, promote our school, and be entered to win some awesome prizes. The school with the most participants wins $250. One student from each of the five schools with the most registrants will win a $350 gift card to Village Bike Shop.
Register now and make sure you select Ada Christian School under the school challenge. Encourage friends and family to sign up as well. Younger kids who sign up for the fun run are still counted toward our team total and are entered to win prizes as well.
Need more information? [FILE '145']See the attached flyer[/FILE] or check out the posters around school. If you have any questions, please contact Anna Ter Beek (gro.htlaehmurtceps@keebret.anna).
Support Schools For Sierra Leone
Art available all week in the front lobby of Ada Christian, May 08-12 Art by Jan Carpenter supports the school. 100% of the sales supplement student tuition. Cards and paintings are great gifts for Mother's Day.
2017-2018 GR Christian Hockey Tryouts
Current Middle School 7th & 8th graders welcome. Monday May 01 5:00-6:00PM and Wednesday May 03 5:00-6:00PM at Eagles Ice Center 2600 Village Dr SE Grand Rapids, MI 49506.
Birth years 2000-2004 welcome. Attending GRCHS is preferred -but NOT a requirement. No Games on Sunday. Preseason: @9/11/17-10/28/17. Reg. Season @11/6/17-3/11/18. Practices M&W 4:00-5:00PM. Coach Todd Baines. Contact Manager Gregg Betz with any questions 616-453-4429 or moc.loa@ztebdg
Camp Roger Hiring
Camp Roger is hiring three positions to join the year-round staff. We are looking for a full-time
Advancement Director, an Executive Assistant for 16-20 hours/week, and a Marketing Manager
for 15-25 hours per week. You can help kids encounter and celebrate God's love through experiences in Creation. Read the full descriptions and application process.
Questions? Contact Doug Vanderwell, 616.874.7286