Ada Connection – Apr 25, 2018
A Note From Principal Brower
New Kids At ACS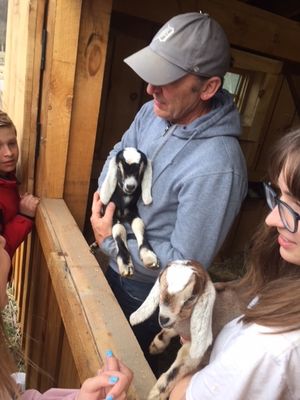 Yesterday at 2:00am we began welcoming new kids at ACS. Our Dreamgoats, Beau and Joy gave birth to their young. We now have three boys and one girl who are adding wonder and awe for all.
See the excitement live!
"The earth is the Lord's and everything in it, the world and all who live in it..." Psalm 24:1
Enrollment Reminder
Haven't turned in your enrollment form yet? Please do! We are in the midst of planning for fall and want to be sure we have the right size staff to best meet student needs.
Now You Know
Pesticide Advisory
Required by Michigan Department of Agriculture: As part of Ada Christian School's pest management program, pesticides are occasionally applied. You have the right to be informed of any pesticide application made to the school grounds or building. If you would like prior notification, please email school custodian, Mr. Jeff (gro.naitsirhcada@egordj). In certain emergencies, pesticides may be applied without prior notice, but you will be provided notice following any such application.
Day On The Green
Ada Christian School and Grand Rapids Christian Schools invite you to A Day on the Green, our annual golf outing to raise much-needed funds for financial aid to ensure that our schools remain accessible to all families who desire a Christian education for their children.
Join us for 18 holes of golf (four person scramble) on the beautiful courses of Egypt Valley Country Club on Monday, May 21.
Register to play or volunteer.
Covenant Care Registration
Covenant Care registration is now open for the 2018-2019 school year. Covenant Care is our quality before and after school care program for Ada Christian students Preschool through 5th grade. Covenant Care is offered at a variety of times and is $5/hour. Visit our Covenant Care page for more details or email our Covenant Care Director, Haley Herbruck (gro.naitsirhcada@kcurbrehh)
Class Placement
If you would like to share information that may be helpful for your child's teacher to know with regard to next year's class placement, please download the request form and return it to the office.
Forms are due no later than Thursday, May 03.
Action Needed
Help Prepare For Grand Friends Day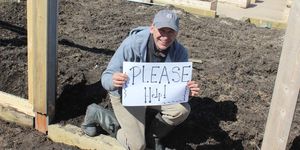 Mr. Hoo needs your help! Spring is in the air and there is much work to be done in our outdoor spaces. Mr. Hoo needs help with both planting and clean up. Whatever your niche there is a place for you!
Have time to spare? Volunteer to help Mr. Hoo ready our outdoor education spaces.
This Week
A perfect night to share with friends and neighbors that may be interested in ACS. The hallways will be filled with amazing works of art. Mr. Wanner has a gift for encouraging young artists and they are eager to share the fruits of their labors! Please come enjoy Ada Christian's very own "Art Prize"!
Our 6th graders are creating our very own "Epcot Center"! During your visit to the North Gym, you will be able to travel the world enjoying the sights, sounds and tastes of more than 50 countries.
There will also be an opportunity to extend a personal thank you to Mr. Dan Day for his years of faithful service to ACS. At the same time you can extend a warm welcome to Mr. Mark Stuit our new Director of Advancement.
See you there!
Moms In Prayer
There we will be praying for building and transportation staff. God guards. One who protects from harm or danger, keeps watch over and keeps secure.
"Don't worry about anything, but in everything, through prayer and petition with thanksgiving, let your requests be made known to God. And the peace of God which surpasses every thought, will guard your hearts and minds in Christ Jesus." – Phil 4:6-7
If you can join us for prayer, we meet every Thursday morning 8:00-9:00am, in the ACS office back conference room. Younger siblings are always welcome! Need more information? Contact Kelly Stafford (616.304.2963, ten.tsacmoc@droffats-kj).
MENistry
Come join other dads in room 504 on Fridays at 8:00am as we explore our call to be faithful men of Christ. We will be dwelling with the Word in the Book of Luke this semester. Coffee and donuts provided. All ACS dads welcome!
PTO Happenings
Grand Friends Day Volunteers
Calling all willing volunteers! Grand Friends Day is right around the corner and we need about 30 smiling volunteers to help it run smoothly. There is a type of job for everyone. It's a wonderful day and the delight of seeing the students with their grandparents is a blessing! Available to help? Sign-up today.
Questions? Contact Michelle Nitengale (moc.liamg@elagnetin.ellehcim) or Shelly Harmon (ten.tsacmoc@nomrahs)
Be sure that your "Grand Friends" have May 04 on their calendar. Students came home with schedules and additional information for our special guest last week.
Walk-A-Thon – May 11
Get ready to walk! Our children will be participating in the ACS Walk-A-Thon on the morning of Friday, May 11. Donation envelopes are due on Wednesday, May 09. This is the only other fundraiser (the other is the Fall Fundraiser – Charleston Wrap) of the year and proceeds go to such items/events as:
Teacher and room parent funds
Offsetting school field trip costs
The School Yearbook
Fifth grade camp
Music scholarships for band and orchestra students
Books for our library
Bibles for our 3rd graders to use through 8th grade
Teacher wish lists
Grandfriends' Day and Staff Appreciation
Back to School Picnic/Carnival
We are set for volunteers - thank you to those of you who have already volunteered to help make this a success!
Questions? Sara Setlock (moc.oohay@kcoltesharas) and Sarah Plantinga (moc.liamg@tnalps)
ACS Athletics
PurePlay
Soccer Saturday: Girls at 12:00pm, Boys at 1:15pm
Track practice today, pick up by the track at 4:15pm.
Calendar Reminders
Apr 26 – Fine Arts Night
May 04 – K - 8 Grand Friends Day
May 04 – Dismissal at 11:30am
May 04 – No Forest Hills transportation at 11:30am
May 07 – No School
May 11 – Walkathon
May 28 – Memorial Day - No School
June 07 – 8th grade graduation
June 08 – Last day of school - dismissal at 11:30am
June 08 – No Forest Hills transportation at 11:30am
2018-2019 Calendar
Aug 23 – First Day (Half Day)
Aug 31-Sept 03 – No School (Labor Day)
Sept 24 – No School (In-Service Day)
Oct 24-26 – No School (Teacher's Convention)
Nov 08 – ACS Education Foundation Dinner
Nov 21-23 – No School (Thanksgiving Break)
Dec 24-Jan 04 – No School (Christmas Break)
Jan 28 – No School (In-Service Day)
Feb 22-25 – No School (Winter Break)
Mar 28-Apr 05 – No School (Spring Break)
May 03 – GrandFriends (Half Day)
Requested Announcements
CSI Positions
Christian Schools International (CSI) is seeking qualified applicants for the part-time position of receptionist/administrative assistant beginning June 2018. Hours are Monday, Wednesday, and Friday, 8:30am-4:30pm. This front desk person will greet visitors, answer the phone, and provide administrative clerical support, mainly in the area of data input and update.
Must be organized and able to multitask. Competence in Microsoft Office software is necessary, and experience in an office environment is a plus. Knowledge of Microsoft CRM program is preferred. Send cover letter and resume to gro.enilnoisc@ztnald.