Ada Connection – Apr 18, 2018
This Week
Moms In Prayer
There we will be praying for 7th grade. God is gracious. One who is full of grace, kindness, mercy and compassion.
"May Yahweh bless you and protect you; may Yahweh make His face shine on you and be gracious to you; may Yahweh look with favor on you and give you peace." – Numbers 6:24-26
If you can join us for prayer, we meet every Thursday morning 8:00-9:00am, in the ACS office back conference room. Younger siblings are always welcome! Need more information? Contact Kelly Stafford (616.304.2963, ten.tsacmoc@droffats-kj).
MENistry
Come join other dads in room 504 on Fridays at 8:00am as we explore our call to be faithful men of Christ. We will be dwelling with the Word in the Book of Luke this semester. Coffee and donuts provided. All ACS dads welcome!
Now You Know
A perfect night to share with friends and neighbors that may be interested in ACS. The hallways will be filled with amazing works of art. Mr. Wanner has a gift for encouraging young artists and they are eager to share the fruits of their labors! Please come enjoy Ada Christian's very own "Art Prize"!
Our 6th graders are creating our very own "Epcot Center"! During your visit to the North Gym, you will be able to travel the world enjoying the sights, sounds and tastes of more than 50 countries.
There will also be an opportunity to extend a personal thank you to Mr. Dan Day for his years of faithful service to ACS. At the same time you can extend a warm welcome to Mr. Mark Stuit our new Director of Advancement.
See you there!
Tutoring With Mrs. Overbeek
Need a little review over the summer? Mrs. Overbeek is offering tutoring for Language Arts and Math. She has openings available on Tuesdays and Thursdays from 9:00am-12:00pm. See the flyer for more details .
Spirit Shop
Check out some fun new items in our Spirit Shop! All items are available in the school lobby.
Calvin 5K Spring Classic
The Calvin 5K Spring Classic School Challenge on Apr 28. Apr 20 is the last day to sign up for the Calvin 5K and be counted toward Ada Christian in the School Challenge. Everyone who is registered by the 20th will be entered to win a free t-shirt from Gazelle Sports ($20 value) and a discount card for 10% off your entire purchase at Gazelle Sports.
One student from each of the top five schools with the most participants will win a $350 gift certificate to Village Bike. The school with the most participants will win a $250. Participation in the 5K run, 5K walk or kids' fun run all count toward Ada Christian's participation. Tell your friends, family and neighbors. Anyone who registers under Ada Christian will be added to our team. Once you sign up, send an email to Anna Ter Beek at aberke98@yahoo.com to let her know you signed up. There will be a weekly drawing every Wednesday between now and race day to win a $5 gift card to Gazelle Sports. The earlier you sign up, the more chances you have to win!
Class Placement
If you would like to share information that may be helpful for your child's teacher to know with regard to next year's class placement, please download the request form and return it to the office.
Forms are due no later than Thursday, May 03.
Action Needed
2018-2019 Enrollment
Dear Parents,
It is time to re-enroll your student(s) at ACS. Please check your email for more specific enrollment information.
We ask that you complete the online re-enrollment form by Friday, Apr 20. To complete the enrollment form, log into PowerSchool and click on Ecollect Forms in the navigation menu. For specific username information please check your email.
There is a Tuition & Grants section on the form.
The first

TUITION

amount you see is the calculation for the "Requested" or "Full Cost" amount of tuition.
In the

GRANT

section, thanks to the generous, ongoing support of our ACS Education Foundation, you will be notified of the maximum grant amount you may accept towards your tuition.

The grants are available for all families needing tuition assistance. There is no application process needed to qualify for this grant.
Tax deductible receipts will be sent for any amount of the grant not claimed towards your tuition total. (Thank you!)
For families needing additional tuition assistance, you may complete an online application through FACTS, by May 7. Qualifying families will be notified of the assistance amounts in June and adjustments to your tuition total will be made at that time.
If you have any questions about this section, please do not hesitate to contact Principal Brower (gro.naitsirhcada@reworbm).
We have worked hard to ensure our online enrollment process will go well for our families; however, we realize you may have questions during this process. If you have questions or difficulties completing the online enrollment form, please contact our administrative assistant, Dani Buchanan (gro.naitsirhcada@nanahcubd) and she will be happy to help.
Thank you for choosing Ada Christian School as your partner in education.
ACS At The Whitecaps
Last year we had such a great time celebrating Mr. Bill at Fifth Third Ballpark. It was exciting to see so many ACS families together having a great time.
We do not have the big building reserved, but we do have a section reserved for us. Our 3rd grade choir will be singing the National Anthem and we would love to see a big crowd again this year.
If you are interested, please reserve your tickets. Online reservations will close at noon on Monday, Apr 23.
Open Positions At ACS – Fall 2018
Visit CSI online for listed openings and further details.
Help Prepare For Grand Friends Day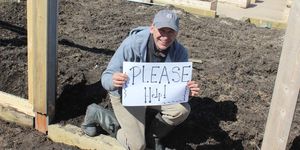 Mr. Hoo needs your help! Spring is in the air and there is much work to be done in our outdoor spaces. Mr. Hoo needs help with both planting and clean up. Whatever your niche there is a place for you!
Have time to spare? Volunteer to help Mr. Hoo ready our outdoor education spaces.
PTO Happenings
Grand Friends Day Volunteers
Calling all willing volunteers! Grand Friends Day is right around the corner and we need about 30 smiling volunteers to help it run smoothly. There is a type of job for everyone. It's a wonderful day and the delight of seeing the students with their grandparents is a blessing! Available to help? Sign-up today.
Questions? Contact Michelle Nitengale (moc.liamg@elagnetin.ellehcim) or Shelly Harmon (ten.tsacmoc@nomrahs)
Be sure that your "Grand Friends" have May 04 on their calendar. Students will come home with schedules and additional information for our special guests one week before the big day!
Walk-A-Thon – May 11
Get ready to walk! Our children will be participating in the ACS Walk-A-Thon on the morning of Friday, May 11 (same day as Field Day). Donation envelopes are due on Wednesday, May 09. This is the only other fundraiser (the other is the Fall Fundraiser – Charleston Wrap) of the year and proceeds go to such items/events as:
Teacher and room parent funds
Offsetting school field trip costs
The School Yearbook
Fifth grade camp
Music scholarships for band and orchestra students
Books for our library
Bibles for our 3rd graders to use through 8th grade
Teacher wish lists
Grandfriends' Day and Staff Appreciation
Back to School Picnic/Carnival
We are set for volunteers - thank you to those of you who have already volunteered to help make this a success!
Questions? Sara Setlock (moc.oohay@kcoltesharas) and Sarah Plantinga (moc.liamg@tnalps)
ACS Athletics
PurePlay
Soccer Saturday: Boys at 9:00am, Girls at 10:15am
First track practice is today in the North gym, pick up at 4:15pm.
Calendar Reminders
Apr 26 – Fine Arts Night
May 04 – K - 8 Grand Friends Day
May 04 – Dismissal at 11:30am
May 04 – No Forest Hills transportation at 11:30am
May 07 – No School
May 11 – Walkathon
May 11 – Elementary Field Day
May 28 – Memorial Day - No School
June 07 – 8th grade graduation
June 08 – Last day of school - dismissal at 11:30am
June 08 – No Forest Hills transportation at 11:30am
2018-2019 Calendar
Aug 23 – First Day (Half Day)
Aug 31-Sept 03 – No School (Labor Day)
Sept 24 – No School (In-Service Day)
Oct 24-26 – No School (Teacher's Convention)
Nov 08 – ACS Education Foundation Dinner
Nov 21-23 – No School (Thanksgiving Break)
Dec 24-Jan 04 – No School (Christmas Break)
Jan 28 – No School (In-Service Day)
Feb 22-25 – No School (Winter Break)
Mar 28-Apr 05 – No School (Spring Break)
May 03 – GrandFriends (Half Day)