Ada Connection – Apr 13, 2016
Principal's Note
Outdoor Education Update!
We broke ground!! Can you dig it? Take a real-time and time lapse look at what is happening at ACS!
Spring Break Babies!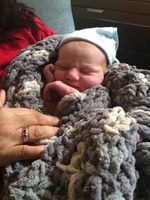 Congratulations to our new moms and their families! Mrs. VanderVelde, one of our amazing parapros gave birth to Judah Daniel and marvelous middle school teacher Mrs. Holtrop had Sophie Marjorie over spring break. Moms and babies are doing great.
Welcome Mrs. Kralt!
We want to wish Mrs. Marilyn Kralt a warm welcome to Ada Christian School! Mrs. Kralt is filling in as one of our middle school math teachers while Mrs. Holtrop is on maternity leave.
Mrs. Kralt earned her undergraduate degree at Redeemer College in Ontario, Canada. From there she and her husband received their teaching degrees from the University of Windsor, Ontario. With their degrees tucked under their belts they move to central Alberta to teach in a small high school. Mrs. Kralt taught Math, Science, Bible, and various other subjects for three years. Then they moved back across the county with two children for James to attend Calvin Seminary. When her husband graduated in 2008, he received and accepted a call to serve East Paris CRC and Mrs. Kralt started substitute teaching. She said, "I am looking forward to getting to know the Ada Christian community and using my gifts to serve this community."
Teachers Hold on for Victory Against 8th Grade Boys
Our male teachers dominated the court (until the last two minutes) and won an exciting game against the 8th grade boys' basketball team, 28-27. It was exciting and full of action!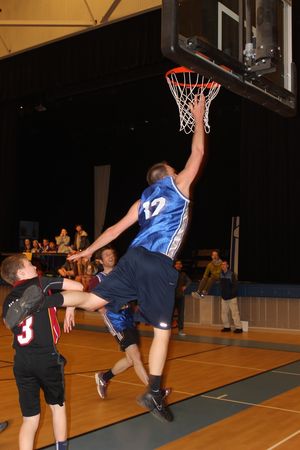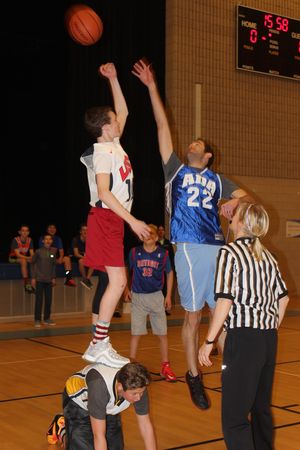 8th Grade Girls Outplay Teachers
A team of female teachers won a game, but lost the volleyball match to our talented 8th graders. There were plenty of bump, sets, and spikes, but the teachers could not outscore the students. A fun, fun, fun time!
Four to Welcome and Four to Thank
At our most recent ACS Society meeting we had the opportunity to thank four people that have faithfully served on our ACS Board for the last 3 years. It is an excellent work they have done and we are thankful for their willingness to answer the call. Jim Weaver, Briar Plantinga, Liesl Pruis and Elizabeth Westhouse, thank you for giving to the Lord at Ada Christian School.
We also have the privilege of welcoming four new board members that were elected at the recent ACS Society meeting. Mark Homans, Jim Overbeck, Anna TerBeek and Kara VerMeulen; we are grateful for your willingness to answer the call and we look forward to your years of service on the ACS Board.
Action Needed
"Faith. Strong." Friday Apr 15!
All students, staff and parents are encouraged to wear their ACS gear to school this week Friday, Apr 15. Watch next week's Ada Connection for a picture or two of our school spirit!
Enrollment Forms are due Friday Apr 15
Enrollment forms were mailed out on Wed, Mar 30, due Apr 15. If you did not receive one, please call the office. ALL families who have not already done so must register through FACTS for tuition management - even if you will be making a one time payment. Please remember any family not registered with FACTS Tuition Management will have an additional $75 administrative fee added to their tuition.
Reminder: Families applying for tuition assistance for the 2016-2017 school year will need to complete an application and submit the necessary supporting documents to FACTS Grant & Aid Assessment by May 01, 2016. Funds are limited and we typically allocate our tuition assistance resources by June 15, it is important to be mindful of the May 01, 2016 due date. After June 15, our funds may be depleted.
If you do not anticipate returning to ACS in August 2016, please call the office (676.1289) or email Sharon Dejong (gro.naitsirhcada@gnojeds)
Fine Arts Night Apr 28
The halls will be alive with MANY things on this night. In the Calendar Reminders section you will note 3 highlighted items please make note of those dates/events!
6:30-8:30 – the ACS hallways will be filled with AMAZING art work!
6:30-8:00 – the North Gym will host our 6th grade World Fair!
6:30-7:30 – the Library will be a place to experience our Elementary TECH EXPO!
6:30-7:00 – the South Gym will ring with the sounds of our 7th grade band
7:00-7:30 – the commons will resound with the work of our 7th/8th grade Orchestra
7:15-7:45 – the South Gym will be blessed with the sounds of our 8th grade band
7:45-8:15 – the South Gym will be filled with the sounds of our combined 8th grade band/orchestra followed by an honoring of our 8th grade musicians.
Staff Appreciation Week
We will be showing our appreciation to our staff with a luncheon on Fri, Apr 22. Please sign up to bring food or help with the event at http://vols.pt/jk3sNc
Thank You Notes: Help us shower our staff and teachers with special notes/cards made by you and your children. Our teachers and staff will treasure your and your children's words of appreciation at any time during this week set aside to say thank you to a very special group of people. We also encourage your child to write a thank you note to at least one of their "specials" teachers or an office/support staff member.
Grand Friends Day
Calling all willing volunteers! Grand Friends Day is right around the corner and we need about 30 smiling volunteers to help it run smoothly. There is a type of job for everyone. Thurs, May 05 we need setup help after school for about an hour. Fri, May 06, we need kitchen help and smiling greeters to welcome our Grand Friends and point the way to their precious children. It's a wonderful day and we promise that if you sign up for the earliest kitchen help that we will let you have a DELICIOUS donut! Sign Up Today!
Questions? Contact Dee Lenters (moc.em@sretneleed)
Be sure that your "Grand Friends" have the date on their calendar. Students will come home with schedules and additional information for our special guests one week before the BIG DAY!
ACS Logo Wear - Order now for free shipping!
SPRING FLING - IT'S YOUR LAST CHANCE FOR FREE SHIPPING ON ACS LOGO WEAR!
Free shipping on all logo wear orders for a limited time starting Apr 13-20.
Click and order now!
Service Team
Families from the ACS service team will soon be sponsoring a refugee family. We will be working with Bethany Christian Services who partners with local organizations to welcome these families and support them as they acclimate to a new country and new life. As you can imagine, the needs of a refugee family are great. To meet some of the needs, the Service Team will be collecting new or gently used household items to help get the family started in their new home. Items needed include but are not limited to: dishes, glassware, small appliances, linens, furniture, etc. Please bring your items to school during the week of April 11-15. We will have tables set up at the ends of each hallway as well as the main lobby. If you have any questions or would like to be involved in this ministry, please contact Lauri Hanenburg (moc.liamg@grubnenahl)
PTO Reminders
School Party May 09
The last school party of the year will be at GR Gymnastics on Monday, May 09 from 12:30-2:00pm.
Cost is $5 per child
You do not need to sign up ahead of time
GR Gymnastics, 1601 Galbraith Ave, Grand Rapids
Questions? Contact Amberly Hoyer (moc.loa@reyohylrebma)
Moms in Prayer
Please join us Thursday 8:00-9:00am in the office conference room as we pray for our children, their teachers and the ACS community. This week we will be praying specifically for 7th grade and we remember that God is a miracle worker.
Will the Lord reject forever? Will he never show his favor again? Has his unfailing love vanished forever? Has his promise failed for all time? Has God forgotten to be merciful? Has he in anger withheld his compassion? Selah Then I thought, To this I will appeal: the years of the right hand of the Most High. I will remember the deeds of the LORD; yes, I will remember your miracles of long ago. I will meditate on all your works and consider all your mighty deeds. –Psalm 77:7-12
Questions? Contact Laura Cawley (616.425.9728, moc.oohay@57_csarual)
ACS MENistry
Come join other dads on Friday mornings at 8:00am in the rear conference room of the office as we explore our call to be faithful men of Christ. We are dwelling with the Word in the Book of James, with noted author Francis Chan leading our discussion with his short video series. All ACS dads welcome!
Questions? Contact Andy Anderson (616.325.6116)
Calendar Reminders
Apr 15 – Enrollment forms due
Apr 28 – Fine Arts Night (6:30-8:30pm)
May 6 – Grand Friends Day
May 6 – School dismissed at 11:30 (No Forest Hills transportation)
May 9 – No School (Professional Development)
May 12 – NO MS Spring Concert - has been rescheduled: 7th/8th on Fine Arts Night
May 23 – 5th/6th Grade Band/Orchestra and 5th Celebration Night
May 30 – No School (Memorial Day)
2016-2017 Dates
Aug 24 – First day of school (dismissed at 11:30am)
Sep 02-05 – Labor Day Weekend
Sep 26 – No School (Professional Development)
Oct 19-21 – No School (CEA Convention)
Nov 23-25 – No School (Thanksgiving Break)
Dec 21-Jan 02 – No School (Christmas Break)
Jan 03 – School Resumes
Jan 23 – No School (Professional Development)
Feb 17-20 – No School (Winter Break)
Mar 30-Apr 07 – No School (Spring Break)
May 05 – Grand Friends Day (dismissed at 11:30am)
May 08 – No School (Professional Development)
May 29 – No School (Memorial Day)
Jun 07 – Last Day of School (dismissed at 11:30am)
ACS Athletics
PurePlay (PK-4th grade)
PurePlay Track and Field Wednesday 3:00-4:30pm
PurePlay Soccer begins THIS Saturday. Boys 9:00am, Girls 10:00am.

Wildcats Athletics (grades 5-8)
Spring soccer schedules have been sent out. If you did not receive a schedule please contact Ms. Prins.
The swim meet for grades 6-8 has a time change. The swim meet will still take place on Saturday, April 23 at Calvin College. However, the time has been moved to 4:00pm, warm-ups will begin at 3:00pm
Requested Announcements
Green Wagon Farm founded by ACS grad, Chad Anderson, is offering the opportunity to have fresh vegetables and herbs from June – Oct. For more information visit www.greenwagonfarm.com or stop by school and pick up an information flyer.