Ada Connection – Apr 10, 2019
This Week
"Faith. Strong." Friday – Apr 12

It's that time again. All students, staff and parents are encouraged to wear their ACS gear to school this week Friday Apr 12.
Moms In Prayer – Praying for Building and Transportation Staff
Praying for our Building and Transportation staff. God reigns: One who exercises sovereign power; rule.
"How beautiful on the mountains are the feet of those who bring good news, who proclaim peace, who bring good tidings, who proclaim salvation, who say to Zion, "Your God reigns!" - Isaiah 52:7
Come join us for the journey when you can. We meet every Thursday morning 8:00-9:00am, in the ACS office back conference room.
Need more information? Contact Kelly Stafford (616.304.2963, ten.tsacmoc@droffats-kj).
Lost & Found – Apr 12
The lost will be in the front lobby on Friday Apr 12. What is left at the end of the day will be boxed away. You can always check the lost and found which is located by the kitchen/music rooms.
MENistry
MENistry is a coffee group for dads who want to get to know more about themselves and the Bible. Join us on Fridays from 8:00-9:00am.
Action Needed
2019-2020 K-8 Enrollment – Complete By Apr 19
It is time to re-enroll your student(s) at ACS. We ask that you complete the online enrollment form by Friday, Apr 19. To complete the enrollment form, log into PowerSchool and click on Ecollect Forms in the navigation menu.
There is a Tuition & Grants section on the form.
The first TUITION amount you see is the calculation for the "Requested" or "Full Cost" amount of tuition.


In the GRANT section, thanks to the generous, ongoing support of the ACS Education Foundation, you will be notified of the maximum grant amount you may accept towards your tuition. The grants are available for all families. Families that are able to pay the "Requested" or "Full Cost" of tuition will receive a charitable receipt for the difference.


For families needing additional tuition assistance, you may complete an online application through FACTS, by May 07. Qualifying families will be notified of the assistance amounts in June and adjustments to your tuition total will be made at that time.
We have worked hard to ensure our online enrollment process will go well for our families; however, we realize you may have questions during this process. Please do not hesitate to contact us if you have any questions or concerns.
Thank you for choosing Ada Christian School as your partner in education.
Covenant Care Registration
Covenant Care registration for the 2019-2020 school year is now open for our K-5 families. You may complete the form on PowerSchool under Ecocollect Forms.
Now You Know
Good Friday Easter Chapel
Please join us on Fri Apr 19 at 8:15am. Our 5th and 6th grade teams will be leading us in worship.
Fine Arts Night – Apr 25, 6:30-8:00pm
A perfect night to share with friends and neighbors that may be interested in ACS. The hallways will be filled with amazing works of art. Mr. Wanner has a gift for encouraging young artists and they are eager to share the fruits of their labors! Please come enjoy Ada Christian's very own "Art Prize"!
Our 6th graders are creating our very own "Epcot Center"! During your visit to the North Gym, you will be able to travel the world enjoying the sights, sounds and tastes of more than 50 countries.
See you there!
Summer Tutoring
Mrs. Overbeek will be tutoring interested students this summer. She is available on Tuesdays and Thursdays for half hour sessions here at school. Please see the flyer for details and email her if you are interested.
Service Team Opportunity
Looking for a way to serve as a family? Come join our ACS Service Team as we bless our neighbors across the street in Ada Croft. Saturday Apr 28. 2:00-4:00pm.
Please RSVP so we can plan for supplies. Laurie Welch, (314.456.1409, moc.oohay@gnag6hclew) or Sheila Hemker (708.212.2558, moc.liamg@rekmeh.aliehs)
Calvin 5K Spring Classic
Spring is finally here and the Calvin 5K is only a few weeks away. Sign up now to walk, jog or run the Calvin 5K Spring Classic at Calvin College on Apr 27 at 8:30am. There is also a kids' fun run on the indoor track after the 5K so the whole family can participate. Ada Christian will be participating in the D&W School Challenge. Each of the schools with the top five highest number of participants will have one of their students win at $350 gift card to Village Bike. The school with the highest number of participants will also win a $250 check for their school. Last year our team had over 50 students, parents, grandparents, staff and alumni for our biggest team ever, and we would love to see the team even bigger this year.
Register for the Calvin 5k Spring Classic here at D&W Fresh Market School Challenge. During registration, click to "join a team" and then select Ada Christian School from the drop down list.
Questions? Contact Anna Ter Beek, (moc.oohay@89ekreba)
2019-2020 Calendar
Aug 26 – First Day (Half Day)
Aug 30-Sept 02 – No School (Labor Day)
Sept 30 – No School (In-Service Day)
Oct 23-25 – No School (Teacher's Convention)
Nov 27-29 – No School (Thanksgiving Break)
Dec 23-Jan 03 – No School (Christmas Break)
Jan 27 – No School (In-Service Day)
Feb 28-Mar 02 – No School (Winter Break)
Apr 02-10 – No School (Spring Break)
May 01 – GrandFriends (Half Day)
May 04 – No School (In-Service Day)
Jun 04 – 8th Grade Graduation
Jun 05 – Last Day (Half Day)
PTO Happenings
Staff Appreciation Week – Apr 15-19
It is that wonderful time of the year in which all of the ACS parents have the privilege of showing our appreciation to the outstanding ACS staff. Not only are they an important part of our children's lives, but they also have a huge impact on our future! Staff includes all the teachers, support staff, specials teachers, administration, janitorial, and bus drivers!
On behalf of all the ACS parents, the PTO has made arrangements to bless the staff with a little treats throughout the week in their staff lounge including a luncheon. You can help us shower our staff and teachers with special notes/cards made by you and your children. Not sure what your teacher likes? Check the staff favorites binder in the office. Our teachers and staff will treasure your and your children's words of appreciation. You can also focus your prayers on specific ACS staff. A list of staff members can be found in the ACS directory. Thank you in advance for your support.
Dear Loving Father,

We thank you for the women and men You have called to work in education. Please continue to bless their hearts with Your love, joy, and peace. Fill their minds with Your faithfulness, gentleness and self control. Please use the parents of ACS to shower extra love and appreciation in their lives during staff appreciation week.

Amen
Recess Help
Staff Appreciation Week is April 15-19. Could you volunteer to help cover recess duty so that our teachers can have a break? Elementary and Middle School spots are available.

Middle School, Monday-Friday, Apr 15-19
Grand Friends Day
Calling all willing volunteers! Grand Friends Day is around the corner and we need about 16 smiling volunteers to help it run smoothly. There is a type of job for everyone. It's a wonderful day and the delight of seeing the students with their grandparents is a blessing!
Available to help? Sign up here.
Questions? Contact Becky Workman (ten.tsacmoc@krowabj), Shelly Harmon (ten.tsacmoc@nomrahs) or Holly Karasinski (moc.liamg@4322kylloh)
Be sure that your "Grand Friends" have May 03 on their calendar. Students will come home with schedules and additional information for our special guests one week before the big day!
ACS Athletics
Wildcat Athletic Award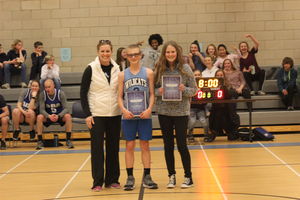 Congratulations to John Nitengale and Anna Tubbergen our 8th grade Wildcat Athletic Award winners. The wildcat award is presented each year to one 8th grade boy and girl. Both John and Anna have shown leadership skills on and off the court/field, shown consistent participation in ACS athletic teams. They have also demonstrated true Christian character and a strong work ethic during practice and games. Congratulations John and Anna, we are so thankful that you represent ACS Athletics!
PurePlay – Spring Opportunities
Soccer: First event: Saturday, Apr 13: Girls @ 9:00am, Boys @ 10:15am.

Track and Field Club: Begins today (Apr 10). Pick up kids at 4:15pm.

Tennis: 1st -4th. Tuesdays, 3:00-4:15pm. April 30, May 07, 14, and 21. $10.00 per student. Parents who help will have the fee waived. Email me to sign up, (gro.naitsirhcada@enielkeds).
Calendar Reminders
Apr 16 - Elementary Spring Program
Apr 19 - Chapel at 8:15 am
Apr 25 - Fine Arts Night
May 03 - Grand Friends Day
May 03 - School dismissed at 11:30am
May 03 - No Forest Hills transportation ay 11:30
May 06 - No School - Staff In-service
May 10 - ACS Walk-a-thon
May 10 - No Forest Hills PM transportation
May 27 - No School – Memorial Day
June 06 - 8th Grade Graduation
June 06 - No Forest Hills PM transportation
June 07 - Last day of school - dismissed at 1:30am
June 07 - No Forest Hills transportation at 11:30am
Aug 26 - First day of school - dismissed at 11:30am